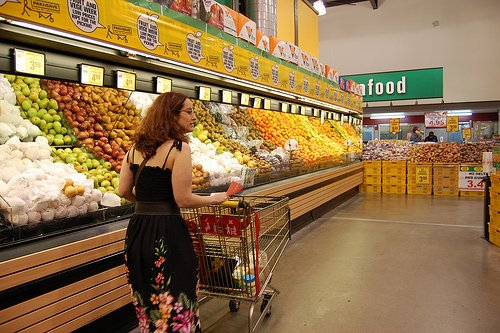 Did you know that eating local and buying better quality food doesn't mean you have to make a bunch of extra stops each week? 
We're all busy enough without adding more errands to our lives.  But when I first went through my "food conversion", I had no idea how to do anything but make all those extra stops, because I became so picky!
I wouldn't be caught dead feeding my family eggs from the grocery store.  I can't get my meat there anymore.  No way am I buying that milk again.
You Real Foodies know what I mean…
When we first start down this journey we become snobs, at least for a little while, until we loosen up a bit and figure out where it's ok to compromise now and then and where to stay firm.
But even then, there's a lot of foods that we'd never buy from the grocery store again.
(OK, I probably haven't actually loosened up in very many areas…  It's difficult to do that once you know what you know, you know?  Read this though:  I'm Really Not a Food Snob!)
So here's what we do:
I only have to pick up raw milk from our farmer once every 4-5 weeks since we're part of cowpool, where 5 families all take turns, and 4 of us are in the same neighborhood.  The other is only a mile away.  (Read more about raw milk.)
My friend, Amy, gets our fermented bread for us when I'm not in a streak of making my own, which I haven't been in a while because this fermented bread is so good and I just got out of the habit.  Soon I'm trying sourdough again, and I'm hoping this will become our everyday bread.
My friend, Sonia, gets us eggs from a farm by her Mom's house.  (Read more about how good eggs are for us.)
I do the monthly meat pick-ups (find pastured meat here if you don't have a local source), and also get butter or frozen berries from a local farm store, plus occasional trips to the local health food stores.
We recently bought a winter veggie CSA share from our local health food store, and 4 of us took turns going there every week.
Every few months I stock up on bulk items with a local buying club.
Handling errands this way makes everything very manageable.
No friends or neighbors close by who "get it" yet so you can split up the errands?
Start chatting with them about food issues and educate them; learn more together!  Most people want to do better when it comes to feeding their families, but they're too overwhelmed and don't know where to begin.  If you start talking to them about why factory farmed eggs, meat and milk are scary, then chances are they'll start researching it for themselves (hopefully) and soon you'll have someone to take turns driving to the farm with!
You'll spend less at the local grocery store
These days, trips to the regular grocery store aren't as necessary, or at least not as often, and for the most part they're not cart-overflowing kinds of trips.  Our local store is a Meijer and it has loads of stuff besides food, so I'm still in there a couple times a month for clothes or paper products or school supplies, etc.  I do still buy some food there, since they carry a few brands that are OK (and more organics all the time), and I'll get some produce now and then, too.  But it always feels good blowing right through the icky meat section with all the fake-reddish looking meat from who knows where, and skipping right by the milk and eggs aisles.
How do you save yourself time from running errands all over the place for Real Food?
Some of you will tell us about how you grow and raise it yourself, now that's convenient!  But there are various reasons why we all can't do that, so bringing friends and neighbors along this journey with you is the next best thing.  🙂