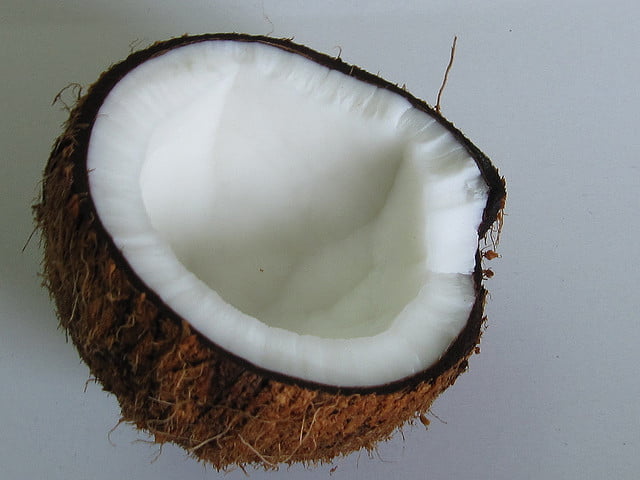 Warning, sad coconut story ahead…
First, if you're looking for the different ways to use coconut oil, click here.
Have you learned about all the health benefits of getting more coconut in your diet (or on your skin)?
MY SAD COCONUT STORY (not really)
I went to the store Saturday to get the stuff to make a new fish recipe and needed some flaked coconut. I've only recently begun to like more and more foods with coconut, so I had never bought it before. I found out that the bagged kind is full of preservatives! I just couldn't do it. (I'm assuming there is organic flaked coconut to be found somewhere?) So I bought a whole coconut, much to Kent's dismay, and being the great guy he is, he showed that coconut who was boss. It took a while, but he got the milk out (and I used some to make the kids' smoothies for breakfast), he chopped it open, peeled it (what a pain and a mess!) and shredded it while I threw the rest of the dinner together.
Here's the kicker…
After all that, none of us liked it. However, it may have been because of an eensy weensy little problem. I started the recipe an hour before we planned to eat, and then realized it was supposed to marinate for a few hours. Oops. That would probably make a big difference…ya think? (Side note: Kent has only recently been willing to try eating fish, and heck if I can make it a way that we all like – I stink at making fish! And I can't find decent fish around here anyway, it's all farm-raised.)
More you might like: