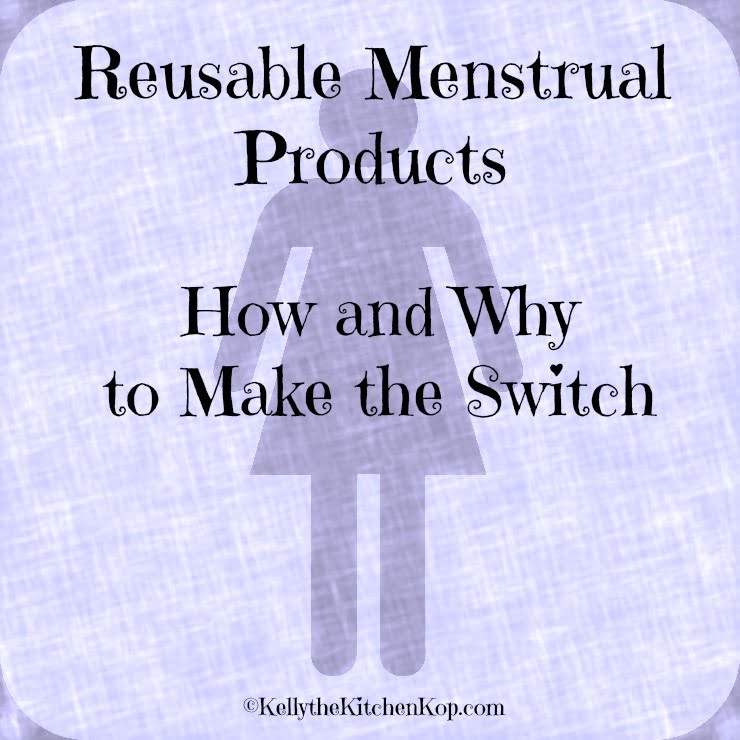 Reusable Menstrual Products: How and Why to Make the Switch
By Jill Boman
I took the crunchy plunge even further a few months ago and finally ordered a menstrual cup and reusable cloth pads and liners. I was nearly out of the disposable stuff and decided I was done buying it. Plus no matter how organic or natural, disposable pads and liners just aren't soft enough for my estrogen-deprived girl parts.
Now I keep asking myself, "Why did I put this off for so long?" Reusable menstrual products are more cost effective, more comfortable, and safer to use than the disposable varieties, and somehow using them satisfies my inner rebel. My non-conformist side that likes to "stick it to the man" and convince other people to "unplug from the machine" derives a lot of satisfaction knowing I've taken back my power as a consumer and am no longer a monthly slave to big corporations that exist solely to benefit their stock holders. I'm feeling the power of never having to buy more pads, liners, or tampons!  Yee Haw!!!
And I went cheap on my purchases too, which makes me wonder if I'd invested more money if I might have found products I like even better. Being in peri-menopause and the skipped cycles it involves, I really don't know how much longer I'll need them. Still, I love what I bought and I'm going to tell you about it today, including answering the burning question: How do I handle washing used menstrual pads and liners?
First, what's wrong with tampons and disposable pads?
Most are made with synthetic and super absorbent material such as rayon (derived from wood pulp cellulose, but turned into rayon through a chemical-heavy process) which worsens cramping, is a breeding ground (read: party) for bacteria, is drying and rough to sensitive tissue (have you ever tried to remove a tampon that was not yet fully saturated with blood? Ouch!), and can increase risk of Toxic Shock Syndrome, even when used properly. Tampons, whether cotton or synthetic, tend to leave fibers behind as well.
Just let that creepy thought sink in for a moment.
Even if you use softer, 100% cotton disposable products, keep in mind that most cotton grown in the U.S. is genetically modified AND doused with enormous amounts of agricultural chemicals. Just say "no" to glyphosate, AKA Roundup, in your most sacred baby making parts! And Bt cotton is engineered to produce its OWN insecticide. I don't want any of those chemicals in or on my body, especially in contact with permeable mucous membranes.
But wait, there's more.
Unless the package specifically states that the product is unbleached, these fibers (whether synthetic or cotton) are then chlorine bleached, a process that produces dioxin as a byproduct. Dioxin is not only a known human carcinogen and linked with endometriosis and hormone imbalance, but it accumulates in fat cells and can take many years to effectively detox. I can't even imagine the further pollution to your body if you use scented pads and tampons. Please, never, ever use scented products "down there" or anywhere!  As Maya Rudolph says, "Who needs that shiz in their lady biz?"
The average woman will use 16,800 disposable pads and tampons in her lifetime (!)—all of which ends up in landfills, which already take in a total of 20 billion pads, tampons, and applicators in North America annually. Obviously this is neither ecologically nor economically friendly. For a wake up call, you can calculate how much money YOU will spend in a lifetime on disposable tampons and pads here.
What I Ordered
Like I mentioned, I am well into peri-menopause and didn't want to invest a lot of money, especially since I was unsure of how it would work out. So I bought the cheapest menstrual cup I could find, the Blossom Cup. This surprisingly highly rated silicone cup comes in 2 sizes (small for pre-childbearing, large for post-childbearing), with 9 color options, and costs $16.95 (update: now $14.95). Most menstrual cups range from $20 to $40. I also bought Love My cloth pads and liners ($17.99 for 6 pads/middle size and $16.98 for 6 liners/small size — not bad!), plus more LBB liners ($10.00 for 3 liners/8 inch size), all on the low end of the price scale.
The menstrual cup and the cloth pad and liner sets each came with high quality storage bags, so I ended up with 3 zipper pouches in varying sizes and a cute polka dot draw string pouch to store my Blossom Cup. I keep one of the smaller zipper pouches in my purse and keep the other two under the bathroom sink: one for pads and one for liners.
The Menstrual Cup 
I ordered the small Blossom Cup  (in blue) even though I have two grown children, and so far I've had no problems with it slipping out of place during wear (though I am a fairly petite person). Menstrual cups create a suction once inserted, which forms a seal that prevents leakage and helps secure them in place. They must be folded prior to insertion, after which they "pop" open on their own (no, it doesn't hurt).  A short stem allows you to easily grab onto it for removal, which involves first "breaking the seal" that's been holding it in place by pressing against the side of the cup for a few seconds with your finger. It sounds more gross than it is, and there are ways to make it easier.
Fortunately, since menstrual cups hold more menstrual flow than tampons, they only need to be emptied 2 to 4 times in 24 hours, depending on how heavy your flow is. You can even wear a menstrual cup overnight, something that is NOT recommended with tampons.
Because they are non-absorbent, menstrual cups are not associated with Toxic Shock Syndrome. The ultra absorbency of tampons creates a breeding ground for Staphylococcus aureus–AKA staph–bacteria, which produces the toxin associated with TSS when infection sets in. I will add that in this age of profit at any cost, educating women about the benefits of switching from tampons to menstrual cups makes a lot more sense than the Toxic Shock Syndrome vaccine that is currently in development!
Honestly, my Blossom Cup has won me back over to internal menstrual products.
I have not used tampons for many years because they are so uncomfortable for me and actually make my cramps worse. I almost didn't order a menstrual cup since I'd only used pads for so long. Many menstrual cup users notice their periods becoming not only more pleasant (less cramping, etc.), but also shorter and less dramatic overall. Since I've only used mine for two cycles so far, I don't yet know about it affecting the length of my period, but I can tell you that insertion, wear, and removal does not create any of the irritation or worsening cramps that tampons used to cause me.
To make friends with your menstrual cup you will need to get over a slight learning curve the first cycle, a big part of which is finding a fold that works well for you. Here you will find videos demonstrating the most common folds: the C fold, punchdown fold, and the 7/triangle fold. And here is a very informative video explaining how menstrual cups work and how to both insert and remove them, including tricks to make it easier (don't worry, it doesn't show anything graphic).
Of course just because menstrual cups are non-absorbent doesn't mean you don't need to apply careful handling and basic sanitation:
Wash your hands with soap and water before inserting or removing your cup.
If you have access to a sink, rinse your cup after emptying and before reinserting (tip: rinse first with cold water to help prevent potential stains from setting in).
If you are using a public restroom and don't have access to a sink you can wipe the cup clean with toilet paper (another tip: many handicap stalls have sinks).
To be on the safe side, don't use any lubricant on your silicone cup other than plain water, since some lubricant ingredients may degrade silicone.
Wash your menstrual cup with plain, unscented soap and water at least once a day during your cycle, and be sure to rinse thoroughly (you don't need special menstrual cup cleaners–we're unplugging from the machine, remember?).
After each cycle it is recommended that you boil your cup to sterilize it per the instructions that come with the cup.
Between cycles store your cup in the the draw string bag it came in to keep it clean.
If you have a yeast or bacterial infection use pads instead until the infection clears.
Just use common sense.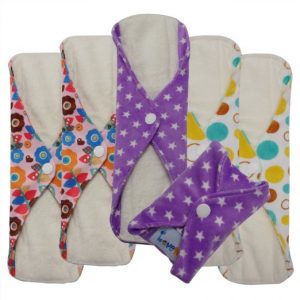 The Reusable Pads and Liners
This one surprised me just as much as the menstrual cup did. While I've used pads for years due to the uncomfortable nature of tampons for me (opting for unbleached menstrual pads like these and organic cotton liners like these), I've still had problems with no pads or liners ever being quite soft enough to completely avoid irritation. Maybe it's my sensitive skin or maybe it's reduced estrogen levels causing some thinning and greater sensitivity to that area, but I've long dreaded my period because of the discomfort of using those products.
My reusable menstrual pads and liners are SOFT, and I mean really, really soft.
Of course microfiber bamboo and cotton fabrics will always be softer than paper-y materials, no matter how finely milled.  And they come in fun prints too, which is a plus. Instead of adhesive, they secure to your underwear with snaps on the tips of "wings" that fold back. I'd wondered if the snaps could be felt during wear, but I've not noticed them. Those same snaps also work when folded inward (as shown by the purple pad above), which is handy for space saving storage and tucking a pad into your purse. As far as shifting during wear, the only time that has happened is during a run. It didn't shift enough to cause leaks, but it taught me that for activities like running I need to wear more snug underwear to compensate for the extra movement–an easy fix.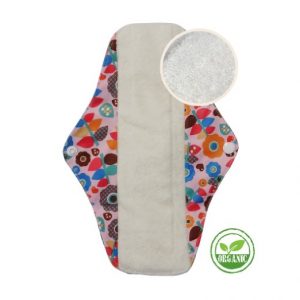 How Do You Store and Wash Soiled Cloth Pads?
This was the one part I was unsure about before diving in.  But after watching these instructional videos (here and here) by an adorable British teenage girl on how to pre-soak and wash pads I felt a lot more confident. After all, if a kid can easily handle it, certainly a 47 year old adult can too!
To summarize, I keep a tub filled about 2/3 full of cold water and a scant teaspoon oxygen bleach tucked back alongside the toilet. You can use an actual pail like Bree does in the video, but I just use a repurposed tub that originally held sour cream I'd bought at Costco (I'm cheap, remember?). A repurposed gallon pail, like the kind used for coconut oil, would work great too.
When I change a pad or liner, I simply immerse the used one soiled-side-down into the tub. I set the tub's lid on top, but I don't seal the lid closed because apparently that can result in odor (there is no odor at all with my current system). Within about 2 days I pour off the water into the toilet or bathroom sink and launder the pads either alone in cold water on the smallest load setting or along with other laundry with my regular laundry soap and oxygen bleach (always use cold water to remove blood and prevent blood stains from setting). I do squeeze out the excess oxygen bleach water and give them an additional cold water rinse in the sink before laundering, but you don't have to. Also, I have washed them by hand, which is really not a big deal because the pre-soak is so effective.
I am truly amazed at the super cleaning powers of that cold water and oxygen bleach pre-soak!
Even before laundering, my pads and liners already look clean and white if they've been soaking long. I have both line-dried and tumble-dried the pads and can't tell the difference in how they look or feel afterward, though it's likely that line drying would help them to last longer.  If you have a sunny area to line dry, remember sunshine also has bleaching and sanitizing qualities, which is a plus.  If I had stocked up on more pads and liners I might wait longer than a couple days to wash them, but I want to make sure I don't run too low.
This is an incredibly simple and yuck-free system.
If you are squeamish about handling soiled pads, you can keep a mesh laundry bag in the tub of cold water and oxygen bleach, which you would place the soiled pads into. When it comes time to wash them, you can then transfer the bag containing your used pads directly into your washing machine and you'll never even have to touch them!
Now if I had toddlers in the house I would keep that tub of oxygen bleach water in the cabinet under my bathroom sink with child locks to prevent little ones from getting into it. Can you imagine? Oh my…
How Do I Manage Soiled Pads Away From Home?
If I need to change a cloth pad or liner away from home I simply fold the used pad up, snap it closed, and place it in a plastic zip lock sandwich bag that I keep in the zipper pouch (called a wet bag) that the liners came in, shown here. That keeps it sealed away fro

m any clean pads or liners I am also carrying in the pouch. If I were away from home for the duration of my period, I would rely on my menstrual cup and use cloth liners as a back up, rather than using pads the entire time. If you have managed cloth pads while away from home for more than a day or two, please comment with any tips you'd like to share!
What Are the Disadvantages to Menstrual Cups and Cloth Pads?
While the advantages for me far outweigh the disadvantages, there ARE of course some disadvantages to reusable products you should consider before deciding.
There is a larger financial investment up front. Even though I went a relatively inexpensive route, I spent $61.92 in total on 1 menstrual cup, 6 regular pads, and 9 liners. The menstrual cup should last at least 10 years and the pads and liners should last at least 5, though I've heard of women using their cloth pads for 20 years or more. You can save more money by sewing your own menstrual pads and liners. This page has links for lots of online resources for free cloth menstrual pad patterns, and here is an instructional video on how to make your own pads without a sewing machine. There is even a Facebook group devoted to sewing cloth menstrual pads (patterns, sewing tips, etc.).
There is a learning curve during the first cycle or two to using a menstrual cup. It is a bit awkward and can be a little frustrating before you find a fold that works well for you and before you adapt to the "ins and outs" (pardon the pun) of using a very different type of product. Fortunately there are countless online articles and videos to help troubleshoot if you need some assistance. I will say that you'll know it was inserted properly and is positioned correctly if you are comfortable and it isn't leaking.
The liners are not quite as thin as very thin disposable liners. Now, that is with the the brands I purchased and the extreme softness more than makes up for it. But if you want thinner cloth liners, I found another option you might want to consider, pictured here on the left (print fabric). Compare with some of the liners I bought, pictured on the right (pink/green/purple).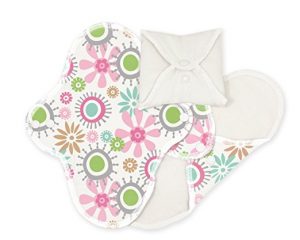 Reusable products take more planning. You can't just wrap them in toilet paper and toss in the trash. It requires more thought and handling than disposables, which takes a little getting used to.
Some people might think you're weird. We've been conditioned to think spending thousands of dollars on 16,800 disposable pads and tampons over a lifetime is normal. To me, that's weird, but hey, I'm a rebel.
Menstrual cup use could compromise the hymen in virgin women and teens, which may dissuade some virgins from using menstrual cups (an intact hymen is strongly associated with virginity in some cultures). In my opinion the significantly decreased risk of Toxic Shock Syndrome trumps this issue for virgins who are already using tampons, but that is a personal decision.
You'll be handling your menstrual flow more directly. Whether emptying your menstrual cup or washing cloth pads and liners, it's more of a hands-on deal than using disposables. Personally, I consider that a benefit because it gets you more in touch with what your body is actually doing during your cycle, but some people are more squeamish about blood and bodily functions.
If you've entertained the idea of switching to reusable products, I hope this post has given you the information and encouragement needed to go for it. If you already use a menstrual cup and/or cloth pads, please share your tips in the comments!
More posts you might like: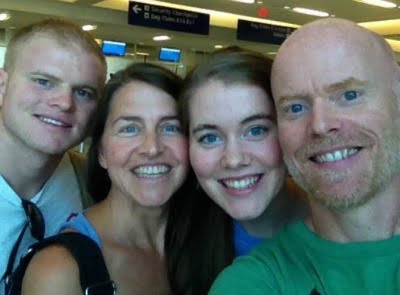 About Jill: My husband and I live in Waco, TX, along with our two awesome young adult kids (AND now in Dallas during the week while my husband attends chiropractic college). I have a small business, selling handmade personal and home care products at our farmer's market and local retail sites. I am also Kelly's blog assistant. ? I am passionate about real food nutrition, natural health, local food, and I love to cook. Fortunately we have access to lots of local food via Waco's fantastic year-round farmer's market, nearby farms, and even a grocery store that sources much of its food locally.
See all my previous posts here.