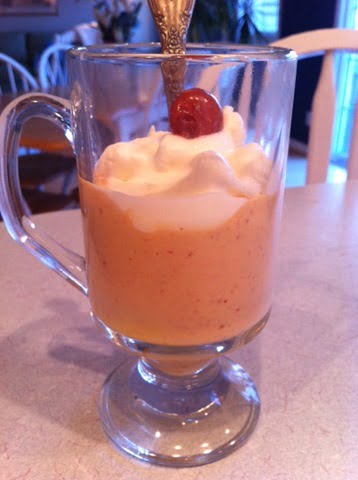 When driving recently with our five year old, he spotted a billboard from a popular fast food joint and said, "I want that, Mom!"  I said, "You want a strawberry shake?"  "Yeah, with whipped cream and a cherry, too!"
I thought to myself, "I can do that."
So I did.
My recipe doesn't have the junky ingredients or fillers found in fast food shakes (see the list below), and they even have some good nutrients from the raw dairy (if you have access to raw cream) and raw eggs.
This is what's in the fast food shakes:
Vanilla Reduced Fat Ice Cream: Milk, sugar, cream, nonfat milk solids, corn syrup solids, mono- and diglycerides, guar gum, dextrose, sodium citrate, artificial vanilla flavor, sodium phosphate, carrageenan, disodium phosphate, cellulose gum, vitamin A palmitate.
Strawberry Syrup: Sugar, water, corn syrup, strawberries, high fructose corn syrup, natural (botanical source) and artificial flavors, pectin, citric acid, xanthan gum, potassium sorbate (preservative), caramel color, calcium chloride, red 40.
Whipped Cream: Cream, nonfat milk, water, corn syrup, sugar, high fructose corn syrup, mono-and diglycerides, carrageenan, polysorbate 80, beta carotene (color), natural (dairy and vegetable source) and artificial flavor, mixed tocopherols (vitamin E) to protect flavor. Whipping Propellant (nitrous oxide).
Maraschino Cherry:  Cherries, water, corn syrup, high fructose corn syrup, sugar, malic acid, citric acid, natural (plant source) and artificial flavors, sodium benzoate and potassium sorbate (preservatives), red 40, sulfur dioxide (as a preservative).
Scary, isn't it?  Try this Real Food strawberry shake instead:
Homemade Strawberry Shakes
Ingredients and Instructions:
Blend 4 pastured egg yolks well – I use my Bosch blender.  (Wondering about eating raw egg yolks?)
Add 2 cups real cream, preferably raw, but for sure not ultra-pasteurized.
Add 1-2 Tablespoons real maple syrup, or another natural sweetener.
Add 2-3 cups frozen strawberries, preferably organic, and blend well until the cream and strawberries thicken up, for a minute or two.
Pour into serving glasses and top with a dollop of real whipped cream.
Add a cherry on top.  I found some canned cherries that have only one ingredient:  cherries!  No coloring, no fake anything!
Serves 4-6 people.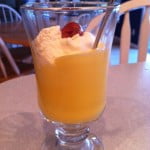 I also made these homemade vanilla shakes (looks yummy, huh?), but it was a while ago now and I can't for the life of me remember how I did it.  I really irritate me sometimes.
If I had to guess, I'd say I probably scooped some homemade vanilla ice cream into a glass and added the whipped cream and cherry on top, but my ice cream isn't normally this yellow, so I'm not completely sure.  I'm sorry to be such a dingbat.
Do you make other flavors of homemade shakes?  If so, tell us how you do it in the comments.  🙂
More posts you may not have seen:
Source for the above strawberry shake ingredient list.