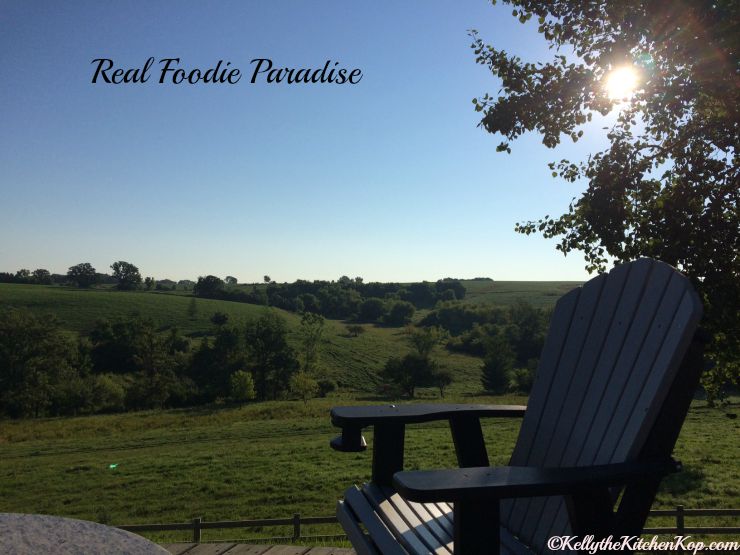 Real Foodie Paradise Part II:  A Public THANK YOU Note
Last week I went on a Minnesota vacation to visit a longtime blog reader…
So today I'm going to turn all of this into a public thank you note to our sweet hosts…
Dear Philip and Kay,
How in the world could I ever find the words to thank you both for the best foodie vacation ever?!  Kay, you're so fun, kind, and easy to talk to.  I loved our chats about food and family, and our long walks.  I appreciate your listening ear on my blogging/author woes and your wise advice.  Thank you for introducing me to organic dark chocolate with port wine, how could I have not known about such a treat?!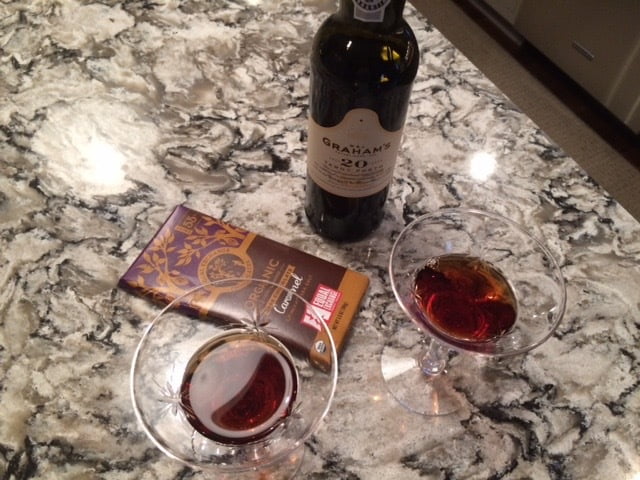 (In case any of you reader friends are wondering, there's not too much sugar here because only a little bit of each is all you need for a taste experience, and really, that's how it is with most real food.  It's so delicious and rich, you don't need as much to feel satisfied.  I sometimes still eat too much just because I loooove food and real food is SO good, but I'm getting better about that–can anyone relate?!)
Look at the picture at the top of this post, that's where I got to enjoy my delicious morning coffee!  And check out this view of their pasture: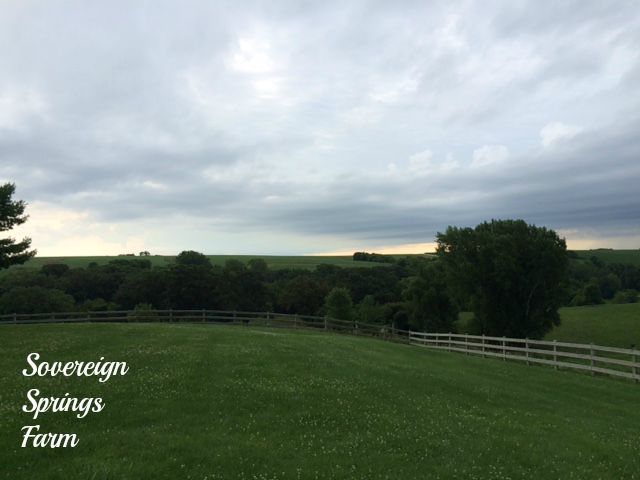 Here's a shot of my bedroom suite…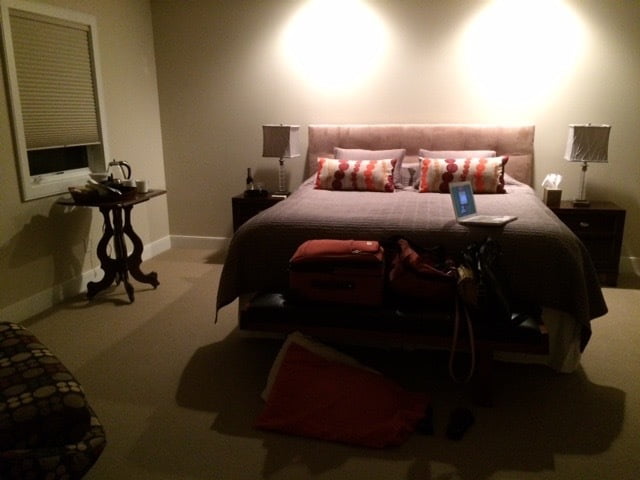 And when I say "suite", it really was!  I had the whole upstairs to myself, with a bathroom that Kay stocked full of lovely organic products, along with some fresh roses (what?!!), and this tray was waiting for me in my room: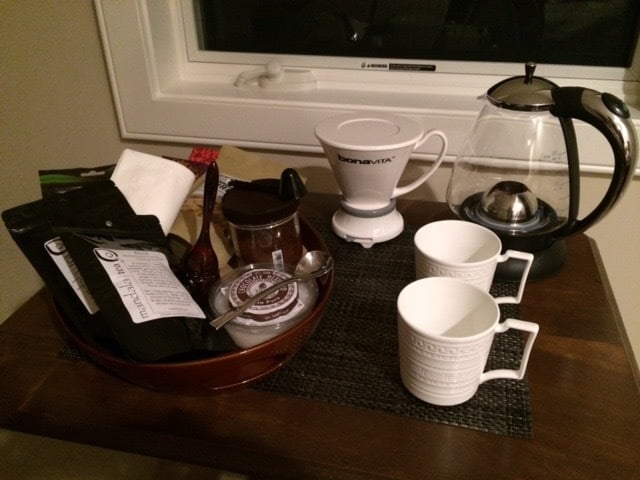 Yes, that's a personal coffee pot, organic chocolates, organic snacks, organic nut mix, can you believe all of that?!!!  Kay, thank you for spoiling me so much!
And the food, my goodness, the FOOD!
The first morning we were there, she made a berry crisp (I need that recipe Kay!) and an egg casserole that was extra delicious because it was made with eggs from their hens, sausage from their pigs, cheese from Pam the cheese lady who I told you about here (and toast from her bread), and even some local butter!  Of course, once again, I was too busy eating and enjoying to remember to snap a picture.  The next morning we were on the go early, so she made us some tasty smoothies with her own milk kefir (here's how to make it), organic fruits, etc.  YUM!  I did remember to snap a shot the following morning, check out this spread:  fresh fruit, their farm eggs and bacon, Pam's oatmeal toast, sautéed kale, leftover berry crisp.  SO SO DELICIOUS!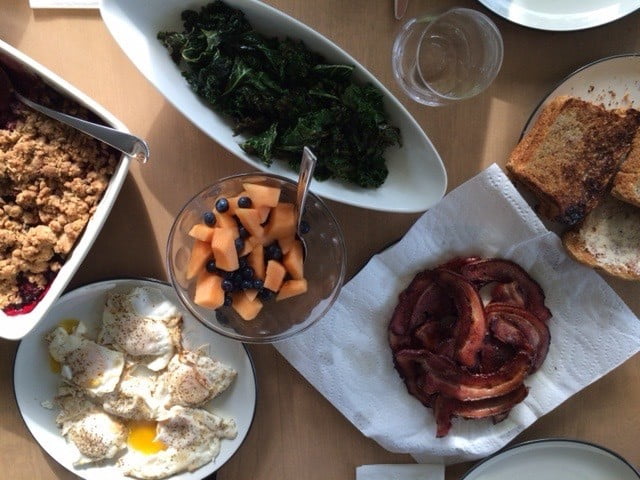 We were only there for one dinner (because we went out the other night), and she made this crazy-awesome beef tenderloin with potato salad and a cabbage beet salad–Philip and Kay, thank you for feeding us like royalty!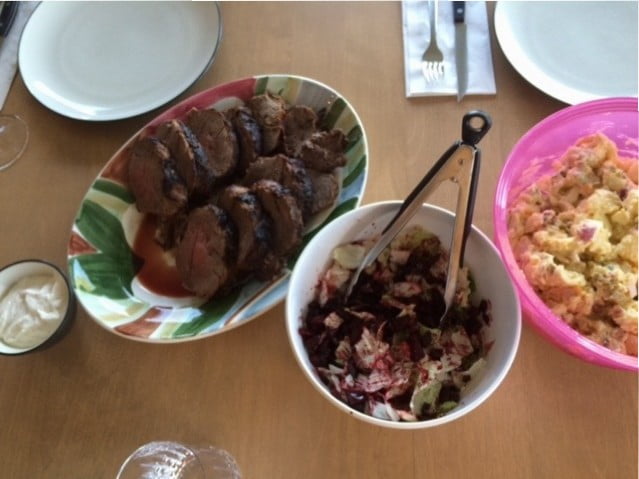 On our first morning, they showed us around their farm…  Doesn't it remind you of pictures of Ireland, with green pastures and rolling hills?  I never knew Minnesota was so beautiful!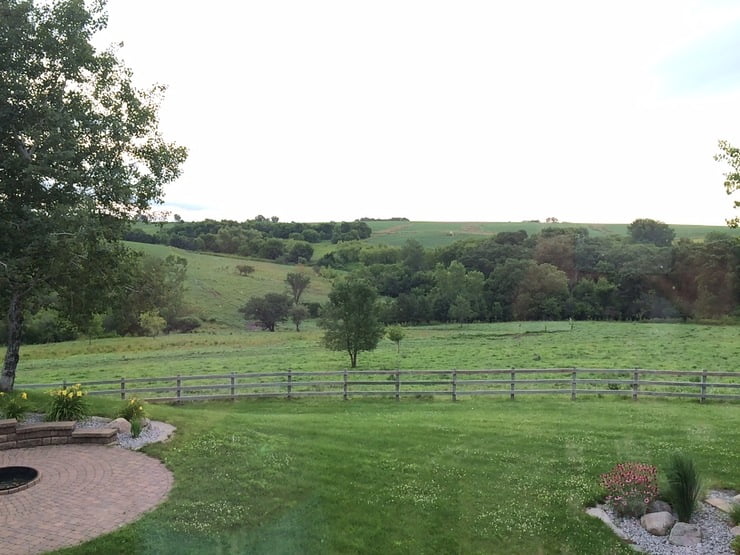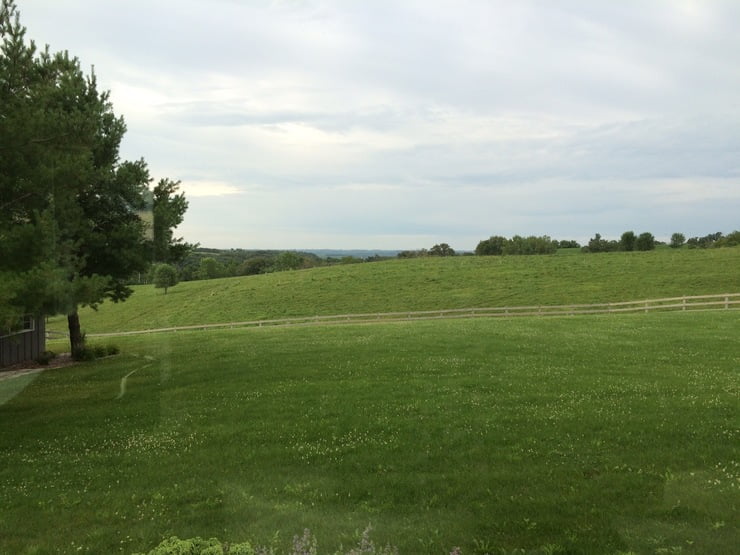 They truly care about their farm animals, and I loved hearing about all the different bio-dynamic farming methods they use to build more nutrients into their soil so their pastures, and therefore their animals, are very healthy.  Aren't their cows pretty?  I love seeing happy cows out grazing on green pasture: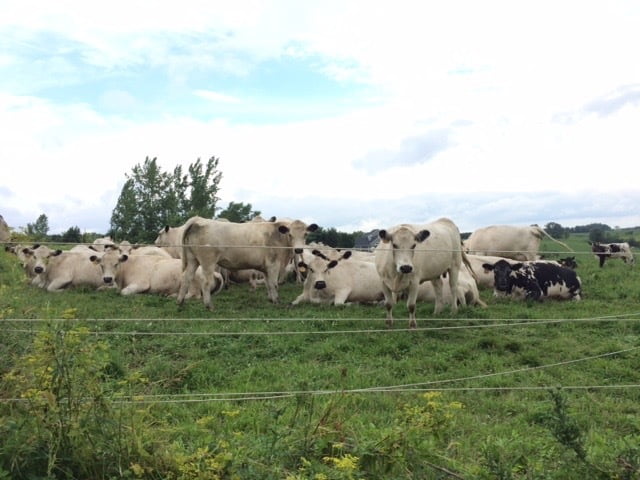 Here Philip (and the boys) were feeding them apples.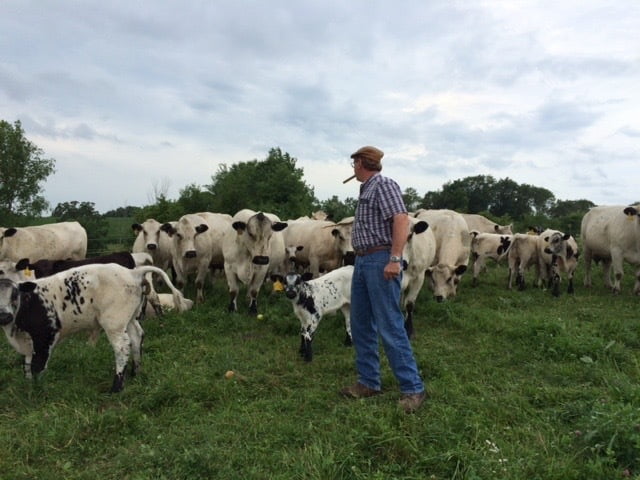 This picture cracks me up because the bull looks ticked off, but Philip said all of their animals are very gentle and wouldn't hurt you, he only keeps the mellow ones since they have lots of grandkids always running around.  🙂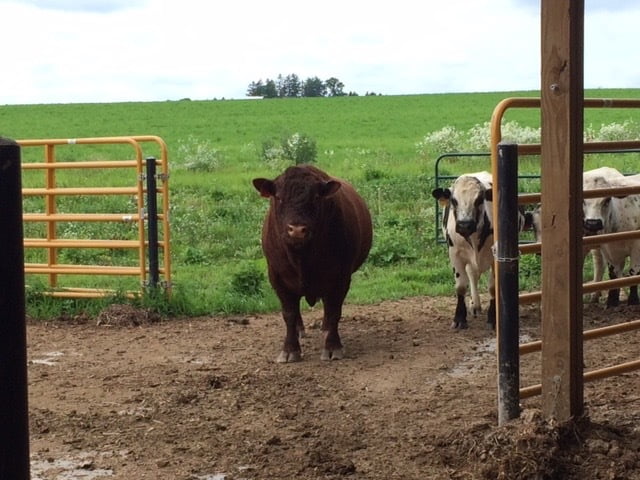 Happy chickens: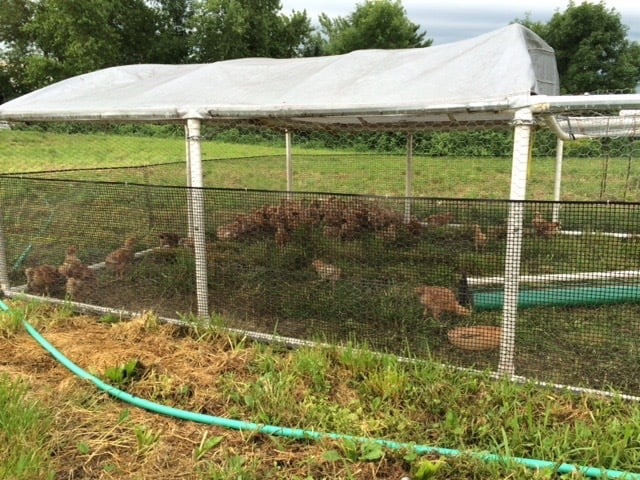 Happy pigs: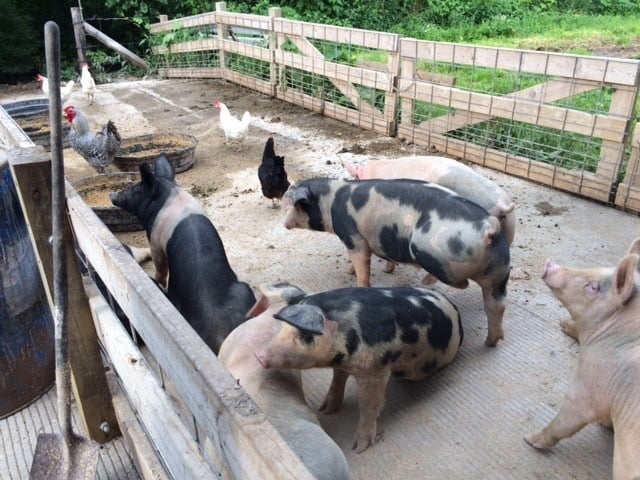 They have 200+ acres of land, and here's a view of the house from way out back.  Philip took us all over their land and we got to see their stream, their hunting cabin that is full of character, more pastures, and some of the forest areas where the pigs love to forage around.  🙂  Philip, thank you so much for the fun farm tour!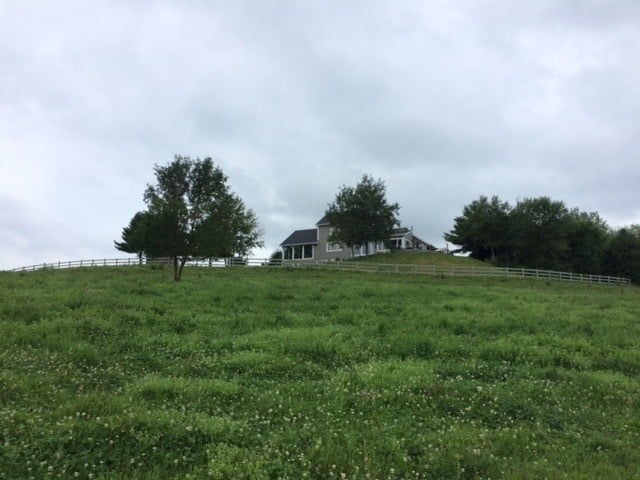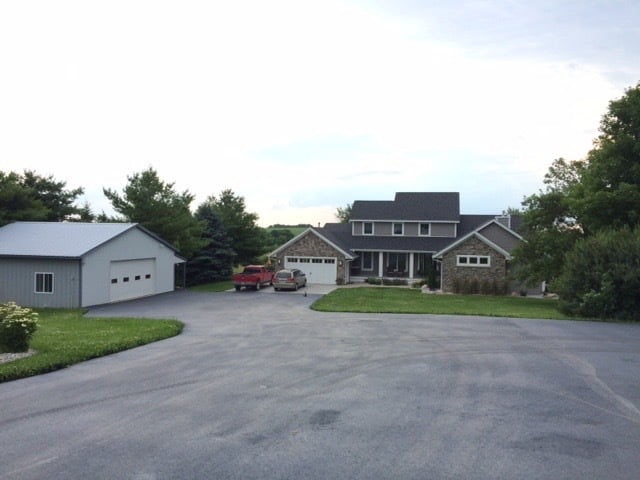 I didn't get many pictures inside of their beautiful home, but here you can see how they have mostly floor-to-ceiling windows with breathtaking landscape views of their green pastures: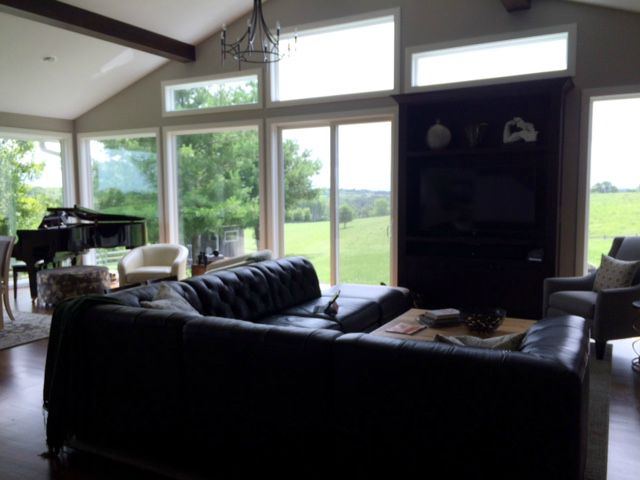 Here's their sunroom out the other side, which they call their "coffee room".  Morning coffee time was so wonderful–thank you both for such a relaxing getaway!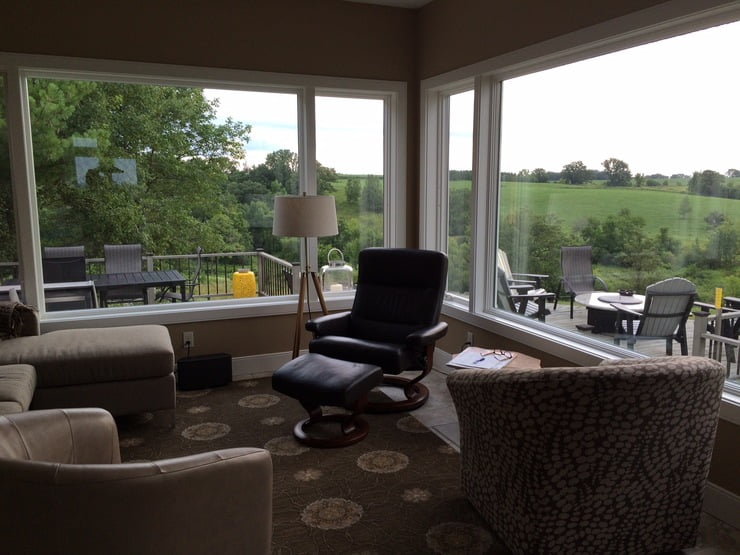 Kay, thank you for all the FUN real foodie field trips, too…
First we visited Pam, the cheese lady I wrote about last week, who also grows loads of produce for their family-run CSA.  We got to sample her cheese and some of her homemade bread made with a traditional wheat called, Kulm.  Read about all that here.
Then we visited Shanna, who makes goat milk soap (I bought some soap and some lip balm and LOVE the creamy softness of both):
Look at her adorable storefront where we got to have a nice chat with her all about real food and natural products, plus she showed us where she makes the soap:
THEN Kay took me to her sister Brenda's house, who is a wine-making, gardening, canning, putting-food-up MACHINE!  I took a picture of the big long list of all the stuff she cans each year, but can't find it now.  (I was having trouble with my phone all last week.)  Here's a little video I took where Brenda tells us about a couple of her time-saving FAST real food ideas (plays after the ad):
Wine making: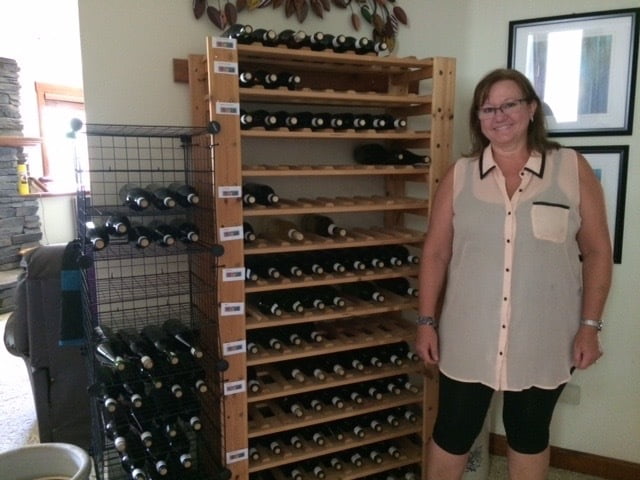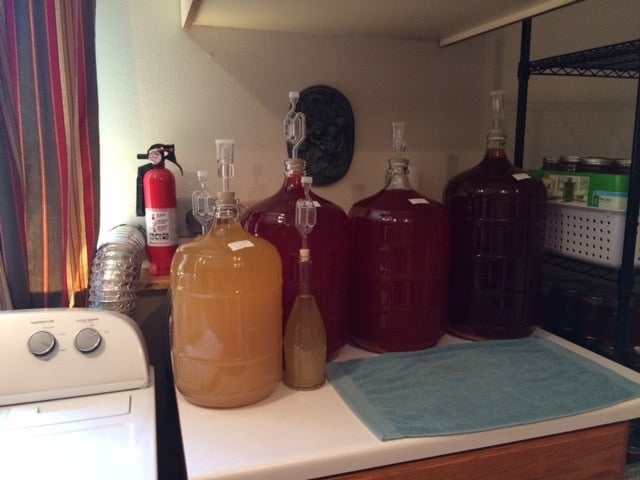 Here is the huge garden that Brenda and her husband and two of their friends care for together–thank you all for showing me around your beautiful and well-loved vegetables!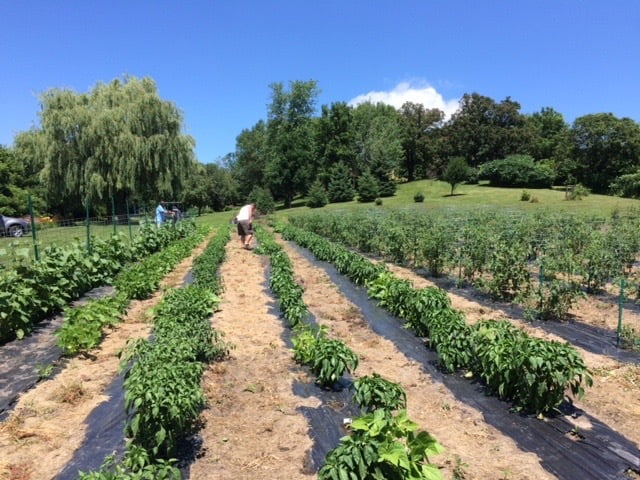 I took a long helpful video with Brenda sharing about the new way they do gardening now, which makes everything SO much easier irrigation-wise AND there are less weeds, too.  Her husband said, "It's the one thing that actually works as well as they say it does!"  Unfortunately I bumped the camera and didn't get the video after all.  🙁
Kay, can you find out more about this from Brenda and I'll add it to the comments later?
Look at all the goodies Kay & Brenda sent home with us…  Wine, salsa, hot peppers, hot sauce, and more.  Thank you both for filling my pantry up, and I especially can't wait to try the wine!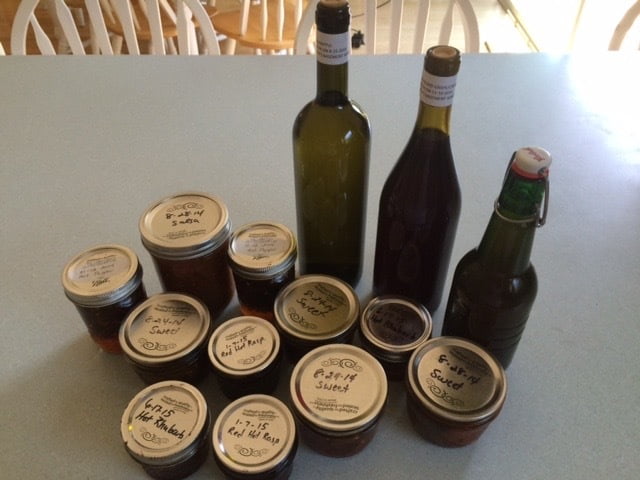 After that we went over so I could meet one of Philip and Kay's daughters (such a cute young Mom), and I also got to meet their sweet newest grand baby and had some good baby squeezes!
Kay is so thankful that both of their daughters and their husbands also value real food and eat the meat that they raise on their farm.  Neither of them live very far away, so they get to see them and all their grand babies a lot, too.  🙂
Philip was a riot, always cracking us up, and he was SO good to the boys.
Our son, Kaden, and his friend, Ray, also came with me.  You would think he wouldn't be all that thrilled about his wife inviting some chick she had never met and a couple teenage boys to his house for a few days, but instead, he seemed to really enjoy showing us around and treating the boys to the time of their lives.  Even my shy son couldn't believe how easy he was to talk to, he totally put them at ease.  He and Kay gave them free reign to build campfires out back (after the rest of us went to bed), or to hop in their Terex anytime they wanted to explore around their land, so they were loving it.  I knew these were a couple of really good, trustworthy boys, but Philip and Kay didn't know them at all, yet they just trusted them right off the bat, and that meant so much to them!  Plus while I had the whole upstairs to myself, they had the whole lower level, complete with their own room, bathroom, and big-screen TV and bar area, stocked with bonfire supplies and the fixins' for organic smores.
Philip and Kay, you didn't forget anything, thank you so much for your thoughtfulness!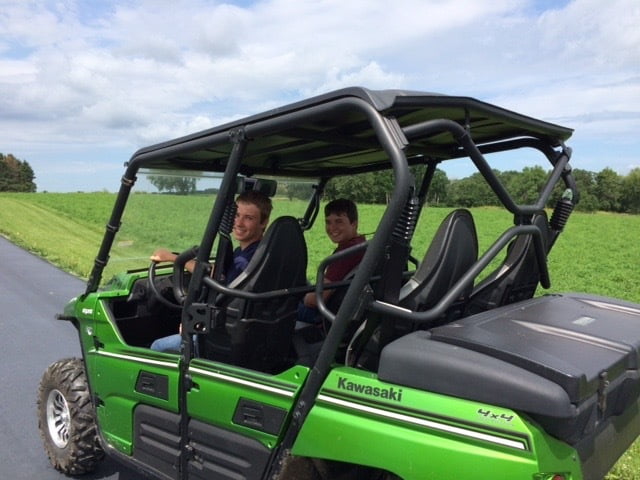 Kaden has been taking pilot lessons for over a year now, and Ray had been considering it.  Philip took them to the airport and had his pilot instructor friend take each of them up for an hour of flying in his plane (and he wouldn't even let me pay him for the fuel!), and now Ray has the flying bug, too — he even gave Ray his first logbook so he could log in his first hour of flying!  Here's Philip's plane, which he built himself (the boys were very impressed):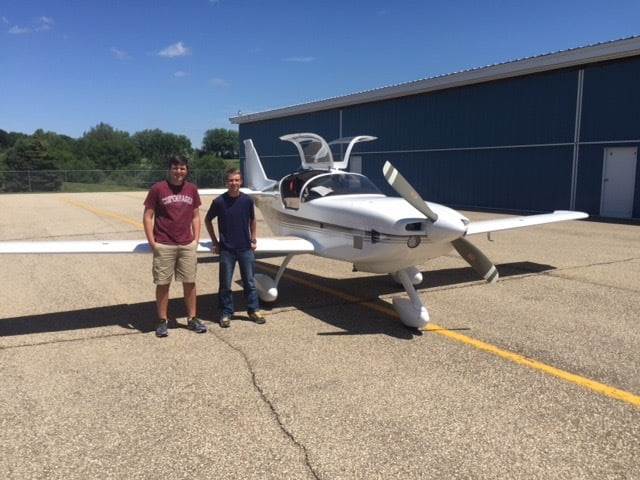 As if that wasn't enough, Philip used to be a police officer, so he let the boys shoot a few different guns and taught them gun safety: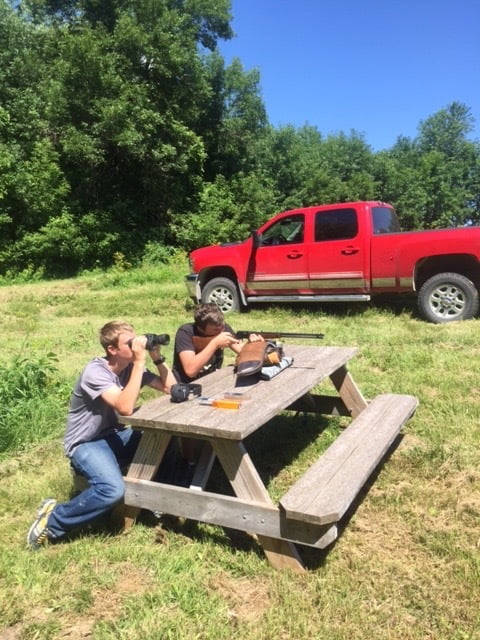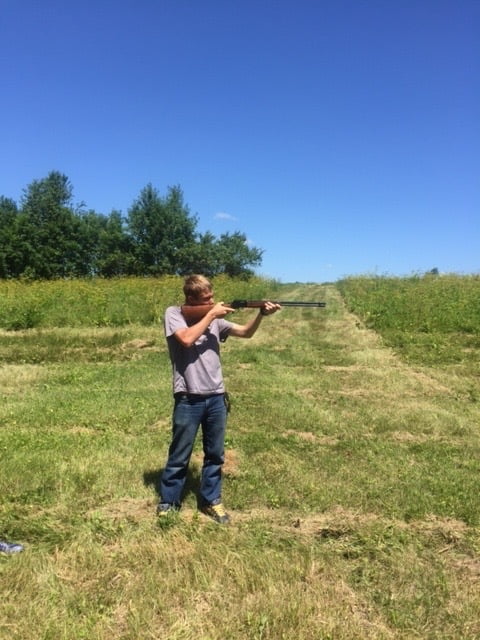 So as you can tell, while I was enjoying my real foodie dream vacation, the boys were having a blast too–thank you Philip for your generosity and kindness, and for all the fun memories you created for Kade and Ray.  They will never forget it, and I hope someday they will pay it forward to some kids in their future.  🙂
Tuesday was the book signing, here are Kay and I before we left: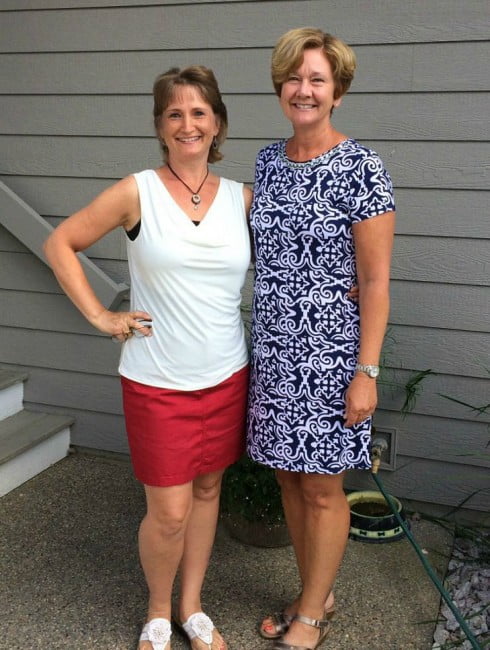 I loved meeting new people, some who were Kay's dear friends, and I especially enjoyed chatting with a couple who just recently found out she has some food allergies and that they'll need to change how they're eating.  They were feeling overwhelmed, and were THE type of people I wrote my book for.  My excitement was renewed about how I really think my book can help so many people, because I was able to flip to the first chapter and show them how simple it can be to just replace this not-so-good food with that better alternative.  I also showed them the easy-to-understand chapters with the top ten foods to avoid and top ten foods to add into your diet.  It's the tool that I really wish was available when I first learned about all the junk out there that I had been feeding my family, and I knew I needed to do better, but didn't know how.  Maybe you know someone who needs some help, too?  (Read more about my book here, including where to get it.)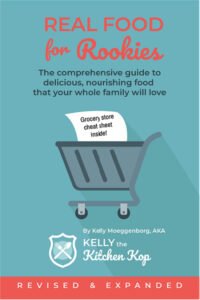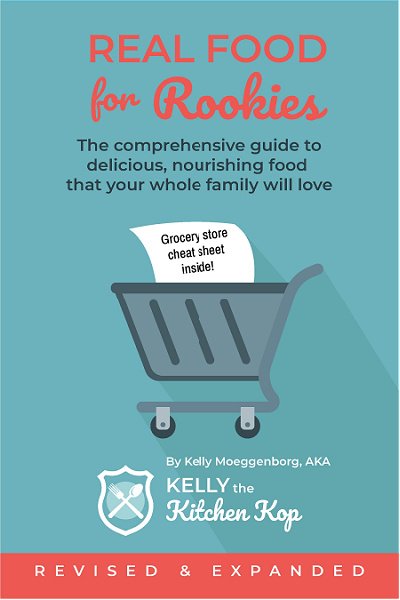 Kay, thank you so much for setting all of that up with your local chapter to help promote my book!!!
After the book signing, we went out to eat with Kay's sister, Brenda, and their friend, Jane, and we had SUCH a fun dinner…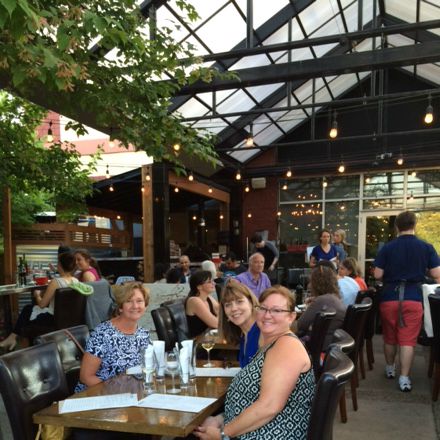 Right by the restaurant was a neat little sitting area off to the side of their outdoor seating: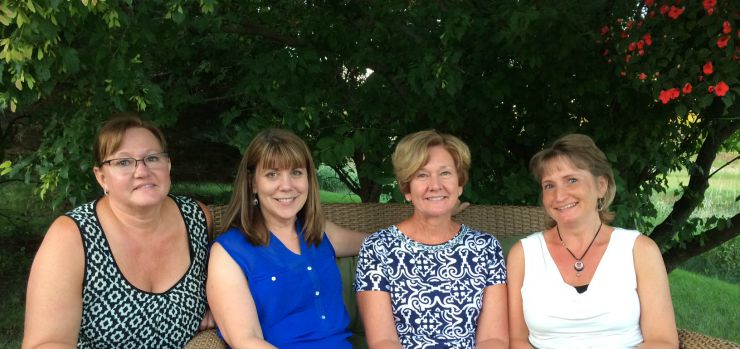 We all decided to get the "adventurous chef tasting" dinner with the wine pairing–I will do this any chance I get from now on, and you should too–step out and live on the edge!  🙂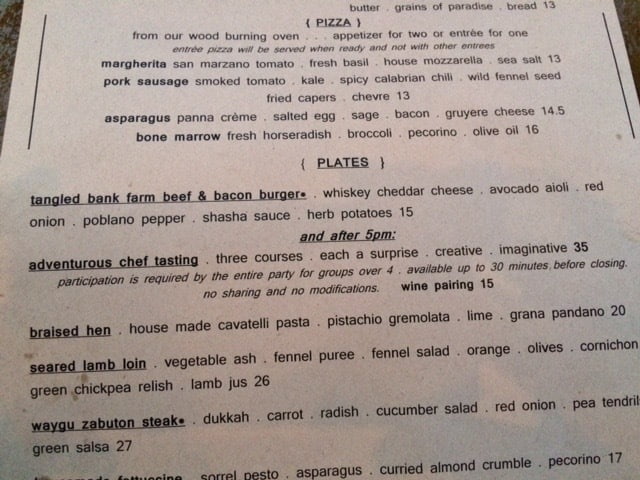 Each course was a surprise and each was so fun to experience because we're all foodies–you know, those people who like to ooh and aah, and discuss every new flavor that's dancing around in our mouths.  🙂  I loved how you could take a sip of wine, and maybe not love it at first…  (My palate is still immature when it comes to wine, and while I'm waaaaaay past the nasty wine coolers I would drink many years ago, those are disgusting to me now and just taste like chemicals, I'm still only at a sweet or maybe a semi-dry white wine so far…)  But then I'd take a bite of the course that it came with, and take another sip of wine, then I'd love it!  The flavor would change with the food that it was paired with.
The first course was a truffled egg, it had a light asparagus custard with parmesan inside.  It came in an egg shell in a little bowl of salt.  There were only a few small spoonfuls in there, but it was just enough so you enjoyed it but you were still hungry for the next course.  This one was paired with a Chardonnay I think–I can't find my note on that…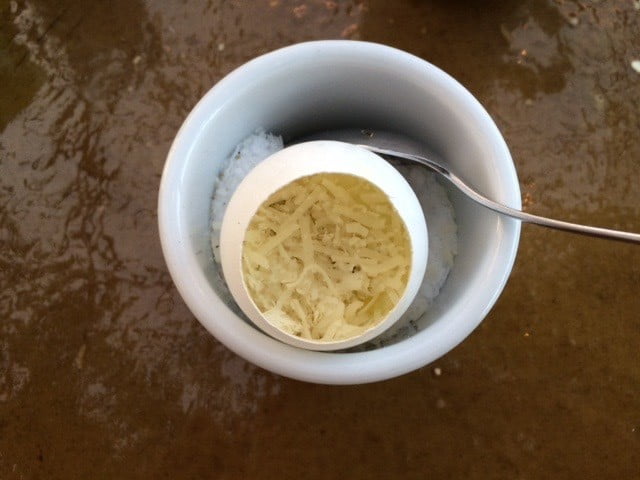 The next course was rare swordfish over a lemon yogurt sauce with sautéed artichoke, served with a Sauvignon Blanc.  This was Kay's favorite course (I learned later that seafood is always her favorite) and it was so flavorful!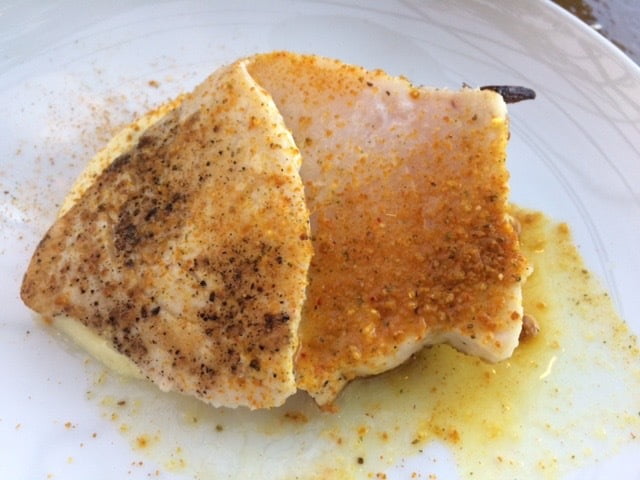 Next came a tri-tip Waygu steak over heirloom rice with shallot juice, on the side were Chantenelle sautéed mushrooms that tasted like BUTTER, they were so good, and I normally don't even like mushrooms.  This came with a rich red wine that I didn't like at first, until I tasted the beef, and then WOW, what a difference!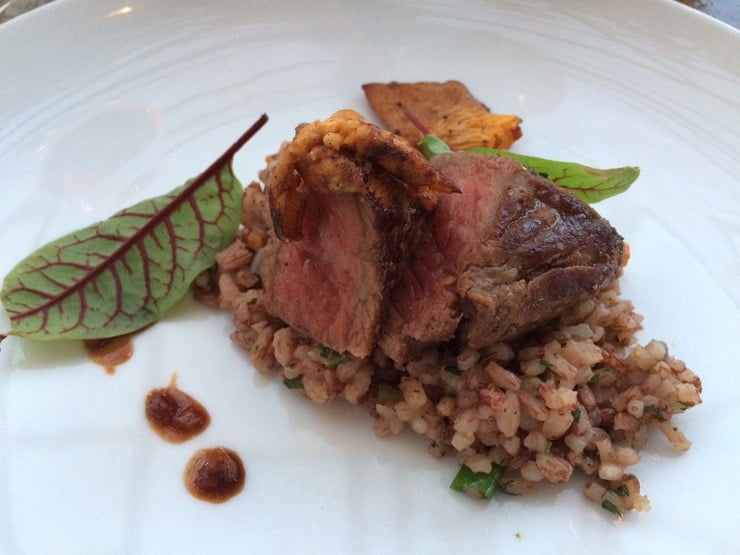 The dessert course was a banana and smoked bacon puree tart with banana whipped cream, and it was served with my new favorite, a port wine!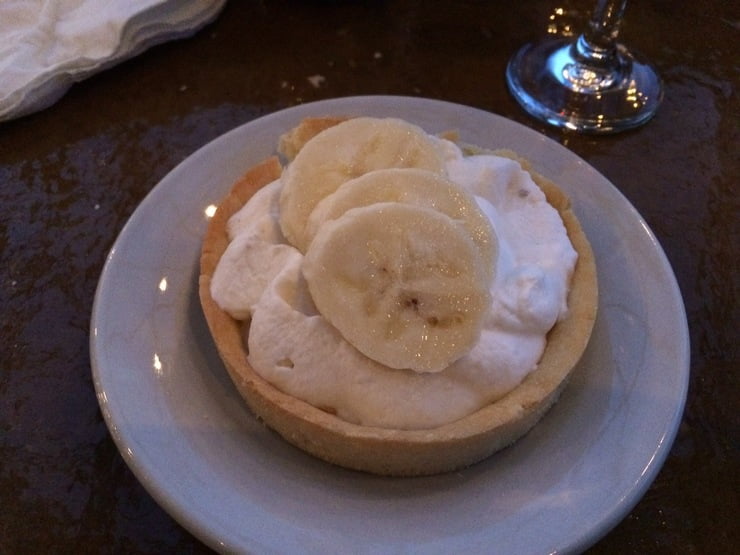 I wanted to buy Kay's dinner to thank her for all her hospitality, but NOPE, she wouldn't let me do that either and she bought all of ours instead!
Kay, thank you so much for this dinner and such a great memory.  🙂
The next morning it was time to go, and I was truly sad to leave these wonderful friends and their peaceful home, which felt like a getaway retreat: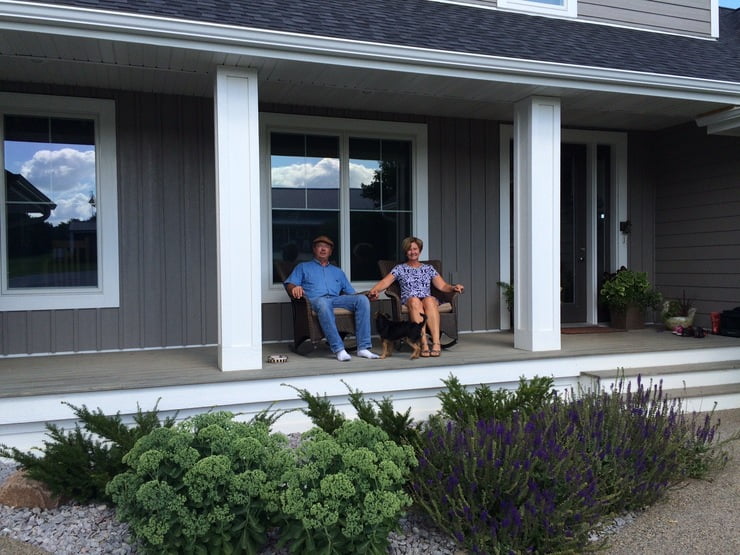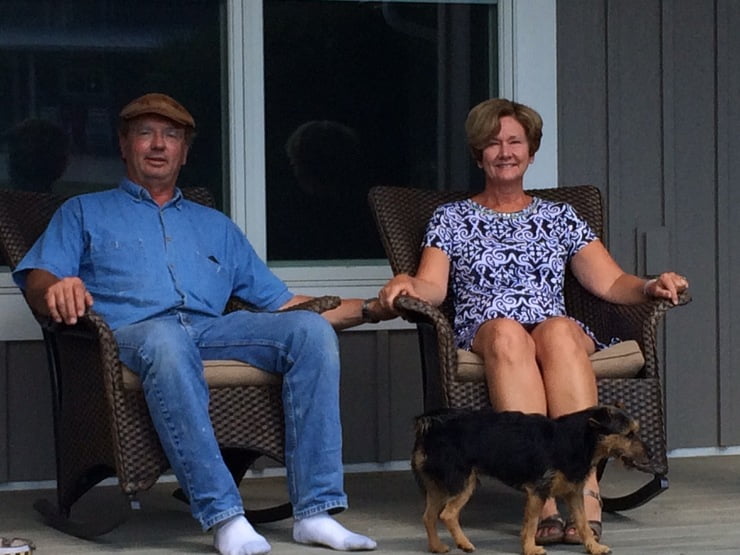 It was off to the Oshkosh Airshow for us, the biggest one in the world, so the boys were loving it.  Who am I kidding, there were huge jets there, so I was loving it too.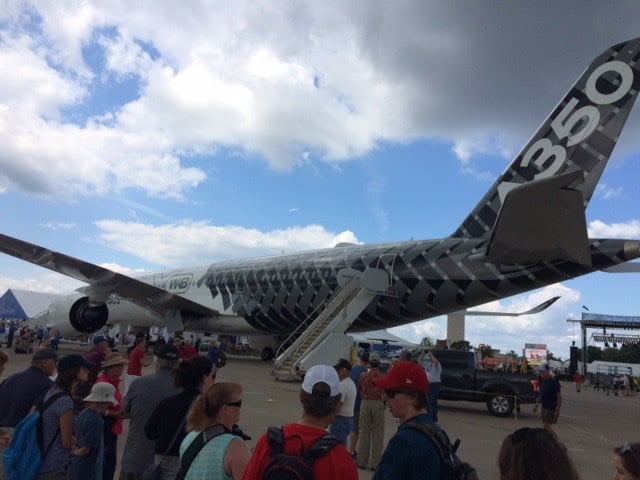 NOW do you see what I mean, though, when I say I was in real foodie paradise?  Philip and Kay, thank you from the bottom of our hearts!!
Did you see these?