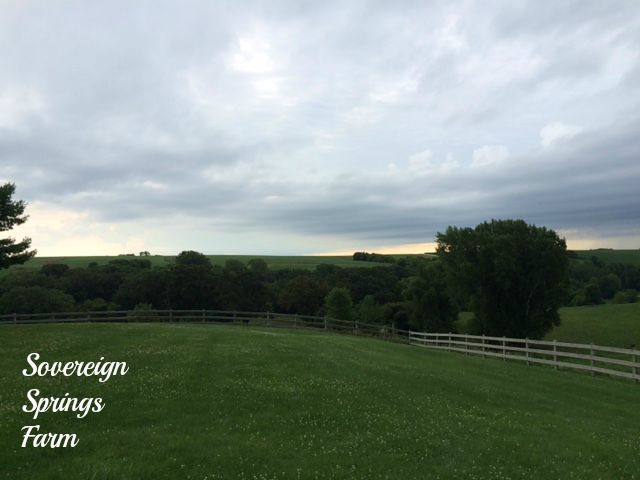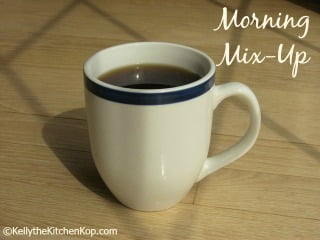 Good morning, right now we are in Minnesota and being spoiled like crazy!  (Read about how we got here in last week's mix-up post.)  You won't believe the gorgeous views I woke up to this morning, which I enjoyed in my PJ's with Philip and Kay and some delicious coffee, in their beautiful sunroom overlooking their pasture.  (Pictured above.)
I ran out of time, so later this week I'll post more about Kay & Philip, all the FUN stuff the boys are getting to do (our son Kaden and his friend, Ray, came with me), and pics of their beautiful farm.  No promises on when since I'm on vacation you know!  (Updated later:  Read all about my trip here…  Real Foodie Paradise Part II and a Public THANK YOU Note!)
We're having many great conversations that only people like YOU guys would enjoy.  🙂  Philip took us on a tour all over the farm today and he and Kay have been explaining how they use biodynamic farming methods to raise their animals on the most nutrient-dense pasture possible, based on Joel Salatin's methods.  Their animals are truly THE most happy cows, happy chickens, and happy pigs I've ever seen, all out on pasture, with acres and acres of lush, green land and forest for their dining pleasure.  And mine.  For breakfast we had a mouth-watering egg casserole made with their eggs, their pork sausage, and cheese from the farm I'll tell you about next…
First, today's post sponsor is WellFuture.  Makers of Vaccishield, a protective supplement I told you about recently to take before vaccinations (forced or voluntary), and also WellBelly…
WellBelly is a unique blend of eight different non-dairy probiotics that target intestinal, digestive and immune health in infants and children. Our probiotics are grown on a hypoallergenic yeast to avoid common food allergens. Our probiotics support intestinal health, digestive balance and the immune system without the D form of lactic acid that can irritate digestive tracts, especially in young ones. There are no fillers, binders or any artificial anything in WellBelly. WellBelly contains ONLY the ingredients listed on the bottle, there are no hidden ingredients in WellBelly. Each bottle of WellBelly contains 60 servings of 8 billion IUCs."
This is the kind of company I trust.
So today Kay took me to her friend, Pam's, farm (Prairie Hollow):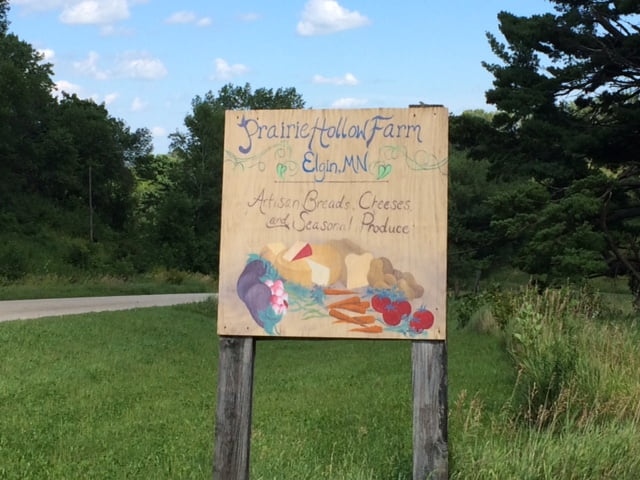 There we sampled her homemade buns made with an old, delicious wheat called Kulm.  (I'll be curious if any of you have heard of it?)  This nutty, tasty wheat from the 1700's was almost lost, but years ago when she had only one small crop of it left, she saved the seed, only using what she needed to bake bread, and replanted the rest, praying the crop would go well so she wouldn't lose this gem.  She said it's very unique because it becomes ready to harvest at different times — look at the beautiful, different coloring, because some is ready and some is not: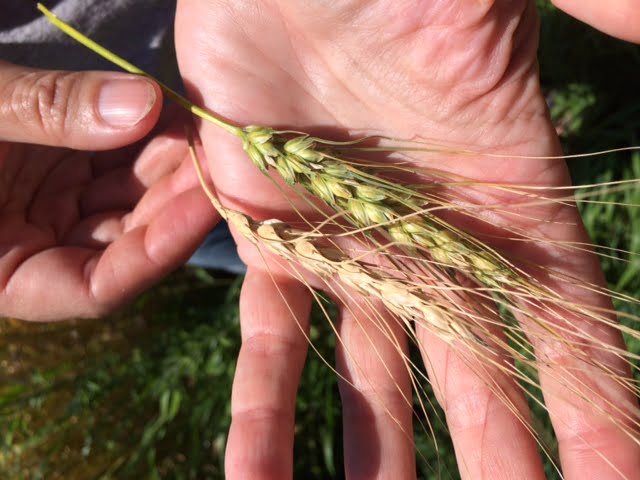 We also got to sample her homemade cheese, what a treat!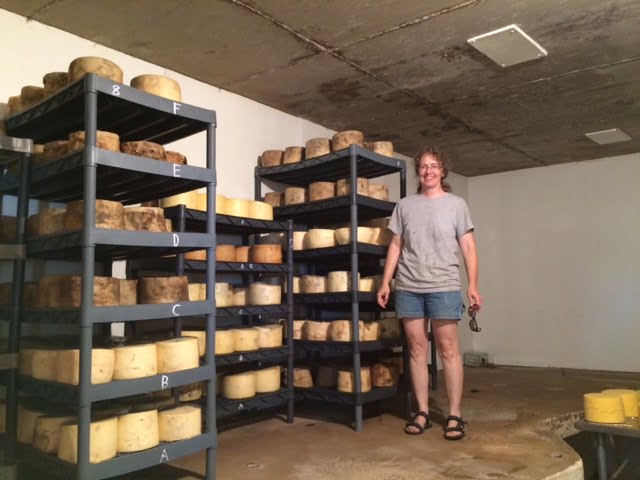 This is mozzarella: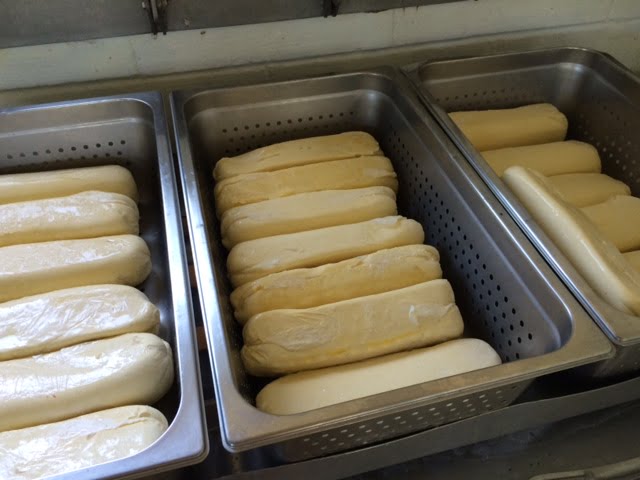 Plus she grows just about everything you can imagine, all organically but without the organic label, because she says that means nothing anymore anyway.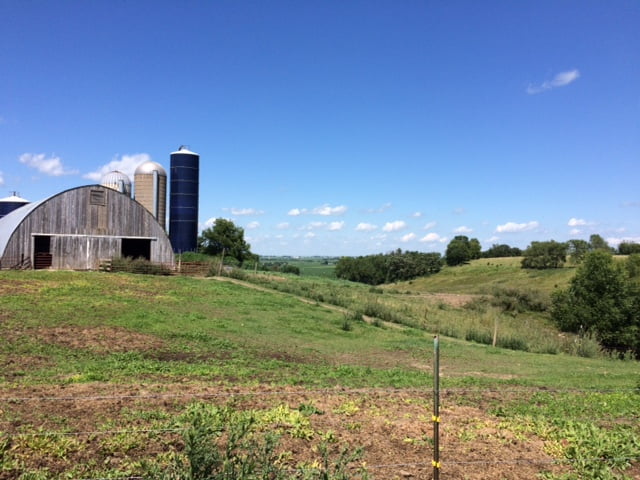 She was telling us about her CSA and I said, "I just don't like the pressure to use up everything in a CSA box so it doesn't get wasted!"  She said, "But the farmers doing things the right way need your support, even if it's only a half-box.  You just need the right cookbooks on hand with enough ideas for ways to use everything."  Here are her suggestions: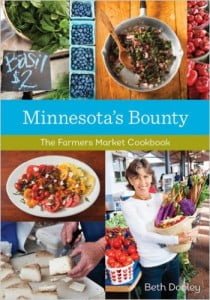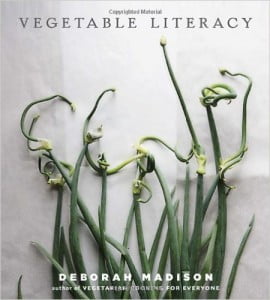 So the more I listened to her tell about the way she grows, the more I DID want to support our own local bio-dynamic growers, so I think I'll see if one of my favorite farms will do half-boxes, and if they'll let me join this late in the summer.  The other problem is getting over there to pick it up each week, so I think I'm going to see if a friend wants to split the box with me and take turns driving.  Good idea, right?
Reminder:  Minnesota Book Signing TONIGHT!
(Please tell anyone you know who lives there!)
The People's Food Co-op Community Room in Rochester, Minnesota
Tuesday, July 21, from 5:00 – 7:00 p.m.
Info from the invites:  "Our featured guest will be Kelly the Kitchen Kop who will be available to answer questions and talk about her new book, "Real Food for Rookies".  This book includes a great section on ingredients and what to look for on labels.  If you're not familiar with Kelly, please visit her website or Facebook page.  She's a terrific champion for real food and traditional food preparation. Please come and bring friends and family!"
I'm looking forward to meeting some of you…  Hopefully people show up!  🙂
Now on to what I've found for you this week…
For my grain-free, sugar-free peeps, you can get the Eat Beautiful book now:

​The 288-page eCookbook in PDF, Nook, and Kindle formats (you get all 3 versions!)
A new grain-free baking technique that gives moist, delicious, digestible baked goods
​5 free bonus videos (details here)
4 bonus recipes (included in videos)
Author, Megan Stevens — she went through a major health crisis (and was writing good-bye notes to her family!) and ended up finding healing.  Now she has just finished a new cookbook, after years of practicing her recipes in their family owned cafe in Oregon.
Check out these WILD sky pictures from a West Michigan storm last week!
Did you catch last week's posts? Here they are in case you missed them:
Short today so I can get back to my vacation, have a good week everyone!
(Affiliate links are often included in Morning Mix-up posts.  Check out my affiliate disclaimer here.)