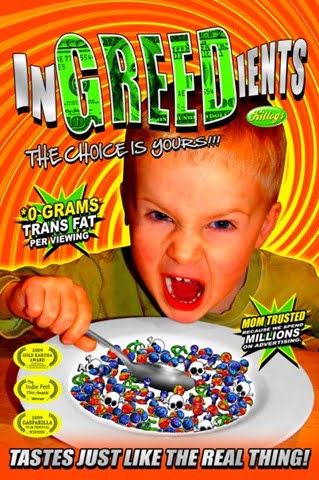 "The majority of Americans are overweight, yet malnourished."
The "inGREEDients" filmmakers recently sent me a copy of this movie.  My main impression of it is that while it was done well, it may not be quite as polished as Food, Inc. or Food Fight, but it is still definitely worth seeing and sharing with those who are beginners to Real Food!
I'll share a few sound bites with you so you get an idea of what you'll learn (my comments in italics.):
I love the opening phrase: "Our lives begin and end the moment we become silent about the things that matter."  Martin Luther King, Jr.
On hydrogenated oils and heart disease:
"As a nurse, I take care of heart patients every day, why wasn't I taught about hydrogenated oils?"
"I wasn't suing because trans fats make you fat, I was suing because trans fats make you dead."
What are hydrogenated oils?  A man-made fat.  Chemical solvents are used to extract the oil, it's heated to over 400 degrees.  Aluminum, nickel and cobalt are then added.  The molecular structure is changed and it is no longer in its natural state.  Only consume unaltered fats!
The low fat diet that has been pushed for many years by various authorities has not served the public well.
Fatty acids are critical for almost every step of human life.  They help in our response to inflammation, our immune function, our moods, heart function, hormones, and so much more.  Most of us need more Omega 3 fatty acids (found in the fat, meat & dairy from pastured animals, also in oily fish/cod liver oil), and are too high in Omega 6 from unhealthy vegetable oils.  Read more in the Skinny on Fats.
"The best fats to eat:  Olive oil, coconut oil, organic butter (hot or cold), flax oil, hemp oil-cold only."  (I'm not sure about the flax and hemp oil, I haven't looked into those much.  Do any of you Real Foodies know more?)  I thought it was interesting to note that none of the doctors interviewed in this film said which fats are healthy.  They only spoke about the dangers of trans fats, which was good, but I was waiting and hoping for them to speak up for saturated fats!
"A perfect storm of metabolic disaster:  increase in consumption of refined sugar and flour, increase of hydrogenated vegetable oils, and lower activity levels."
"Even in quite small amounts trans fats could increase heart disease risk by up to 80%.  This is really a toxic chemical that doesn't belong in food supply."
"There were 200 heart attacks in 2007 in Cleveland, and 132 homicides.  The reality is a death is a death and we're digging our own graves with our teeth."
If you eat the same amount of calories in trans fat or healthy fat, those eating trans fat gain more weight.  Without obesity, we wouldn't have 3/4 of the cases of diabetes that we do now.
The trans fat labeling law is confusing:  "Everyone knows what zero means, except in Washington, zero grams of trans fat means UP TO half a gram."  Most companies lower the serving size so they can say zero.
"If we stop buying it, they'll stop making it."
Most people think the FDA protects us, but now it just protects the food manufacturers.  "They're concerned with shelf life of products, we are more concerned with shelf life of individuals."  The FDA allows 15,000 chemicals in our foods. (Is your jaw on the floor?  I hope so.) An FDA employee said in the movie, "We regulate about 1/3 of the nations' economy."
One part I disagreed with:  "We need to eat a lot more fruits, vegetables and whole grains, these should be the basis of our diet.  It could save several hundred lives a year."  I believe that we eat too many grains.  Our diet shouldn't be so strongly based on them, and instead we should eat more fat, meat and dairy from pastured animals!
Take responsibility for yourself, ask questions, read labels, cut down on restaurant visits.  If you do buy processed foods, read the labels.
If mold doesn't grow on it, neither will you.
Always stay away from any items that takes something natural and changes it.
On artificial sugars:
"Artificial means not natural, you can't fool mother nature, you're body is going to have a reaction."
There may be no proof that something is harmful, but there are little clouds of doubt.  The main thing is "Does it cause cancer?", there have only been tests done by manufacturers.
On the other side are scientists, doctors and consumer groups who say it (fake sugar) is a deadly excitotoxin that causes neurological disorders, side effects from headaches, blindness, to brain tumors.  Even though it's FDA approved, it's the most contested approval in history.  Both studies suggested that it increases the risk of certain cancers in animals.
Biggest source of artificial sugars by far are diet sodas.  There is so much data from both sides.  It's better to aim toward NOT having them in our diets.
"Do you believe the people making it or the people who are sick from it?  Keep this in mind, the artificial sweetener business is a billion dollar market and those in the industry are concerned with profit.  Big tobacco said cigarettes aren't harmful.  Corporate science has always had a wait and see attitude."
"There is enough in the world for everyone's need but not enough for everyone's greed."  Mahatma Ghandi
Let's say it again: "If we stop buying it, they'll stop making it."
Lastly, our 11 year old loved this short film that was an extra on the DVD.  A Star Wars-ish spoof called, "Grocery store wars":
Have you seen any new Real Food movies lately?