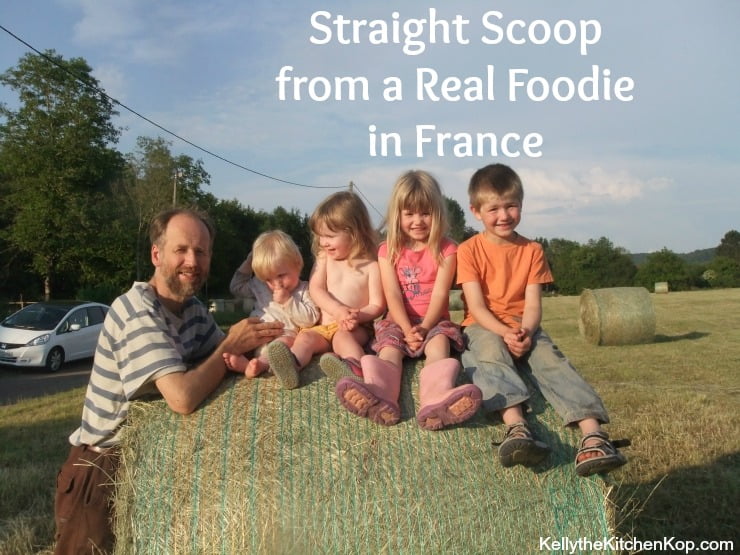 Do you wonder how easy it is to find real food in France? It's not as simple and wonderful as you would think!  
Today I'm continuing a series featuring real foodies from other countries, because don't we all wonder what it's like to live in a far-away place, and how shopping for and feeding your family might be the same or different?  (Click here to see the other posts.  If you know of a real foodie in another country, please email me!  K[email protected].)  This story was originally on the WAPF chapter leader's forum, and Elisabeth gave her permission to have it posted here, thanks Elisabeth!  That is her family above, without her because she is the photographer, like a lot of us Moms.  🙂  Here's Elisabeth…
Straight Scoop on Real Food in France
I live in France, my mother was American, my father was English-Canadian. I was born in the south of France and also lived in England and Canada as a child. I have been back in France since I was 10 years old.
My mother was very much into an Adèlle Davis diet, though she didn't really keep to it thoroughly.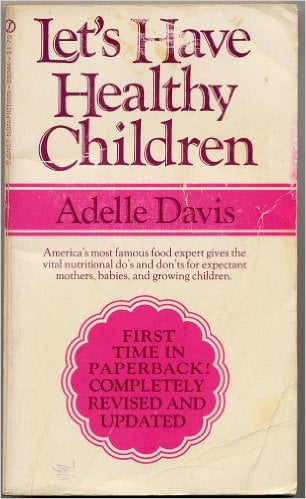 Adèlle Davis was a nutritionist who recommended some of the same things as Weston Price (whole wheat, liver, fat, raw milk, no sugar…), but she wasn't as thorough — as far as I know she never spoke of soaking grains, nor fermented food, and she recommended vaccination and synthetic vitamins…  I was brought up on that. I never actually read her books personally, but strangely I picked up one of her books a few months ago and stumbled on a passage where she explained that she had attended a Weston Price conference and recommend this man's teachings to her readers, so apparently what she taught was somewhat inspired by his works. She particularily talked about his teaching on the influence of nutrition on the bone structure.
When I was a young married girl, I tried to apply these principals (Adèlle Davis) more thoroughly then my mother had, but discovered that it was not so easy as just substituting whole wheat flour for white flour, and olive oil for sunflower oil.  Many things I made were almost inedible.  I fished around for healthy cookbooks, but most of them were for vegetarians, so since I had nothing else I used them and began to be influenced by their teachings.
Then I was invited over by an English speaking south African from my church and when I explained my problems to her, she told me she wanted to lend me a book she had just bought for herself. This book was Nourishing Traditions.
From that moment I never opened my vegetarian books again, because I had really found the book that corresponded to my beliefs and my needs.
I didn't have much money at that time so I decided to copy out everything that I was interested in instead of buying myself a copy. So I started reading, but it was so dense and full of new thoughts and concepts I couldn't even take it all in in one reading. So I must have read the whole thing over again from cover to cover at least 3 times before I started copying. And when I did start copying I found that the more I copied, the more things I wanted to copy.  As teachers know, copying makes things more real for the student and helps it all to sink in. It was all the more difficult because so many of the products and kitchen items, measurements and ingredients had different names from what we called them in France, so I spent a lot of time in the dictionary, too.
Finally, I understood that I couldn't copy the whole book out  and I decided to invest in my own copy.
I read this until it was falling apart and had to buy a second copy. All this was six years ago. Since then I have learnt to cook from this book and I have never used another since, mostly because there is just so much there and I was in such a hurry I wanted to master it first before going to other books. I've had difficulty with baking (cookies, pancakes, yogurt, herb bread) but the rest has gone really well. I look forward to being able to ask advice here when I meet new problems.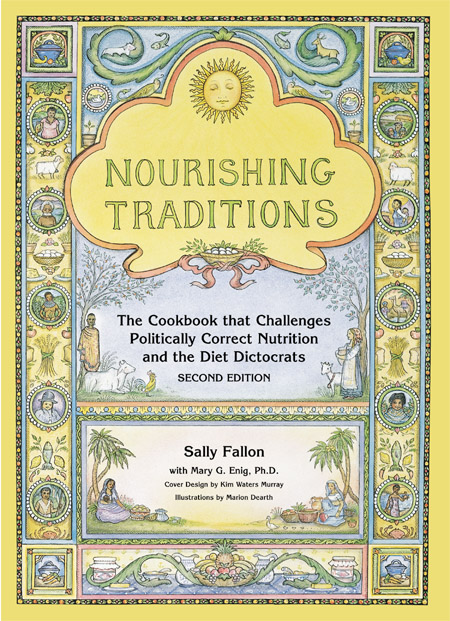 I became a chapter leader about 1 or 2 years ago.
It is a very different role here in rural France since locally here there is nothing going on. I tried to muster up a little interest and do a meeting or two but no one came.  However, I am very active through personnal contacts in my area so maybe I will be able to get a small local group started in the next years.  (Readers, you can find a local WAPF chapter here.)
So far the French public believes that to eat something for health reasons is an extreme and unbalanced approach to life…
They believe it's the sort of behavior that one would expect from someone who is always going from one extreme to another. "We should eat what everyone eats because it is what the French people have always eaten."  According the them, to claim that there is more or less disease than before is silly and childish. "Experienced people know that the best things to do is to follow the flow." To them, what the flow does is the distilled result of collective common sense.
This cultural view is good and bad.  On one hand it is the reason why the propaganda against eggs, raw milk, and meat has fallen largely on deaf ears over here.
On the other hand it hasn't helped me to start my group either, and unfortunately, slowly but surely the famous "That's what the French people have always eaten" is changing, as convenience food is changing eating habits. Sadly, since this has happened so slowly, they don't mind.
A few things are contributing to making things move. For example, cancer.
As more and more families lose family members to cancer, people start thinking and considering other points of view.  (We have lost someone in our church every year for the last few years, but mostly older people.)  But it is not enough so far to create a real move in the right direction.
I don't know what national statistics are but judging simply from my surroundings, I would say that French people are not yet plagued by poor health on a day-to-day basis and that's why they aren't searching for solutions. There is "just" cancer, and they are hoping they will be lucky.  I am very social, for example, and invite lots of people over to eat, but I have never had someone say to me so far, "I can't eat this or that, I am allergic".  I don't know if that would be typical in all areas but that has been my experience. In their day-to-day life, they are fine.
So what do I do?
Well, the two things I do is to link different Amercian or English expats who live in France to each other by keeping a list of them all (with their permission), and letting them know when there are others in the same area. This is quite useful but not that satisfying because I want to reach the French people!
The other main problem apart from their lack of interest is that there is nothing they can read in French. I dream to see Nourishing Traditions translated some day (this may be in the works, by the way), but for now, I can just get them interested, and when they say: "Hey, I want to read that", I have to answer, "It's in English" and that is the end of that conversation.  🙁
For this reason, the second thing I do is translate, and I really think this is the absolute priority.
Unfortunately, it is a very slow process to translate. I started off badly, because I am half way through "Healthy 4 life", which I should have read through before starting, because it is really not at all adapted to the people that surround me. Because I started it I am going to see it through, and I am hoping that maybe it could be useful in Paris which is very different than the rural places where I live. The problem here is that EVERYONE knows how to cook those recipes. The level is way way too low for them. Nourishing Traditions, on the contrary, would be perfect, but would take much longer to translate, of course. I have had a few people help me with this or that and I hope to find more.
By the way…
I have never seen a health food store without raw milk, and I have seen supermarkets who have it occasionally (I hope everyone will be sure to complain about it if you don't find it), and farmers can almost always be coaxed into selling you some if you come at the right hours.  This is in rural France of course. I have never lived in Paris and around here they say: "Paris is not France." 🙂
Thanks again Elisabeth for letting me share your story here! 
CAN YOU HELP?
This is the second in my new series featuring real foodies from around the world.  Here's the first one with my blogging friend, Sylvie:
Could you help me FIND real foodies who would be willing to answer some questions or share their story? Maybe it's you, maybe it's a friend or family member you know.  Please don't just email me and say, "So and so would be great…"  Instead, if you could actually ask them if they're interested and if so, see if they'll email me their story (preferably with pictures), I'd appreciate it!  [email protected].  Or send me their email and I can ask them and send along some questions.  🙂  ***Also, if you've suggested someone in the past — can you send me their email again as it may be lost in my crazy inbox.  Thank you!
Related (or not):