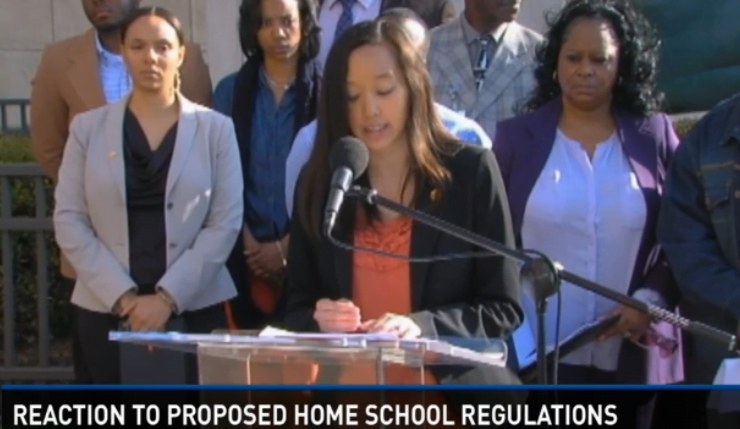 We can't sit back and relax when it comes to protecting parental rights!
Last week I freaked out when a friend sent me a link to the following video (sorry this auto-plays, I don't know how to prevent that! Just hit pause when you're done watching):
(I noticed the video isn't showing up on my phone, so click here to watch it if you don't see the video here.)
Yes, it's a terribly sad news story, but it has nothing to do with homeschooling, and everything to do with an insane mother!  I sent out a plea for advice from my seasoned homeschooling friends and family, and thankfully, my cousin shot back the following from Michigan Senator Phil Pavlov.  I breathed a huge sigh of relief:
Dear Parents,

Stoni Ann Blair and Stephen Gage Berry were precious children with limitless potential, and their senseless deaths at the hands of their mother have shocked and saddened the entire state of Michigan.

Mitchelle Blair, the Detroit woman accused of killing Stoni and Stephen and then hiding their bodies, is a murderer who deserves, at best, to spend the rest of her life in prison.

This tragic situation is not, and never was, however, a homeschooling problem.

That's why I am so dismayed by the introduction of a new bill in the state House of Representatives to exploit Stoni and Stephen's tragic deaths as an excuse to impose new regulations on loving, committed, and law-abiding Michigan families.

Let's be clear-this legislation would not have stopped Ms. Blair from killing her children. Blair was willing to break every law on the books, and routinely and effectively lied for years to hide her crimes.

Instead, the new bill is a transparent attempt by some in Lansing to bully, threaten, and intimidate parents who choose not to send their children to traditional public schools. The legislation would force every homeschooling family to register with local officials and to open their homes twice yearly for police inspections, to prove that they have not murdered their own children.

Parents have rights. Parents deserve choices. And parents deserve so much better from Lansing.

As the Chairman of the Senate Education Committee I wanted to write you today to assure you that this anti-parent legislation will not see the light of day in my Committee.

Parents who choose homeschooling as the best education option for their children lovingly pour themselves into their kids, and they get great results. Homeschooled children are among the most successful in the state, go on to attend colleges and universities, get and keep great jobs, and help lead our communities.

Every child learns differently, and no one understands the needs of a child like his or her parents. That's why when it comes to making education decisions for their children, or for choosing the kind of education that will work best, Lansing should trust parents, not bully them.

Sincerely,
Senator Phil Pavlov
Chairman, Senate Education Committee
A little update:  Thanks to a couple of helpful readers on my FB page, I have more information on the verbiage of House Bill 4498. While, as Senator Pavlov mentioned in the letter, homeschooling families could be inspected by a police officer twice yearly to be compliant with the law (if passed), they would not have been limited to police inspections. Here is the exact wording from the bill:
Section 1578 2.A.: THE CHILD MEETS IN PERSON AT LEAST TWICE A YEAR WITH A PHYSICIAN, LICENSED SOCIAL WORKER, PHYSICIAN'S ASSISTANT, INDIVIDUAL EMPLOYED IN A PROFESSIONAL CAPACITY IN ANY OFFICE OF THE FRIEND OF THE COURT, SCHOOL COUNSELOR OR TEACHER, AUDIOLOGIST, PSYCHOLOGIST, LAW ENFORCEMENT OFFICER, MARRIAGE AND FAMILY THERAPIST, MEMBER OF THE CLERGY, OR REGULATED CHILD CARE PROVIDER.
Clearly, this bill is an outrageous violation of privacy and parental rights, but police officers are not the only people included as authorities who would investigate homeschooled children's well being.  I just wanted to clarify that.
See all my posts on Homeschooling here, below are a few you may be interested in:

If You Thought I Was Crazy Before, Wait 'til You Hear This One – My original post announcing our decision, along with my sad ending…
12 Tips For Keeping Toddlers Busy While HomeschoolingHomeschooling is NOT Primarily about Academics, and Other Encouraging Words I Needed to Hear

.  Today I called my friend, Julie, with tears in my eyes, because the kids had me 

so 

frustrated again with how little they buckle down and get their work done, and how much they complain about it.  (Some days it's just one, some days all three…)  This leads to all of us snapping at each other, me grounding them from something 

again 

and a big cycle of negativity.  As usual in these times, the doubts crept back in, and I was wondering if I'm really cut out to pull this off, even if I love the 

idea 

of homeschooling.  I 

know

 that our family was called to do this, though, so we're committed for the long haul, but wow, it's really tough some days.  (

Keep reading

for what helped me feel SO much better!)

Homeschooling Update – It's a "Go"! (Plus a cute video: 7 Lies About Homeschoolers)
Contact info for Senator Pavlov:
Visit his website at www.SenatorPhilPavlov.com
905 Farnum Building
P.O. Box 30036
Lansing, MI 48909
Phone: (517) 373-7708 Toll Free: (866) 305-2125
Don't forget to SEND SENATOR PAVLOV A NOTE OF APPRECIATION HERE!