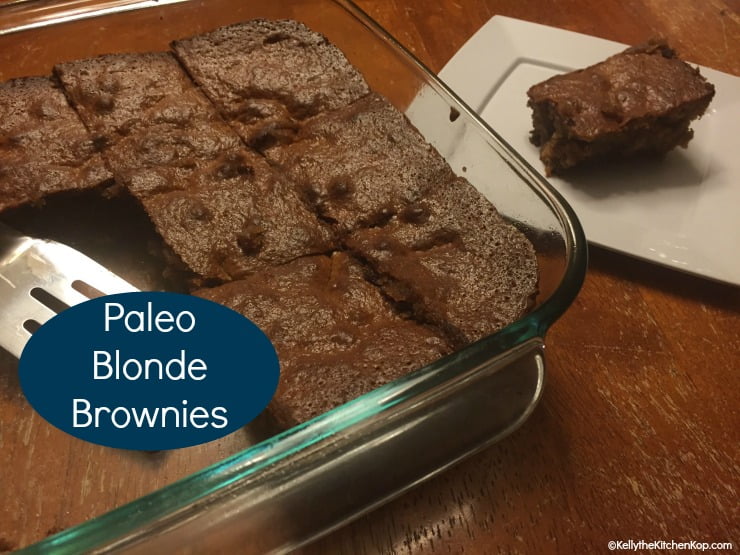 Paleo recipes can be hit-and-miss on taste, but these paleo blonde brownies are so good you won't even know there were any substitutions used!
We don't eat paleo or gluten-free around here because thankfully we have no food allergies that require it.  (Have you seen, Could THIS be the cause of the gluten sensitivity epidemic?)  You know how it is though when you try a recipe made with alternative ingredients, it's not always good.
Since "paleo" means grain-free, processed sugar-free, and dairy-free, that means a lot of substitutions…  
I do not care for recipes made with coconut flour.  Even if it's only a little of it in the recipe, I think it makes the whole thing not taste right.  Recipes made with nut flour can be good, but not always.  Honey can be tricky to substitute with, but I think maple syrup is almost always delicious.
This was CRAZY delicious, these paleo blonde brownies taste just like "real" blonde brownies!
They are quite soft, not doughy but not super firm, and since I like my brownies soft, I was pretty happy when I tried them last night at our bible study!  Lyn made them but it was Nancy's recipe, and of course I got her to share it…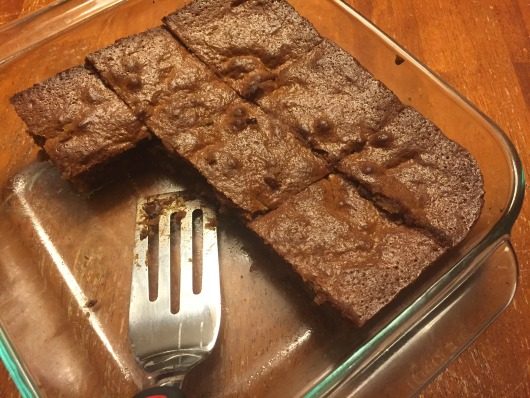 Print
Paleo Blonde Brownies
Yield 8x8 baking dish
Instructions
Heat oven to 325*.  Mix butter with almond butter, add syrup, eggs, and vanilla.  In a separate bowl, mix together almond flour, baking powder, and salt, then add that to the wet mixture and mix well.  Stir in chocolate chips, and spread into a greased 8×8 glass baking dish.  Bake 35-45 minutes, but keep an eye on them at the end so they don't get over-done, and don't pull them out 'til they feel set.  I like them soft and moist, but at first mine were TOO doughy.
Did you make a real food recipe?
I want to see it! Tag @KitchenKop on Instagram and hashtag it #KitchenKopRecipes OR share anything you know I'll love by tagging @KitchenKop and hashtag #KitchenKop -- see you over there!
Try these and let me know what you think!
More posts you might like: