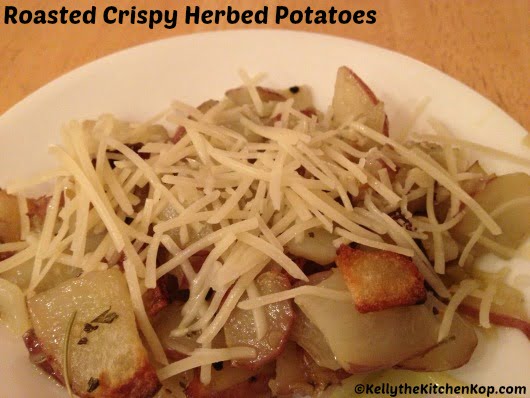 These crispy roasted herbed potatoes are an easy, flavorful and healthy side dish recipe, full of healthy fats, that everyone loves – who doesn't love potatoes? You can cut the potatoes into any shape you'd like, just cook the bigger wedges a little bit longer.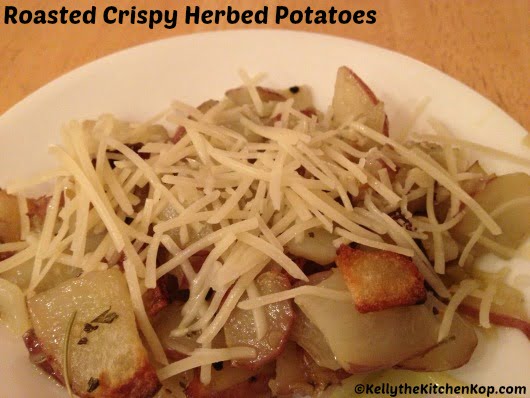 Print
Roasted Crispy Herbed Potatoes
Ingredients
7-10 medium sized organic potatoes, depending on how many you're feeding, cut into "fries", cubes, wedges, or any shape you think you or your family would like best – smaller sizes will get crispier.  I think the red potatoes cook up the nicest and have the best flavor.
6 Tablespoons melted butter
6 Tablespoons olive oil or expeller pressed coconut oil (no coconut taste or smell)
Shredded Parmesan cheese
3 cloves garlic chopped small or 1 teaspoon garlic powder
1 onion chopped small or 1 Tablespoon dried onion
1/2 to 1 Tablespoon fresh or dried rosemary, depends on your taste – we like the whole Tablespoon
1 teaspoon Sea salt
1/2 teaspoon pepper
Optional: cooked bacon (nitrate/nitrite free, preferably from a local farm) (You may want to check out the comments at this post about healthy hot dogs to read about a new twist on the topic nitrates.)
Optional: 1/2 – 1 Tablespoon Italian seasonings (basil, oregano, rosemary, etc.)
Optional: 1 cup shredded cheddar cheese or more Parmesan for the top
Instructions
Use a cold stick of butter to grease the sides of an 11×14 baking dish (no aluminum or Teflon – I use glass or stainless steel) or use parchment paper.  Chop the potatoes and spread them into the pan.  Melt the butter with the oil and all the ingredients except the cheese, drizzle it over the potatoes — I toss it all together with my hands.  Sprinkle on the Parmesan or wait until it comes out of the oven, either way is fine.  Bake at 400* for 25 minutes, turn, then bake another 25-30 minutes or until potatoes are done.   Sprinkle more cheese on top when it comes out.
UPDATE:  Lately I've been parboiling the potatoes just until they're almost soft, tossing with the other ingredients, and then baking so it doesn't take as long in the oven.
Another update:  Wonder about heated olive oil this high?  Read more about the myths about cooking with olive oil.  Personally, I've never had a problem with it smoking when mixed with butter 400*, but you have to watch it to be sure.  You could also use ghee, bacon grease, tallow, lard or coconut oil.
You could also FRY these potatoes – I like to use my favorite pan
Did you make a real food recipe?
I want to see it! Tag @KitchenKop on Instagram and hashtag it #KitchenKopRecipes OR share anything you know I'll love by tagging @KitchenKop and hashtag #KitchenKop -- see you over there!
^