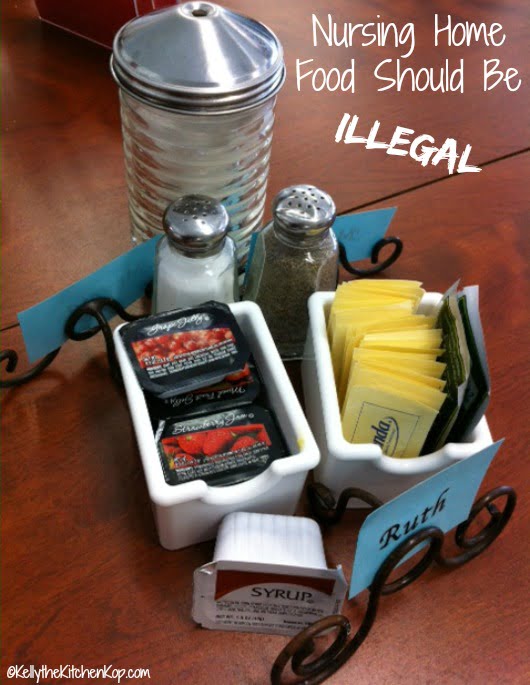 Do you have a loved one who can no longer be cared for at home?  If so, you probably already know how bad nursing home food is.  Although it's really no different than school food or hospital food.  All of it should be illegal.  We shouldn't be able to feed our pets this stuff, let alone those we love.  Maybe you know of some refreshing exceptions, I'm sure they're out there somewhere, and if so, I'd like to hear about them.
I should've been paying better attention…
Morning Mass on Wednesdays alternates between two nursing homes right by our church.  The other day when I should've been paying attention to the readings, instead my eyes kept drifting to what was on the table in front of me (pictured above) and it got me all riled up.  Not at the people who work there, they don't decide what to feed the patients, and most probably don't know any different anyway, but I was angry at how those in our government (and various other greedy or ignorant people) have gotten us so far away from REAL food, and that the junk I saw there is actually "normal".  Not just in nursing homes, but in most everyone's homes nowadays.  It's easy to forget that, as I wander through life in my little real food bubble, until I go anywhere that is.
So what was the big deal with the junk in that picture above?
Non-dairy creamer – Loaded with trans fat and high fructose corn syrup (HFCS) and chemical preservatives, it's not even FOOD it's so fake, it's one big chemical cocktail!  Just as bad as what is in it, is what's not in there.  Real cream, especially when raw, is full of healthy fats with all those fat soluble vitamins and other nutrients that our bodies need.  The elderly need whole foods as much, or more, than the rest of us!
Jam in the little packets has HFCS, chemical preservatives, and NO nutrients left from the fruit, if there ever even was fruit in there at all.  Homemade jam is best so you can use fresh fruit and decide how much sweetener you want, but buying organic jam is next-best.
Syrup packets have more HFCS and chemical preservatives, and NONE of the nutrients that are found in real maple syrup.  (Read more about real maple syrup.)
Artificial sugars are full of scary fake sweeteners and again, more preservatives.  They're probably for the diabetics no doubt, which probably include 75% of nursing home patients. (Find sources for real, natural sugars.)
And these are just their condiments. 
Why do I just know that they're also eating butter substitutes, CAFO meat, blah supermarket produce grown conventionally in pesticide-laden nutrient-free soil, lots of refined starches, sugary juices, and baked goods made with vegetable oils and refined sweeteners?
Do you think this is upsetting, too, or am I just freaking out too much about stuff like this?  Did I forget any other horrifying facts about this junk?
By the way, as I was taking the picture above after Mass, a friend who I only met earlier this fall walked up, trying to figure out what I was doing.  I said, "If you haven't already, now you'll find out just how weird I am."  🙂
Nursing Home Food Should Be Illegal — Do you agree?!
Related posts…or not: