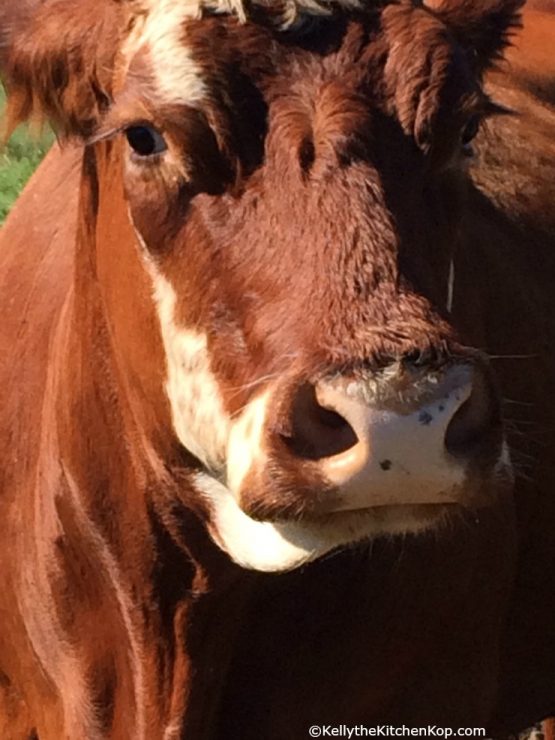 What is a CAFO?
I first began avoiding meat from Concentrated Animal Feeding Operations when I learned that meat from pastured animals is not only safer, but much more nutritious, too.  Then when I learned more, it also bothered me how CAFO animals are treated!  For the sake of this post, though, we'll focus on why you really want to know where your meat comes from and how this strongly relates to food safety and increased nutrition.
CAFO stands for Concentrated Animal Feeding Operations.
This means that animals are raised in conditions that are downright inhumane. They may be kept in areas where they're unable to move around freely, or where there's no access to the outside for fresh air and sunshine, let alone to eat the natural grass their ruminant stomachs were made to eat. They're often sick due to these conditions and then receive extra antibiotics, which are ingested by those who eat that meat. (No wonder many of us are resistant to antibiotics when we might really need them.)
"Low Cost Production" is the name of the game, growth hormones are common (or even the norm?), so they get fatter faster. (And our society becomes more estrogen dominant, causing more health issues!)  This is all very unnatural, so again, they're often sick, and get more antibiotics.
In contrast to all that, I keep thinking of a recent visit to a local farm where we buy our meat. When my farmer friend stepped outside and yelled, "Sheeeeeep! Sheeeeep!" they all stopped chewing the grass and came running over to him from the other side of the pasture. There's something so sweet about that!  And I know that he knows what is the natural diet for his sheep (or cows or chicken or pigs), and that when they are fed that natural diet and raised in such a way that they're content, not only is it the right thing to do, it makes for nutrient-dense "salad bar" meat (as Joel Salatin calls it).
The best way to sum all this up is to show you the Food, Inc.
trailer.  I've seen it a couple dozen times and still get chills over and over.  (If you haven't seen the movie yet, DO IT.)
Now because I'm all about hearing both sides and deciding for yourself, be sure to check out this link with the "other side" and see what you think:  Get the Facts About Food, Inc.  As I'm writing this I saw Katie's Monday post in my inbox and she has more links with another point of view that you may want to check out.
Be sure to read Rachel Ritter's whole comment there, her opinion happens to be where I fall on this as well.  Here's part of what she wrote:
Families own many large farms, and I wouldn't vilify them. I believe they generally make a good faith attempt to do the best job they can while remaining financially viable and competitive in the marketplace. Despite this, if you're feeding your cattle organic grain on a feedlot, confining them, and doing your best to manage their waste, the cattle are still living unnaturally. This unnatural lifestyle is less healthy for them and for those of us who eat them."
I'd love to hear your thoughts on this!  Any way you slice it, I'll stick with a local farm like the one in this video with Joel Salatin – this also gives me chills every. single. time:
Now you may be wondering, what is the alternative to factory farmed meat?
Instead of buying your meat at the local grocery store, the alternative is to find a farmer near you who understands this stuff, someone you can go visit, get to know, see firsthand how your food is raised, and then support these food heroes with your food dollars.  If you can't find one nearby or if there's something you can't find locally, you can order from a company who will ship it safely.  (We get most of our meat locally, but if there's something my local farmer doesn't have, I still feel confident getting meat from this online source because I know and trust them…like beef tallow for one!)
How do we afford Real Meat?
Before I give you my number one answer to that question, first keep in mind what Joel Salatin says, "You think Real Food is expensive? Have you priced cancer lately?"  Or Michael Pollan:  "Cheap food is an illusion."  Keeping that in mind, still, what I suggest is that you don't have to eat meat at every meal.  Stretch out your meat budget by serving it less often.  That's what they did in the old days or in the traditional cultures that Weston Price wrote about, they didn't try to justify raising more animals as fast as possible no matter the ramifications just to make it more affordable.  (And yes, I realize they didn't have the technology that we do today, so they couldn't have done that even if they wanted to back then, but you get my point.)  You could add in meals like casseroles with bone broth as one of the ingredients, or nutrient-dense egg dishes, etc.  We have quite a few favorite meatless meals around here, and mostly that's the answer when I forget again to pull something out of the freezer until it's too late.  🙂