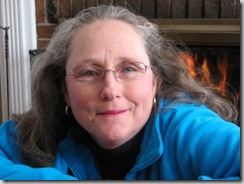 Is there anyone that doesn't enjoy a good story and nosing into someone else's life a little now and then?  My friend, Anne, is a real Mom with real struggles, and she's been at this Real Food thing a lot longer than most of us have.  This gives me comfort for some strange reason…
By the way, Anne will be speaking at the upcoming Wise Traditions Conference, November 13th-15th, near Chicago. Her talk will be about budgeting for nutrient-dense meals.  (I am so excited about the conference, my FIRST ONE!  Many Real Food Media bloggers will be there and we hope to meet some of you, our faithful readers!  Get more details on the conference at the link above.)
Anne has agreed to answer my guest interview questions so we can get to know her better, but first (I always have a "but first", don't I?), have you seen Anne's other posts here on the blog?
1.  What is your #1 motivation for eating/feeding your family healthier meals?
In my soul, I know it is the RIGHT thing to do.  The Lord has blessed me by teaching me this information and He expects me to use in and share it. I certainly know the benefits of eating properly and that is a good motivation for me.  We like being healthy!
2. What started you on your path to better nutrition?
When my daughter was 9 years old she started showing signs of puberty.  I had seen my sister's daughter develop early and I did not want this for her.  So after a brief learning phase, we went RADICAL—no soy, no growth hormones.  These two pretty much cut out everything we were eating. And so began our journey.
3. What is your biggest struggle in feeding your family healthier meals?
Believe it or not, I do struggle to force myself to cook meals–being in the habit helps.  But getting in the kitchen and cooking is my biggest struggle.
4. What is your favorite healthy recipe?
My favorite recipe is lentils and brown rice.  It is easy.  I can dump almost any leftover into the lentils.  Everyone likes it.  In fact, we had it on Saturday.  I added leftover collard greens, onions, carrots, fresh basil, garlic, salt and for some extra flavor ground fennel.  That makes it takes as if it had sausage in it when it does not.  This is usually cooked in 25 minutes and served over brown rice.  AND it is a meal that always makes me feel physically invigorated after eating.
5. How difficult has it been for you to get over the modern-day "fat phobia" and go back to drinking whole milk or eating butter, coconut oil, etc. with confidence that it's better for you and without feeling guilty?
Fortunately, I never bought into the fat phobia.  I think it was because as a single woman, I tried eating low fat food and realized it was not satisfying and gave it up.
6. What is your best kitchen/nutrition tip?
Today as I write, I am procrastinating cooking dinner.  So I suppose my best tip is to guard your mind.   Don't let yourself get resentful of cooking.  Three cheers for spending time in the kitchen!!  🙂  I think I can; I think I can; I think I can.
7. What did you have for dinner last night?
My husband cooked last night and we had meat loaf loaded with peppers and onions; mashed potatoes with butter, cream, and chives; some kind of bitter lettuce that came from the CSA that I did not know the name of, but which was reasonably tasty with Nourishing Traditions Balsamic Vinaigrette dressing; and watermelon.  I also had a glass of wine, my husband a beer, and the kids had raw milk.  It was a special meal for us because my husband was going out of town the next day and it would be our last meal together for a few days.
8. Do you have a tip for how to fit exercise into your life? How do you do it?
A year ago when I went back to work full-time we decided to join the local Y.  It has been a great thing for our family and well worth the financial investment.  They have activities for all our children ages 7-17.  We try to go regularly as a family.  So that means that sometimes we go on a full stomach and sometimes we end up having a late dinner.  Doing it as a family adds accountability.  Usually, someone wants to go and the slackers can be dragged along.
Recently, I have been able to sneak away at noon on Tuesdays and Thursdays to go to some Power-lifting classes.  I love the classes because I do work harder with others.  I also take a ballet class (hard to believe for those of you who know me and how old I am!!) 8:15 PM Thursdays.  I love this class because it really helps work out the kinks, gives me much better balance, and has helped me get stronger.   It is truly a stress reliever in my life.  There is nothing like spending an hour and a half with other women, concentrating on something other than work and life, while listening to peaceful music.  Last year I was able to find aerobic classes that fit into my schedule but these are not available now.  So I need to get back on the elliptical and just do it!
But you asked about a tip.  I suppose I would say just do something to begin with and make sure it is something you enjoy.  You can add more as you get stronger and more used to the routine.  It does help to spend money on it because that provides more motivation.  A buddy can also provide motivation if finances are prohibitive.
Thank you, Anne!
Part of Fight Back Fridays!