Haystack onion rings are the crispy-licious BOMB on a grassfed burger or even just for a tasty snack. 
You could also dip them into my ancho-chile lime mayo!
The idea came from Tonya, and of course her picture is better, as you can see on the right, but as usual I adapted the recipe and made it with yummy real food ingredients.  🙂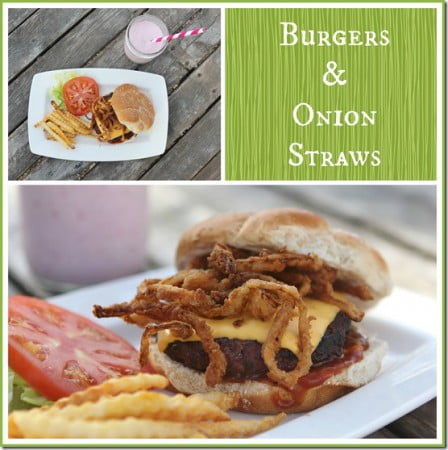 More pictures are below and be sure to read all the way to the end for the BEST way to enjoy these if you have any leftover!
Crispy Haystack Onion Rings
Ingredients:
Instructions:
Beat the eggs well and stir in the sliced onions. 
Sprinkle the flour over the top and stir it all together to coat the onions.  Drop small batches at a time into the frying oil and fry until they're golden brown.  Remove with a large slatted spatula and drain on a paper towel until your burgers are ready.  Sprinkle with sea salt.  Good luck staying out of them before it's time to assemble your burgers!  We make extra so we can snack on them as they come out.  🙂
Here's where to find healthy grassfed meat if you don't have a good local source.
I made mine into a burger salad, read more here about all the yummy options for a delicious grassfed bunless burger bonanza!
One more thing…
Having any of these leftover will be rare, but if you are so lucky, here's a knock-your-socks off way to enjoy them the next day:  I had a small amount left so I threw them into a cast iron pan and fried the onions until they were crispy again, then I cracked an egg in and scrambled it around.  Oh. My. Gosh, it was SO good guys.  Best scrambled egg EVER.  🙂