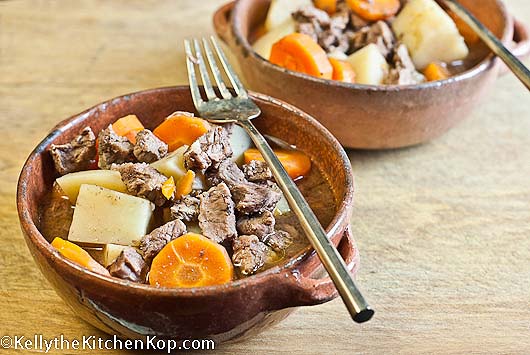 How easy can a main dish recipe be? Try this one from Lyn and see!  (Organic ingredients and grassfed beef from a local farm or other source for healthy meat are best.)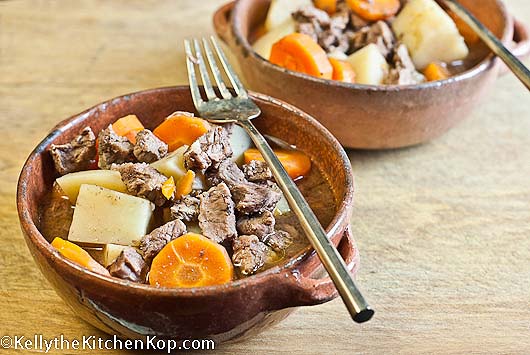 Print
Grassfed Beef French Stew
Ingredients
2 pounds beef stew meat (find healthy meat here)
2 cups beef broth/stock  (I now know how quick and simple pressure cooker broth is so I can make some mineral-rich broth more quickly in a pinch.  If you just don't think you will make it or want some on hand for when you're really crunched for time, try this bone broth — it's 100% grass-fed with a bunch of gelatin, organic ingredients, and it's shelf stable!  I love keeping their beef and chicken broth on-hand for quick recipes because they make it just like I do here, and without the nasty msg-like ingredients, additives, or preservatives that store-bought has.)
1 onion, sliced (or you can use dried onion)
Optional:  carrots and potatoes cut into medium-sized hunks
1 Tablespoon flour, I like einkorn flour these days
Just enough water to make a semi-thick paste with the flour
Instructions
Put all ingredients into a large covered casserole (except flour and water), bake for 4 hours @ 300*.   Mix flour and water together and stir into the broth, then put the stew back into the oven for 10-15 minutes.  Serve over noodles or rice, or do what I did and throw in some carrots and potatoes for the last couple hours of bake time. That's it!
Did you make a real food recipe?
I want to see it! Tag @KitchenKop on Instagram and hashtag it #KitchenKopRecipes OR share anything you know I'll love by tagging @KitchenKop and hashtag #KitchenKop -- see you over there!
More you might like:
Meal Planning Help!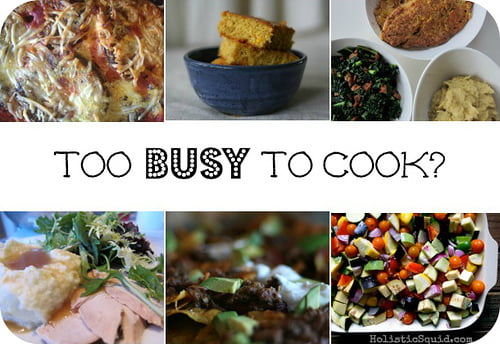 Sick of planning meals and answering the question, "What am I going to feed these people?" No matter what kind of eater you are (traditional, GF, paleo, vegetarian)… Check out these affordable interactive easy-to-use meal plans where the work is done for you.  NOW recipes also available from Nom Nom Paleo, The Paleo Mom, and Wellness Mama all in one spot!  You can read over my review here.