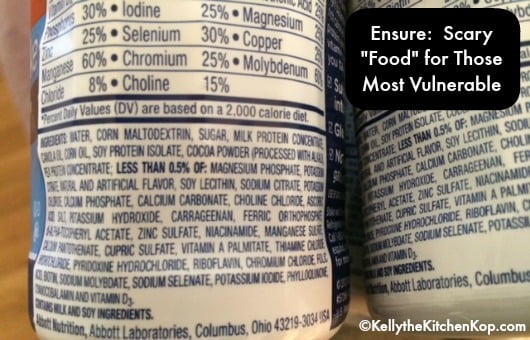 Curious about Ensure nutrition facts?
It's pretty scary what the most vulnerable people among us, those who are sick, are given for "food"…
The other day we had to try some new pain meds to help Mom (read about her diagnosis here: It's Not Benign (and I've Already Had a Run-in With the Cancer Doc), and when we finally found what worked to take away her pain, the nausea started.  All of that followed a few weeks of a low appetite.  (Thank you for your continued prayers!)  We knew we needed to get extra nutrition and liquids into her, and of course the first thing the doctor's office recommended was Ensure.  I had a feeling that I wasn't going to be thrilled with the Ensure nutrition facts…
Check out the Ensure ingredient label pictured above — here's a better view of it:
Ingredients: Water, Corn Maltodextrin, Sugar (sucrose), Milk Protein Concentrate, Canola Oil, Soy Protein Isolate, Corn Oil, Cocoa Powder (Processed with Alkali); Less than 0.5% of: Potassium Citrate, Whey Protein Concentrate, Magnesium Phosphate, Natural & Artificial Flavors, Sodium Citrate, Soy Lecithin, Calcium Phosphate, Potassium Chloride, Salt (Sodium Chloride), Choline Chloride, Ascorbic Acid, Carrageenan, Ferric Phosphate, dl-Alpha Tocoheryl Acetate, Zinc Sulfate, Niacinamide, Manganese Sulfate, Calcium Pantothenate, Cupric Sulfate, Vitamin A Palminate, Thiamine Chloride Hydrochloride, Pyridoxine Hydrochloride, Riboflavin, Folic Acid, Chromium Chloride, Biotin, Sodium Molybdate, Sodium Selenate, Potassium Iodide, Phylloquinone, Cyanocobalamin and Vitamin D3.

Contains milk and soy ingredients.
Are you in shock, too?
Anything else jump out at you?
Thankfully when I asked the doc's office if I could make her my own protein/calorie drink they said, "Sure!"  (I was going to anyway, but this made it easier to convince Mom to drink mine instead.)  So when I went back up North to take care of her, I took my beloved Bosch blender and all of the stuff I needed to make my superfood smoothies.  I omitted the coconut, since she doesn't like it, and used all the fruits she loves.  I felt MUCH better about giving her this, obviously, but the problem is, she probably won't have the energy to make it herself, and it only keeps so long in the fridge — so I'll just make sure she stays stocked up.  At least she hasn't had any of the nasty stuff so far and I hope it stays that way.
Over the years they've somewhat cleaned up the mainstream baby formula out there (although breastmilk or THIS formula faaaar surpasses anything at the grocery store), why in the world haven't they come up with a better alternative to the Ensure crap that is given to most people who are sick, even in hospitals?!!!!
I just don't get it…  🙁
Related: