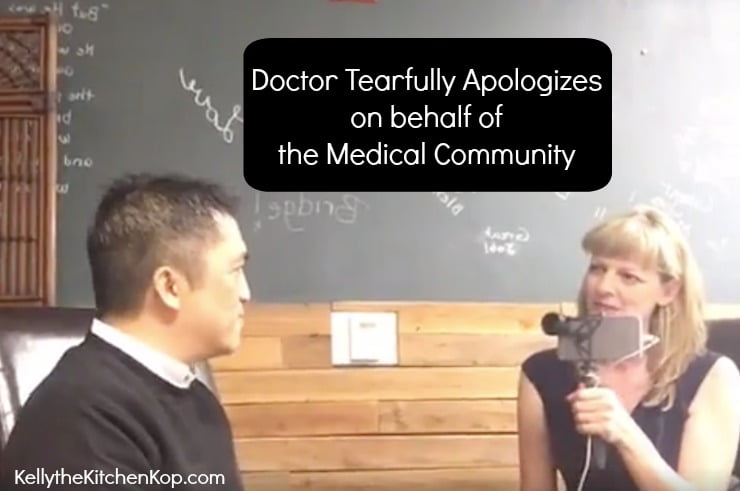 It's so moving to hear this doctor apologize, also see what he thinks about vaccinating the elderly and vaccinating newborns?
You know how when someone wrongs you, even if they can't fix the wrong, just to hear an apology feels better?  Having them acknowledge what happened, and bonus points if they really seem to care, means the world.  That must have been how Polly, from the Vaxxed movie, felt when Dr. Anthony Phan, an internal and geriatric integrative medicine doctor from Johns Hopkins, offered her a tearful and heartfelt apology for all she and other parents have been through with their vaccine-injured kids.
You can watch the entire video below, and wait 'til you hear his common sense coming through — it's refreshing!  He talks about the flawed data coming from the CDC, how he prayed to ask God for insight, he began reading more and learning about integrated medicine, and then stopped vaccinating his patients.  He searched for the truth, and then stopped vaccinating!
In case you prefer reading, below I've transcribed a few especially moving excerpts from the conversation between Polly and Dr. Phan…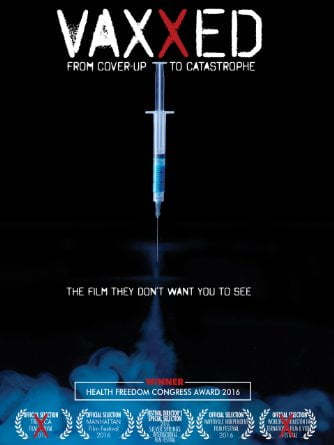 I started noticing that every time I would give a flu shot to my older patients… they would get very sick with upper respiratory tract infections, some would get pneumonia, some would get admitted to the hospital and die."

Nothing in medicine should be forced, even if it's a good thing!  

Even if I give you… here's this wonderful drug that could help extend your life, whatever, but if you decide not to take it, that's fine, that's your choice!  …I'm not anti-medicine, I'm not anti-science… I'm anti-BAD science anti-BAD medicine, and I'm anti-anything that is forced…  That made me very skeptical about anything the FDA and the CDC is doing."

I wanted to do this interview, because I want to challenge the doctors.  

There are 300,000 American trained physicians in America, I wanted to challenge them to watch the documentary Vaxxed.  Because what they're reading right now coming from the CDC, and what the enemies are doing, is they're infiltrating the medical institutions and the dental institutions, and they're telling the medical students and the interns, if the parents bring up questions about vaccinations, you dismiss them.  What kind of teaching is that?  If they have more than 2 or 3 questions, you dismiss them and you just give them the shot anyway.  That is wrong!  

It's beyond money, it's beyond greed, and it's evil.  It's now good vs. evil.  

So they're indoctrinating the young doctors to ignore the first rule of medicine, to ignore questions from the parents and just do it.  We're now a tool for them to do whatever it is that they want us to do… I'm 52 years old, I've been in practice for 22 years, so it's my generation that would have to say 'stand up doctors, there's 300,000 of us here, we have to stop this.'"

There is an agenda from the pediatrician side, if they fulfill all the schedule they would have a financial reward after that…  

But I tend to think there's still a good side in physicians, so there's that group that look at it from the financial side, but there's a group that is really uninformed, and they're also being attacked by regulation from Obama Care.  One of my professors said, he quoted Lenin, 'the key to a socialized state is socialized medicine.'  So in the state of California I'm constantly getting letters from Medicare, from insurance companies, are you doing this?  Are you writing prescription medicine for Lipitor?  …So they're slamming us with all these regulations, and it's really easy for a doctor to say, 'I give up, I'll do whatever you want me to do.'"

I get threatening letters from medicare about giving up medical records, but the second rule in medicine is the patients privacy!  

For them to be constantly telling me, "You've got to show me the medical records…"  Because in those records are things like, "Have you talked to them about gun control? Have you talked to them about vaccinations?" All those private medical records the government wants…   I said no to them until a CEO of an insurance company came in and asked, "Why are you resisting me so much?" I asked, "Are you a doctor? The first rule of medicine is do no harm. The second rule of medicine is to protect the privacy of your patient…    So you'll never convince me to give my medical records to you.  You can do anything you want to me, but you'll never convince me to."

I watched the Vaxxed movie last night and I cried.  

I'm sorry for your son on behalf of the medical community. I'm sorry…    We need to wake up. Medical doctors need to wake up. We need to fight this.  This is an agenda from the devil himself. We need God, we need the Holy Spirit, everybody, I'm really sorry."

You know, Vietnam doesn't have any of this.

There was no such thing as Autism in 1975, 2000, 2001, there was no such thing. When Vietnam signed the WHO, when Vietnam signed into the International Monetary Fund, the banking system, Bill Gates and the Gates Foundation introduced the vaccination program into Vietnam, now Vietnam has over a 300% rise in Autism. That foundation… I don't know, maybe cut that out, they might go after me… He's ruined Africa. Children in Africa. Behind the smiling face of the Gates Foundation of doing good, no… (Couldn't hear this, something about Monsanto…) There's an evil agenda of ruining kids, and depopulation."
The part after this was difficult to transcribe, but you have to watch, it's horrendous.
What about vaccinating the elderly and vaccinating newborns?
(Polly asked…) If you had a newborn baby today in your arms and you had to take care of that newborn baby, would you give that newborn baby any vaccines?" 
(His reply…)  Absolutely not. 100% not. I wouldn't even give ANY vaccines to my older patients. Not even Zostavax, not even Pneumovax, not even the flu shot. No. I truly believe that God gave us this immune system that is much smarter than anything, He created it for us, so if we strengthen our immune system, if we understand the immune system, we can combat anything."
(Polly said…) It's not very often that I have a medical doctor sitting in front of me talking about God, so thank you for that too, it means a lot to all of us.
(He replied…)  Isn't God everything?"
There is so much more!  Watch it all here:
In case that gets taken down…
More related posts you might want to check out: