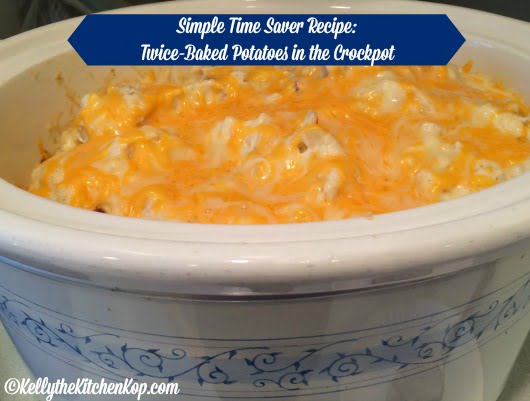 Having Company?  Try This Simple Time Saver:  Crock Pot Twice Baked Potatoes Recipe
We had a big bunch of friends over for dinner recently and I wanted to serve twice-baked potatoes, but knew I wouldn't have time to make the traditional twice-baked potatoes where you stand over a load of potatoes to scoop out the insides, mix it with all the goodies, and spoon it all back into the middle and then bake again.  Thankfully my friend, Mary Jo, was here and she saved the day by suggesting I just throw everything in my big crock pot — it tastes just as crazy-good and saves a ton of time!  Here's how I did it…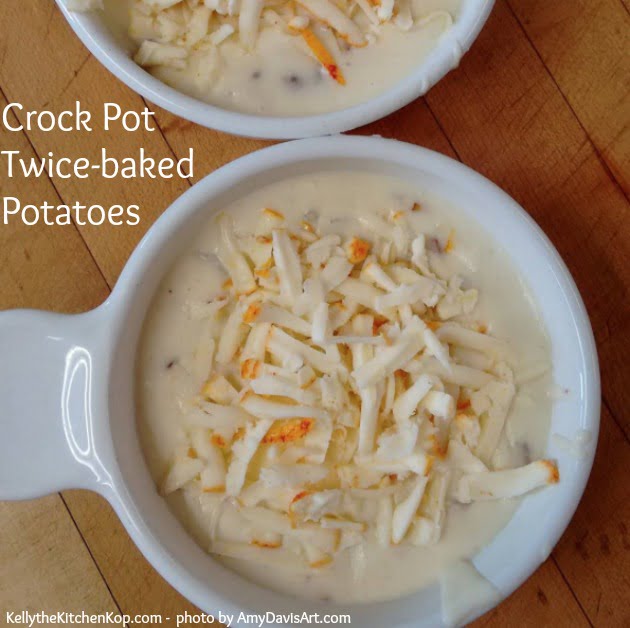 Crock Pot Twice Baked Potatoes Recipe
Ingredients:
Organic potatoes — usually they say about one per person, but these are so good you may want to go 1.5 or 2 so you have leftovers, this heats up really well.  Potatoes are one food that I always buy organic as they're on the Dirty Dozen list.
Pastured butter, about 8 Tablespoons or more per pot of potatoes.  For a smaller batch, use about 4 Tablespoons.  This doesn't have to be exact, you can never have too much butter anyway, right?  If you think I'm nuts, read here about healthy fats.
Organic cream cheese — again, this doesn't have to be any exact amount, I use one or two 8 oz. packages per pot of potatoes.  The more cream cheese, the creamier your potatoes will be.
Pastured sour cream — same as above.  Just dollop in a cup or more.  If you have less cream cheese, just use more sour cream.
Milk — read about healthy milk options here.  See below in the instructions for amounts.
Green onions, chopped        and/OR:
1-3 teaspoons fresh garlic, chopped, or dried garlic, this is to your own taste
Cooked pieces of bacon, however much you want — this is optional, too  (If you don't have a local source, here's where to find safe, healthy meat online.)
Shredded cheese for the top
Instructions:
Bring water to boil in a large stock pot, enough to cover your potatoes.  In the meantime, clean the potatoes and cut off any bad spots, then cut them into smaller hunks.  Once the water is boiling, cook the potatoes until soft, about 15 minutes or so depending on how small you cut them.
Drain, and then drop your hunk of butter into the potatoes to start melting, along with the cream cheese.  Add about 1/2 cup of milk to start, and also the sour cream.  Mash well with your tool of choice.  I like using my stick blender.  If it's too thick, add more milk to get the consistency you like.  Stir in the salt and pepper, onions and/or garlic and bacon.
Spoon into your crock pot and keep hot until about a half hour before you're ready to serve, then sprinkle the cheese on top to melt.  Serve with more butter for extra dreamy-liciousness.
This is so much easier than spooning the potato filling out and then back in and then trying to time them in the oven just right!  Try it and come back here to tell me what you think!
More posts you might like: