This recipe is great as a yummy breakfast, or for an appetizer if you're having friends over, or whatever!  Do you like your vegetable cream cheese on a bagel?  You might be the gluten-free cracker type, OR maybe you like it with more veggies as dippers, like baby carrots, celery sticks, or pepper strips.  It's really good any of those ways.  No matter your preference, this cream cheese veggie dip will have you hooked, it's simple and so flavorful, but isn't that the way all our recipes should be?!  🙂
Cream Cheese Veggie Dip
Ingredients:
16 oz. organic cream cheese, softened
1/2 to 1 cup organic sour cream (optional — to make it less thick and more creamy, it also makes more this way)
A bunch of parsley, chopped — optional
Vegetables of choice — I use mostly organic, depending on the Dirty Dozen list:  a bunch of green onions or 1 regular onion, 3-5 radishes, a couple stalks of celery, a few carrots, 1-2 peppers — I like using different colors, fresh garlic cloves to your taste, I like a lot for good flavor, maybe 4-6 (or you could use dried garlic powder)
Dippers of choice:  Bagels, organic crackers or gluten-free crackers, vegetables like pepper strips, celery, or baby carrots (if I'm serving those as dippers, I usually won't put those same veggies into the dip though)
Instructions: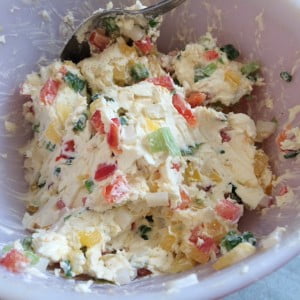 Make sure your cream cheese is really soft so you can stir it easily and put it into a big bowl to give you room to mix everything together.  Add the sour cream if you don't want it real thick, but I kind of like it thick sometimes.  Mix in the parsley, sea salt and pepper.
Now decide if you want it chunky or if you'd rather have the veggies almost pureed.  Both ways are pictured below.  If you puree it, use your food processor to make it go fast (here's the food processor I use and I really like it because it has a little scraper thing that goes around the edges), and note that this way will turn your dip different colors.  🙂
Taste test.  Add more sea salt and pepper if needed.
More posts you may want to check out: