This recipe is great as a yummy breakfast, or for an appetizer if you're having friends over, or whatever!  Do you like your vegetable cream cheese on a bagel?  You might be the gluten-free cracker type, OR maybe you like it with more veggies as dippers, like baby carrots, celery sticks, or pepper strips.  It's really good any of those ways.  No matter your preference, this cream cheese veggie dip will have you hooked, it's simple and so flavorful, but isn't that the way all our recipes should be?!  🙂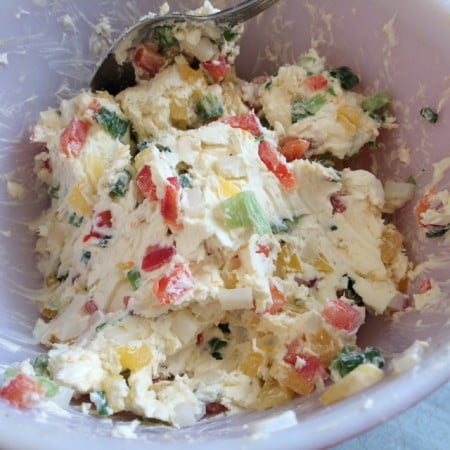 Print
Cream Cheese Veggie Dip
Yield 2 1/2 to 3 Cups
This recipe is great as a yummy breakfast, or for an appetizer if you're having friends over, or whatever!
Instructions
Finely chop the vegetables of your choice. Then add the remaining ingredients and blend well.
You can eat this dip instantly or you can pop in the fridge for about an hour to help bring out the flavor. 🙂
Did you make a real food recipe?
I want to see it! Tag @KitchenKop on Instagram and hashtag it #KitchenKopRecipes OR share anything you know I'll love by tagging @KitchenKop and hashtag #KitchenKop -- see you over there!
More posts you may want to check out: