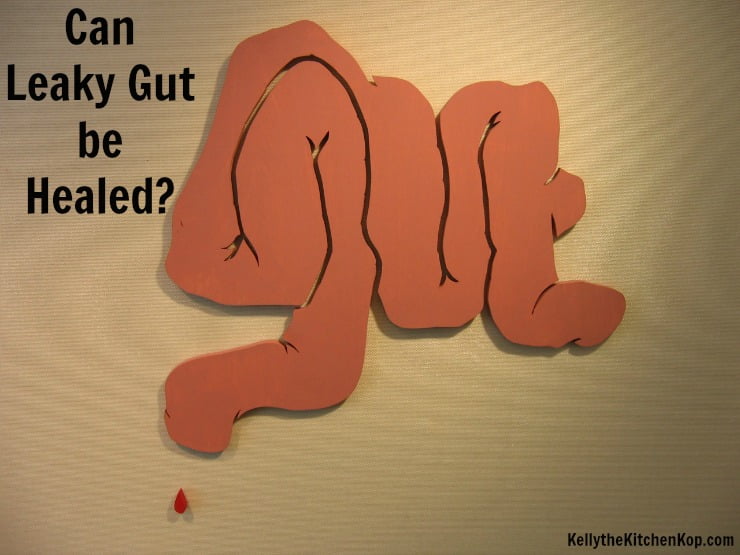 What IS "leaky gut"?  Can Leaky Gut be Healed?
By a guest author
There is no shortage of nutritional and dietary suggestions these days in the health blogosphere for how to decrease harmful bacteria in the microbiome in order to improve leaky gut. This 'hot topic' science grows out of radically revised understandings of how gut bacteria protect not just our digestion, but immune functioning as well, and has emerged just within the last couple years as a result of the latest technology being used for the federally funded Human Microbiome Project.
(For skimmers: If you want to jump right to the info about the leaky gut study, go to the section: *How the gut permeability study was conducted.)
"Microbiome" and "leaky gut" – what exactly are they again? 
A microbiome is a community of bacteria. We have communities of bacteria all over, in and on our bodies and, believe it or not, most all these bacteria are actually working together to make us healthy! We have separate microbiomes on our scalp, hands and feet, as well as in our nasal passages, lungs, vaginas, etc. And each community functions together to keep us healthy. It's actually a very, very small percentage of bacteria that are harmful (pathological).
The largest human microbiome is in our intestines – about 2-3 pounds of bacteria.  Interestingly, most immune system receptor sites – about 80% – are also located in our gut, embedded right in our intestinal walls.  So, the proper functioning of our immune system depends directly upon having a balanced healthy community of bacteria in the gut with no overgrowth of pathological strains.
Harmful strains of bacteria are harmful because they produce irritants (endotoxins) that:
Cause the intestinal walls to become inflamed and develop holes (leaky gut),
Interfere with our immune system located in the gut lining, and
Get absorbed through the intestines into the bloodstream, creating a heavy bodily inflammatory load.
When we have a pathological overgrowth, because these toxins are absorbed into the bloodstream which then travels everywhere, the inflammation they produce can affect virtually any area of our body. Simply put…
Leaky gut = Too many harmful bacterial strains in the intestines = a dysfunctional immune system
…and therefore many, many more problems you don't associate with gut health, but are the actual root cause, including mental functioning and mood.
Who has leaky gut?
Well, in my observation, likely just about everybody. This is largely due to consuming or getting exposure to chemicals that travel to the gut and kill beneficial (probiotic) bacteria living there. This includes:
Antibiotics, either as medication or by eating meat from commercially raised animals fed antibiotic-laden feed,
Most pharmaceutical medication, including birth control pills,
The antimicrobials contained in all commercially made products used on the face and body,
Alcohol and drugs, and
Pesticides and herbicides.
There are many, many more gut-destroying factors, but that list alone can give you an idea of why I believe virtually everyone has some overgrowth of harmful gut bacteria. It's virtually impossible in modern society (no matter how clean you live!) to completely avoid antimicrobial chemicals from food, products or the environment.
What are the symptoms of leaky gut?
Depression/anxiety, digestive woes, migraines, picky eaters, eczema, kids who have trouble sitting still or learning or who are on the autism spectrum, auto-immune issues, allergies, asthma, you name it…
How can one condition have so many varied symptoms?
Because once a toxin enters the bloodstream, it potentially can be carried ANYWHERE in the body and, wherever it lands, will create inflammation.
If that toxin gets stuck in your elbow, you can develop "tennis elbow." If it settles in your brain or nervous system, depending on which part becomes inflamed, you could experience anxiety, depression, learning disabilities, etc.
You see the problem with coming up with a specific list of symptoms? Virtually any aspect of health can be affected by toxins carried in the bloodstream. This is why Dr. Natasha Campbell-McBride, neurologist and microbiome expert, refers to the "river of toxicity coming from our gut" when we have an overgrowth of harmful bacteria.
We need good scientific studies!
I don't know about you, but despite this avalanche of new health information about the gut microbiome, I've yet to find truly rigorous science about how to correct the problem of having a harmful overgrowth. Lots of suggestions based on practitioners' clinical observations or patients' personal experiences, but not actual, scientifically controlled studies.
By that I mean a leaky gut (gut permeability) trial that is:
Clinical, double-blind, placebo controlled, peer-reviewed, and conducted on humans, which involves
No changes in lifestyle or diet beyond the treatment protocol, and demonstrates
A virtual complete reversal.
At least, until now…
*How the gut permeability study was conducted
The study participants were found to have an increased level of endotoxins in their blood after a single "challenge meal" of fast-food, indicating holes in the intestinal lining, also known as leaky gut.
The scientists then gave each person a bottle of the proprietary strains of spore bacteria contained in this probiotic with no instructions other than to take the daily recommended dosage. At the end of the month, the participants returned to the lab to be given the same challenge meal and blood test.
Can Leaky Gut be Healed?  Two unexpected clinical findings
Even though most who applied for the study were relatively young, symptom-free and seemingly at the peak of health, nevertheless blood tests showed that about half already had some degree of gut permeability.

Researchers expected a reduction in endotoxins from the probiotic treatment, but were surprised that, in addition:

Endotoxic levels were almost completely eliminated, and were accompanied by
A substantial drop in insulin, as well as
A considerable decrease in ghrelin, the hunger hormone that makes us overeat.
In a trial completed earlier this year at the University of North Texas, healthy, symptom-free college students who screened positive for leaky gut consumed an endotoxin-inducing high-calorie, high-fat challenge meal at baseline and again after taking this probiotic for 30 days… After probiotic treatment, (researchers) expected to see some reduction in the endotoxic load, but… preliminary data show a 100 percent endotoxemia reduction, as well as drops in other markers, like insulin and ghrelin (the "hunger hormone").

"We were surprised to find that everybody that had endotoxemia from the meal challenge at baseline showed complete reversion."

(Source: Leaky Gut Theory Full of Holes?)

If it worked for THEM…  Can Leaky Gut be Healed in Everyone?
We know how well college students take care of their health (NOT!!!) – meals in the cafeteria and dorm; sleep deprivation; lots of caffeine, sugar, soda, pizza and fast-food; binge drinking…
If this spore bacteria probiotic can almost entirely reverse leaky gut under these circumstances, how much more quickly might gut permeability heal in the context of eating a traditional foods diet?
On the other hand, does the reversal of leaky gut that these symptom-free people experienced mean everyone who takes these proprietary probiotics will have the same results?
Since healing generally happens much faster the younger we are, and the shorter the time we've been experiencing health problems, perhaps not.
However, the fact that blood tests verified almost a complete reversal of leaky gut for every participant in this clinical study is eye-opening and unique!  More details on these results will be available when the full study is published in the World Journal of Gastrointestinal Pathophysiology scheduled for Summer of 2017.
Meanwhile, there are currently multiple other ongoing, double-blind, placebo controlled, human clinical studies on these proprietary strains of bacteria, testing:
Thyroid conditions/Hashimoto's disease,
Irritable Bowel Syndrome,
Liver disease and
Immunology.
It will be exciting to also find out those results, once the trials finish in 2017. Stay tuned!
I know there are skimmers, and then there are the details people.  If you're into details, this next section is for you.  🙂
A CLINICALLY VALIDATED MEASURE OF LEAKY GUT
The probiotic spores used were the subject of a University, double-blind, placebo controlled trial to evaluate the ability of the product to reduce or prevent leaky gut induced by dietary endotoxemia from a challenge meal. In addition to assessing changes in dietary endotoxemia, also measured was how these probiotics altered transient changes in cardiovascular disease risk factor, other novel disease risk biomarkers, and the immune system itself.
Dietary endotoxemia (diet induced toxicity) triggers oxidative stress which, along with changes in the immune system, creates conditions that lead to gut permeability and chronic, low-grade inflammation. Gut permeability leads to toxins leaking into the peripheral circulatory system. Some of these effects begin to occur within 3 hours after consumption of a single meal (1).
Volunteers were screened for the leaky gut, endotoxic response by being given a challenge meal, and then having the level of endotoxins in their bloodstream subsequently measured. Researchers also tracked microbial components and metabolic and inflammatory markers.
The fast-food, challenge meal was chosen due to having particularly high levels of known endotoxin-inducing, industrial vegetable oils. However, once the gut becomes damaged enough to leak bacterial byproduct endotoxins into the bloodstream, most food consumed will induce the endotoxic response, as food particles inappropriately pass into the bloodstream.
All volunteers who showed the toxic response were enrolled into the study and randomized into either the placebo group or treatment group. All volunteers consumed either the placebo or treatment product (probiotic spore bacteria) with no other interventions or changes in lifestyle, other than consuming the recommended dosage. After thirty days, they reported back to the lab for "post treatment" response and were given the challenge meal again.  All the same blood work was run to assess their levels of endotoxiemia or leaky gut.
All participants who received the probiotic treatment over the 30 days showed virtually no endotoxic response in their blood stream, as well as drops in other markers, like insulin and ghrelin (the "hunger hormone").
The data in this write up comes from the pilot study as the data from the expanded, larger scale study is currently under peer-review.
1 Strohacker K, Breslin WL, Carpenter KC, Davidson TR, Agha NH, McFarlin BK. Moderate-intensity, premeal cycling blunts postprandial increases in monocyte cell surface CD18 and CD11a and endothelial microparticles following a high-fat meal in young adults. Appl Physiol Nutr Metab. 2012;37(3):530-9
A final note from Kelly:
If any of you want to try this probiotic, the only one we will take now, click here and use the code KOP for a discount.
Have you tried this probiotic?  If so, let us know what you've noticed?  Soon I'll post testimonies that many of you have been asking for.  🙂
More you might like: