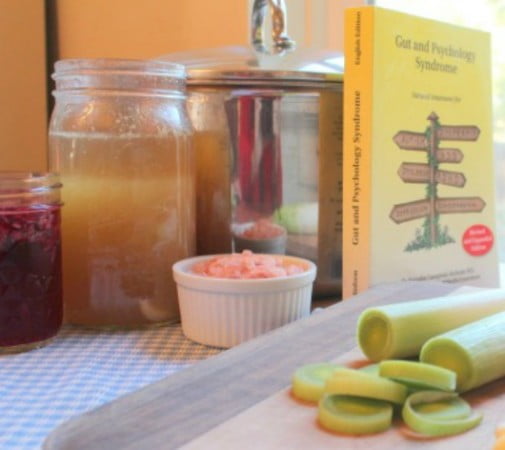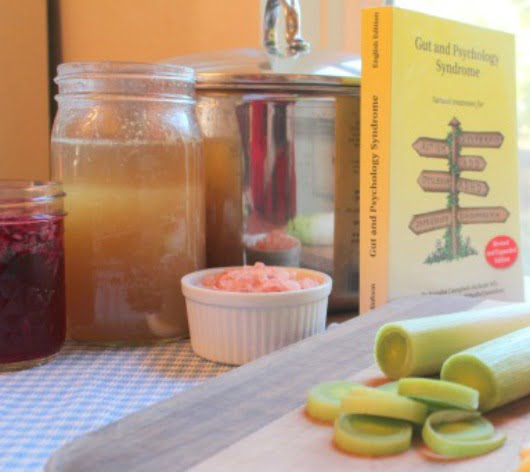 We've all noticed the huge increase in food allergies these days. We never had "nut-free" areas at my elementary school growing up, did you?  And I didn't know anyone who was gluten Intolerant until a few years ago!  Those are probably the two you hear about most often, but there are other health issues that are often caused by the same problem that brought on the food allergies…
Along with food sensitivities, many of the following issues are also caused by what's called a "leaky gut", which means the digestive system is damaged and isn't absorbing the nutrients it needs.
Eczema, anxiety, asthma, frequent illnesses, learning problems, ADHD, depression, auto-immune diseases, arthritis, a whole range of digestive issues (IBS, Crohns, acid reflux), and more.
This is what happened with Ann Marie:
When I was 25, I was diagnosed with rheumatoid arthritis. The pain in my knees was so bad, it would wake me up at night. Even worse, it was spreading to my fingers and my elbows.

I also had chronic fatigue syndrome, multiple chemical sensitivity, respiratory allergies and chronic sinus infections, as well as thrush on my tongue and sores in my nose that wouldn't heal.

In short, I was a mess! I was only 25 but I felt like I was 95. The doctors told me that I would end up in a wheelchair, and that I should just put the knee surgery off as long as I could.

That wasn't good enough for me! I had to find a way out. After much research, I discovered that I abnormal gut flora (typically caused by antibiotics) can cause auto-immune disorders like arthritis and allergies.

I did a 30-day elimination diet to find out what I was allergic to, and amazingly, I felt 95% better in that first few weeks. I knew I was on to something.

It took me about 2 years to completely heal, but when I did, I completely had my health back. Zero pain, no medication, no sneezing or fatigue. I was a new woman!

And best of all — I could eat gluten and sugar again with no symptoms. Hello, sourdough bread, pizza and chocolate croissants!

You may already be on the GAPS diet, or SCD (Specific Carbohydrates Diet) — or you may be thinking about starting.

The diet seems so restrictive — and it's hard just thinking about everything you have to do to get up to speed. Plus, how will you feed your family, and where are you going to find the time to cook everything from scratch?

It can be so overwhelming to get started. Trust me, I know.
Most people just avoid the food they're allergic to.  Sooner or later it will catch up to you, either with MORE food allergies, or with other health problems:
Sure, you can just avoid the food you're allergic to — but you won't reverse your food allergy that way. Food allergies and intolerances are caused by a "leaky gut". In other words, a digestive tract that is so damaged that it allows undigested food to pass through into the blood stream — at which point the immune system reacts.

If I had simply avoided gluten, I would not have been doing anything to heal my gut. So I would have stayed gluten-intolerant, and over time, developed more allergies.

The other problem with just avoiding the food you are allergic to is that you may be allergic to other foods, too and not know it. Many people who with gluten-intolerance don't have any symptoms. But eating foods that you are allergic to damages your gut further.

Not to mention the nutritional deficiencies that come with any food allergy. When we don't digest and absorb our food properly, nutritional deficiencies follow — which can lead to a host of physical and mental problems from osteoporosis to cavities to anxiety and depression."
Also, let us know your experience with food allergies and if you've ever been on the GAPS or Specific Carb diets?