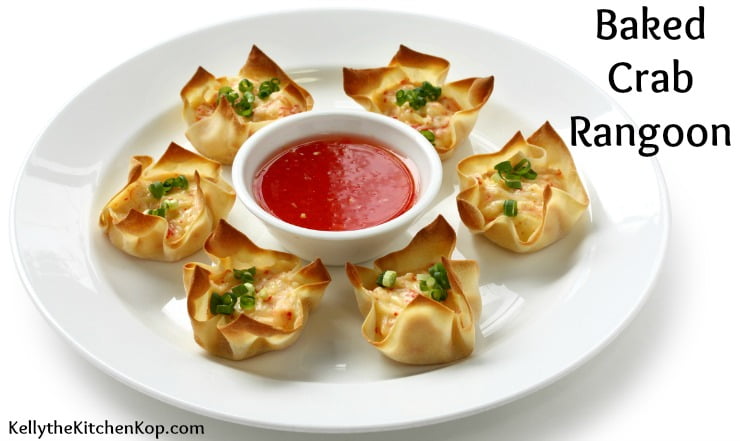 This baked Crab Rangoon appetizer recipe will get you loads of compliments because it is reeeeeally tasty and easy to make, too.  I took it to both family Christmas gatherings and I'm also making it for New Year's Eve, only this time I'm making a bigger batch because they go fast.
By the way, if you love Asian food, here are more of my favorite Chinese/Asian recipes.  (Egg rolls, chicken lettuce wraps, sweet and sour chicken and more…)
Baked Crab Rangoon Appetizer Recipe
(See the Crab-Free Version Below!)



Ingredients:
2 Crab legs, boiled (I tried to buy a can of crab meat, really I did, but just couldn't bring myself to serve all those preservatives to my family!  If you can get past it, and I suppose it's rare that you'll make this, it is easier and cheaper.  So if you use the canned, use one can, drained and flaked.)
12 ounces cream cheese, softened (I use organic)
3 green onions, chopped small (More adds extra flavor, but some don't like a stronger onion taste)
1/3 cup mayonnaise (Here's my homemade mayo recipe that is very good!)
Dash of sea salt
24 wonton wrappers (In the refrigerated section at the grocery store – the ingredient label on these wasn't bad at all.)
Instructions:
Preheat oven to 325*.  Flake the crab meat out of each crab leg.  Mix the crab meat, cream cheese, onions, salt and mayo together well.
Butter 24 mini muffin cups and gently push a wonton wrapper down into each.  The edges will stand up out of the cups.  Fill evenly with crab meat mixture, not quite to the top of the cup.
Bake 11-13 minutes until filling is hot and wrappers are golden brown and crispy.  Watch them or they can get too brown quickly, like mine did in the picture above, but they're good extra crispy anyway.  Serve warm.
These can easily be made ahead and then baked right before serving.
This recipe makes 24, but 48 wonton wrappers come in a package, so I suggest doubling it if you have 2 mini muffin pans or if you don't mind baking them in two different batches.  Or you could easily use a regular muffin pan, but I don't think it will be quite as good with less of the crispy wonton wrapper sticking up from the sides of the muffin cup.
Crab-Free Cheesy Rangoons
For this you'll use the basic recipe instructions as above, but here are the ingredients if you don't want to use crab:
2 softened bars of cream cheese
3/4 cup shredded parmesan
1/2 cup mayo
1/2 teaspoon garlic powder
3/4 teaspoon sea salt
1/4 teaspoon pepper
Handful of chives (or green onion), chopped small – add last and stir in
3 strips of bacon, crumbled small (optional)
Makes 24 if you're using a mini muffin tin.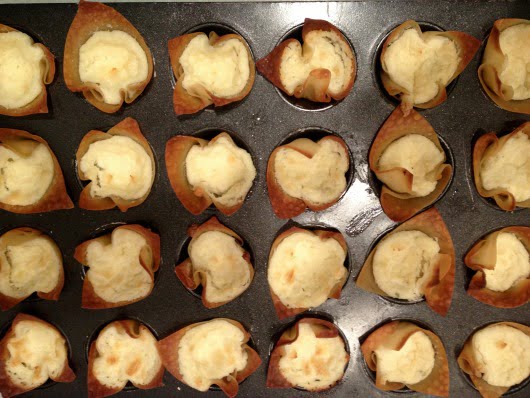 What appetizers are you taking for New Years Eve?
Meal Planning Help!
Sick of planning meals and answering the question, "What am I going to feed these people?"  No matter what kind of eater you are…   Check out these affordable interactive easy-to-use meal plans where the work is done for you!   Also read over my review to see what I thought of it.