I've got a couple delicious finger food recipes for you to take to your gatherings this weekend that will make your guests very happy, because that's what bacon does to people.  🙂
Grilled Bacon Wrapped Shrimp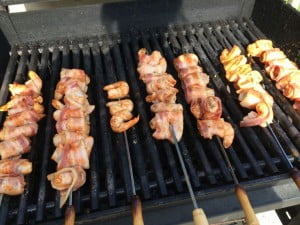 Thanks to my friend, David, for this recipe…
Ingredients:
1 pound uncooked bacon, cut in half — if you don't have a good local source for farm bacon from pastured pork, you can get bacon from a safe online source here.
1 pound uncooked jumbo shrimp, 21 – 25 per pound, tail-off and deveined (Try to find some without icky preservatives!)
1/2 cup fresh squeezed lemon juice, between 2 and 4 lemons, depending on size
1/2 cup organic ketchup
6 to 12 dashes of your favorite hot pepper sauce – depending on how much "heat" you want
2 cloves garlic, minced
1 cup olive oil, find real olive oil here
Instructions:
Mixed lemon juice, ketchup, hot sauce, garlic, and olive oil together and marinate the shrimp for about an hour or longer.  (There's plenty of marinade so you could do 2#'s of shrimp with this recipe.)
Wrap the bacon around the shrimp and thread onto long metal skewers.  Use extra marinade to brush all over the skewers to get some on the bacon as well.
Grill until bacon is crisp – about 10 to 12 minutes.  David says:  "Don't have your heat too high, and watch for fire flare-ups — you don't want to burn the beauties to a black crisp!   (I did that once because I was not attentive to my grill!)"
Serve immediately or at least keep warm until serving.
Bacon Wrapped Hot Dogs with a Brown Sugar Glaze
This one is from my friend, Phyllis, can you tell I have great friends?!
Ingredients:
Instructions:
Preheat oven to 350*.  Wrap bacon pieces around hot dog pieces and hold with toothpicks, place in a square baking dish and bake 'til they're hot and the bacon is starting to get crispy, about 30 minutes.  Remove from the oven, sprinkle with the organic brown sugar and bake another 10 minutes or until sugar starts to caramelize.  You could also drizzle balsamic vinegar over the top before the final baking for a tasty twist.
Good luck staying out of these,  you may want to make a double or triple batch if you're having guests!
More posts you might like: