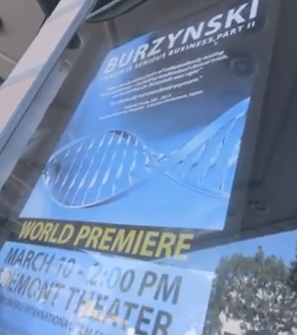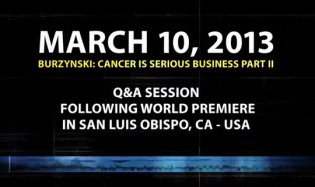 We all know someone with cancer.  Or we did.  Or we will.  Or maybe it's you, right now.  Who should decide what cancer treatment patients can pursue?
It's 2:00 a.m. and I can't stop watching this Q & A session on the latest Dr. Burzynski film.  I haven't gotten this worked up over a post in a long time and I'm only half-way through watching it.  I'm not even tired, I'm just ticked.
This post started out as one thing:  'Be aware of this alternative cancer therapy', and is turning into something completely different:
The FDA is screwing with our right to choose our own healthcare just as they screw with our right to choose our food!

I know that many of you will not watch the video, so I'm pasting some highlights below, but please try and watch it if at all possible.  You have to understand this because if you haven't already battled cancer in your family, then it's likely that you will someday.  You need to be AWARE of what's happening.
Once you are more aware, you may still choose to go the conventional route for treatment when facing a cancer diagnosis, and if it's ever myself or someone in my family, I might, too.  Every cancer is so unique, there are many different pieces of the puzzle to take into account.  Until these decisions are in front of us and until we do the in-depth research that would be necessary in that situation to be sure we're making the right choice, then we won't know.  But I'll tell you this:  I will not blindly follow my doctor's advice, or Dr. Burzynski's advice, or the advice from ANYONE without first gathering every shred of information possible, praying like crazy of course, and then deciding.
But here's the problem.  And it's a HUGE problem.
What if after all of that research, I decide that I DO want to try Dr. Burzynski's antineoplaston therapy, and I find out that it's our very best option, the safest and the one with the best chance for a good outcome?  Guess what?  Now we can't, because the FDA has said NO to Dr. Burzynski accepting any new patients!!!  This makes my blood boil.
As even if the FDA hadn't prohibited Dr. Burzynski from taking new patients, there's also the expense to deal with, and the fact that insurance companies won't cover alternative therapies.  Yet when they have an experimental therapy that is big-pharma related, insurance companies often will cover that.  
Like the man says in the video below, what makes this the 'alternative' therapy, and what makes Dr. Burzynski the 'quack'?!  His therapy has been proven safe and has cured people of cancer.  (Not all, of course, but you can never heal everyone.)  While chemotherapy drugs also only cure some, they are dangerous because they're toxic to every other cell in the body!  (Everyone knows that's how it works:  it harms the good with the bad, and this is sometimes necessary, but what if it's not?)   It seems like a no-brainer that the term "quack" is thrown around by the mainstream in order to make anything else seem scary.
Take a deep breath (you'll need it) and read some excerpts from the Q & A session…
"Here we are, the home of the brave and the land of the free.  This is the freest country on the face of the planet, yet when it comes down to medical issues, being able to choose the medical regimen of your choice, fighting your cancer or your disease the way that you want to, you're not allowed.  There are three modalities for treating cancer, this is like religious dogma, it's surgery, radiation, chemotherapy and that's it.  Try to do something else and you'll have major problems, you'll be in for the shock of your life."

"Why the hell do we have to go off-shore, this is America, why can't we choose what we want to choose?!  What's particularly ridiculous about all of this is that nothing else out there WORKS!  Not only does it not work, it makes you miserable and ruins your quality of life."
It gets even worse with this from the filmmaker…
"David Axelrod (a top political advisor to President Bill Clinton as well as campaign advisor to President Barack Obama) saw a rough cut of the first Burzynski film in late 2009 privately, and he said that this is all very important, but it's just too big.  We can't face this in this country, not for at least 10 years.  The economy had just tanked and he even eluded that it could possibly send the country into a further recession because of what it would do to companies like Amgen, which is 90% reliant on cancer therapies.  The stock market would plummet if this thing were released.  It would come from the pharmaceutical world, it's just a sad reality.  It's almost as big as oil, countries have gone to war over a resource this valuable.  And I can understand from a market point of view, if I were a CEO or on the board of pharma, from a purely self-preservation point of view, I can understand where they're coming from, but obviously from a morality point of view it's much more difficult to wrap your heads around."
Wait – there's more…  This is what I got in a Burzynski Movie email update:
"Since the international award-winning success of the first documentary, Burzynski, the Movie—released in 2010— a very aggressive paid "Astroturf" campaign has since emerged in an attempt to prevent the public from properly understanding Antineoplastons, Dr. Burzynski's clinic, as well as trying to distort the proven success stories of the many cured patients, the presence of scientifically peer-reviewed data, and more.  You know you are making a difference, when special interest groups launch Astroturf campaigns against you!   During this Q&A and in the lobby afterward, our cameras were able to record two of them."  (Be sure to click on the Astroturf link to read what exactly that means.)
Please watch at least some of this!  There is a CRAZY WILD ending, and I promise I'm not saying that just to get you to watch, my heart is pumping!  This is a big issue guys, bigger than any of us even realize.  Don't miss it.
If you did watch all the way until the end, I'm curious what you think of the "Critic" and his thoughts on the reasoning for the FDA not approving Dr. Burzynski's therapy and how it relates to speeding laws…  He feels it's similar because it protects the majority.   Did anyone else NOT see how those two things relate?  Someone speeding puts others lives in jeopardy.  Whether I choose conventional or alternative cancer therapies doesn't affect anyone else, right?!!!  Am I missing something???
1st trailer from the first movie:
2nd trailer from the first movie:
Movie trailer from the 2nd movie, which will release this summer: