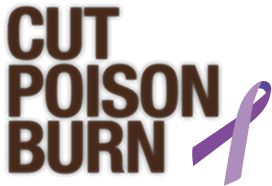 Have you heard the controversies surrounding the war on cancer?  I told you last week that the comments have recently fired up again at my post, Politically incorrect thoughts on breast cancer, and then a comment from a reader friend, Susan, showed up, with a mention of this new movie.  I literally shook as I watched the trailer…
Watch the trailer for "Cut, Poison, Burn":
I think it upset me so deeply because as much as we're eating a diet that's a zillion times better than it used to be, it's still far from perfect.  And then there are the many environmental concerns.  And of course genetics.  There are no guarantees.  If cancer hits in our home, I have no idea which path we'll take toward recovery.  Obviously we'd be praying like crazy for wisdom from above (and I'd be asking all of YOU for help, of course), but it would be the battle of our lives, to be sure.  The thought of the government or drug companies who could end up fighting any decision we might make, or treatment we might NOT opt for, would be too much to handle!  How can this be happening in America?!
I'd love to hear your thoughts on this, and if you're interested, you can read Susan's entire comment here:
I am a big fan of Suzanne Somers. This chick knows her stuff. She has been researching health with the most advanced, forward thinking docs in the world. She knows that the Western standard of health care is killing us and she goes out and finds doctors who think outside the box for superior health. She also eats like us!  If you are not familiar with her work then I suggest you borrow "Knockout" or "Ageless" or "Breakthrough" from the library. I guarantee you will end up buying copies for yourself. There is that much info packed into these books.

As a breast cancer survivor, Suzanne is often asked why she never participates in "The Race for the Cure." But the reason she doesn't support it is because she thinks that the millions of dollars being thrown into it are going towards the wrong thing. Of course, she wants a cure, but her research has made her think a step further: What the hell is the CAUSE of any kind of cancer? She has been called many names for not supporting the whole Komen cause, but I have to agree with her. No one is ever going to find a cure because cancer makes $200 billion dollars a year. Suzanne would rather support those who will search for the cause because she believes that is how we will finally help so many people. Suzanne, BTW, is now cancer free from using Iscador (mistletoe) and still uses it to this day. It is a superior immune system builder. Thomas Cowan from the WPF is also a believer in Isacdor's efficiency.

And lastly, watch the movie, "Cut, Poison, Burn." It is a REAL eye opener on what is happeing in the current cancer industry.