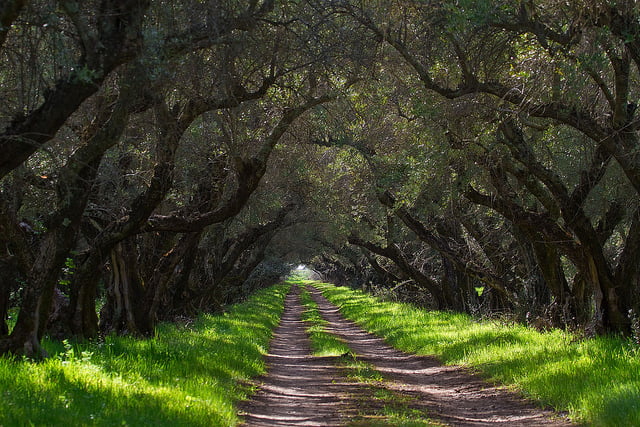 When I was working on yesterday's post, Living the Dream, the Life of a Businessman Farmer, an interview with Chris Kerston, I asked him if he could send me a short one-paragraph blurb on how quality olive oil is different from what we can buy at the grocery store.  (You won't believe the similarities between olive trees and our immune systems…yes, you read that right…)
No big surprise, as with everything else, you get what you pay for.
Here's the "short one-paragraph" reply from Chris:
Our farm is not 'certified' organic and we are not allowed to even compare ourselves to the term without risk of massive fines, unless we pay membership fees and undergo huge amounts of paperwork.  All of that extra cost of certification has nowhere to get passed onto other than onto the consumer, and we believe that customers are smart enough to make their own choices and self-certify their foods when buying directly from the grower.  We take a 'non-toxic' (a term not trademarked and owned by the government) approach to farming.  We believe healthy soil and a robust active ecosystem minimize the need for outside inputs.

Here's why it's better NOT to buy olive oil in the grocery store:

The olive trees on this property are part of the largest old growth planting of olives in North America.  The older trees, like old vine in the wine world, make better quality oils, with better flavor, and with some research showing even higher polyphenols (antioxidants).  We grow an heirloom variety of olive that is traditionally only grown in California, called the Mission Olive.  It's known for having superb oil, and when harvested late in the season can produce some the of the most buttery, mildest, most pleasurable oil you'll ever find.  (Note from Kelly: try this oil in homemade mayo!)


What you get in the grocery store that is imported from other countries has shown time and time again that it's often adulterated with other lower grade vegetable oils.  The domestic olive oil industry has literally put millions of dollars into research toward developing a test that can be done at customs as the boats come into the harbor.  Unfortunately, a timely, reliable, affordable test that customs agents could effectively administer has not yet been developed.  So I'd be pretty leery of imported oils for this reason.  Read the article Slippery Business for a more in depth report of the corruption that goes on here.

U.S. olive oil, however, which is mostly grown in California, does really well in testing negative for any adulteration.  But because the demand for olive oil is SO high, the industry is trying to compensate by finding ways to mechanize a very old world style of growing.  The process of high density olive oil production has been gaining in popularity for the last 10 years.  High density plantings mean that the young trees are trained onto a trellis, and not allowed to grow into a traditional tree.  They use a large combine tractor, similar to a mechanical grape harvester, that drives over the olive trellis and uses fingers and shakers to rattle the olives loose and then suck them up into a hopper.  Watch this video of one of these machines in action. Many of the major domestic brands in stores now are from huge high density plantings. 

There are a couple of major downsides to this system. 

It requires heavy machinery and displaces a culture of farmers where hand harvesting skills have been passed down for generations.  The tractors are much harder on the trees than manual harvesting and these high density trees usually have to be replaced every 15 to 20 years, never given the opportunity to get to the old growth stage.  Because of the heavy machinery, this style of farming is also heavily dependent on petroleum which has added environmental impacts and is an unstable economical commodity at best.

The even more important part of this is that the amount of olives planted per acre in this high density system is really more than the soil can support naturally. 

So where in traditional olive growing very little if any chemicals are used, high density olive oil production is notorious for leaning much more on a synthetic chemical program to prop up fertility, kill weeds, and eliminate bugs.  So now you have to deal with chemical residue issues (by the way many of these chemicals are fat soluble, which doesn't bode well for a product like an oil).  Because the high density trees are spoon fed by chemicals, the trees themselves don't have to build defenses or struggle as hard to grow the fruit. 

It's this struggling process where the trees develop their antioxidants, which are in essence defense mechanisms against disease, pests, fungus, etc.  It's the reason that these compounds are beneficial to ingest; they've been shown to do the same things in our bodies. 

But when the trees don't have to struggle, or be as self sufficient, they don't put the same amount of energy into building these precious defense compounds which are part of what make olive oil good for you in the first place.  (Another note from Kelly:  Isn't this CRAZY cool?  Doesn't it remind you of our own immune systems, how they need to struggle to get over illnesses in order to be stronger?!)


So like any farm fresh product you'd buy, I'd put olive oil in the category with something that it's really important to know the producer. 

Talk to them on the phone, email them, visit their website, and learn as much as you can.  But there's a lot of misinformation about olive oil out there so it can be a challenge to get good information.  We're one of the very few, if not the only farm, that can offer this integrated permaculture style farming, the nutrient rich volcanic soils, the old growth trees, the traditional harvesting styles of collecting the fruit, the heirloom Mission Olives, the respect and understanding of Weston Price principles, and a dedication to this caliber of artisanal extra virgin olive oil."
Wow, you've got me convinced.  Thanks Chris!