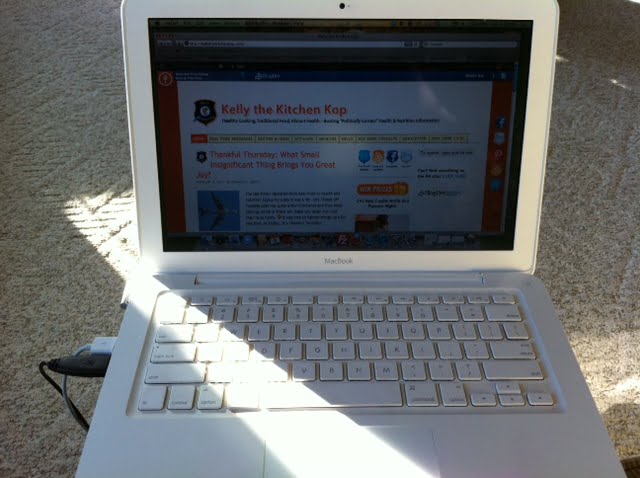 A while back I received an email from Megan, an undergrad who is writing her senior thesis on food blogs and the Slow Food movement.  She asked me to fill out a short survey and I thought I'd post my responses here.
If you're also a food blogger, share your answers in the comments.
If you're a food blog reader, tell us in the comments what is the primary reason you read food related blogs?
1.  Please describe the primary content of your blog.
"Politically Incorrect" Health & Nutrition information.
2.  Why did you choose to start a food blog?
To have one spot to share concise information on various health & nutrition topics.
3.  What appeals to you about blogging as a medium?
The power to reach so many with the truth about Real Food, and to connect with a like-minded community of people who are as eager as I am to keep learning on this journey.
4.  How does the concept of "sustainability" factor into your blog?
So much so that I could be making a LOT more money each month if I allowed ANY ads to run on my site, but instead I take the hit so that I'm only promoting what I believe in: companies who also believe in sustainable, local (when possible), REAL food practices.  (Read about when I said Bye bye to Google ads.)
5.  What is your understanding of "Slow Food"? Do you consider yourself to be part of the Slow Food movement?
Absolutely. The only fast food we eat is what we make at home from my "fast food" meals list (with the exception of an occasional take-out pizza). Real Food is worth the time and effort so that you know what you're feeding your family.
6.  Which of these aspects of food blogging are important to YOU, and most central to YOUR blog? Please rate the following on a scale from 1-5:
Not important (1)
Somewhat important (2)
Moderately important (3)
Very important (4)
Most important (5)
– Keeping a personal journal    1
– Outlet for creative expression    1
– An archive for recipes and/or photos              3
-Interacting with readers via comments              3
– Interacting with other food bloggers              3
– Feeling like part of an online community              3
– Highlighting positive things about the local community (restaurants, markets, etc.)                   4
– Informing and educating readers about food-related topics                        5
– Promoting ethical values in our food system                        5
– Advocating for political change                   4  (for food issues)
– Updating friends and family    1
– Sharing recipes with readers              3
– Sharing stories with readers              4
– Sharing pictures with readers    1
– Supplementing other food media endeavors (books, newspaper columns, etc.)         2
– Promoting career         2
– Seeking financial gain                   4 (This started out as a "2", but now that it's my full time job, it's become a "4"!)
– Fun              3
7.  Please elaborate on the statement(s) that you rated as "most important."
Getting the truth out in a way that is A.  Easy-to-understand, B. Doable, and C.  Easy to find, always has been and always will be #1 for me.  🙂