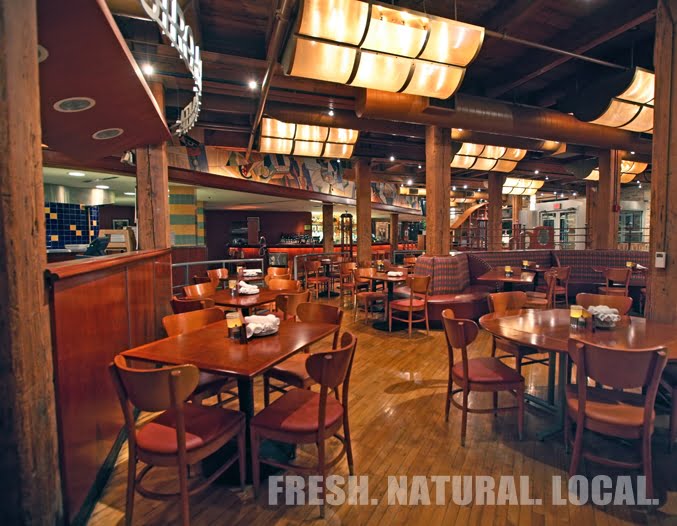 A reader, Yolanda, emailed recently asking this question about finding healthy places to eat out:
What should I do when I "need" to eat out, I mean at a restaurant?  It seems there is NOTHING safe out there.  MSG, aspartame, bad fats, ick… but sometimes my husband REALLY wants me to go out to eat.  Are there any relatively safe, healthy choices? 
Here's how I answered her, and I hope you'll share your suggestions in the comments, too — that's always where the really good information ends up…
I'd have to say that it depends on how sensitive your body is.  If you are highly sensitive to MSG or other nasties found in food these days, then you have to be even more careful wherever you go, which means you'll have to ask the restaurant (or call before you leave) and find out what is "safe" for you.  For myself, I'm highly sensitive to what I call "crap oils", so I don't order anything fried or I'll pay for it later, unless I'm at a restaurant where I know they serve foods fried in duck fat (yum!), but I'll still ask, because I know they don't always fry in that.

We basically don't eat out very often just for the reasons you mentioned, and also because it's expensive with 4 kids, and we eat pretty well here at home where I don't have to worry about what might be in the food.  When we do eat out, we go to the higher-end restaurants where I know they cook with homemade stocks, serve real butter and local veggies, depending on the season, and buy pastured meats from local farms, depending on the restaurant.  We very rarely go out with the kids because kids' menus are even more difficult to navigate through.

We have a new restaurant nearby that I'm excited to try because they advertise all organic food.  Even then you have to be careful, though.  Just because they are 'organic', doesn't mean they serve real butter or soy-free foods, for example.

Beyond all that, there are times once in a great while when we find ourselves somewhere with foods that we wouldn't choose to eat under normal circumstances, but because we don't have food allergies or health issues, and because it is so infrequent, I try not to freak out too much over every little thing.  It's not always easy, though, knowing what I know now about the hidden junk in food.

One more piece of advice:  Ask your local WAPF chapter members where *they* go if they want to eat out and not get sick!
Your turn!  Let us know what suggestions you would share?
From Yolanda when I asked her to send me a picture for the post:  Here is a picture (I know the top of our heads are cut off, by the way.)  This was taken when we had a birthday party for our dog's first birthday.  We invited our son and his family and the neighbor's granddaughter.  The excuse was the dog, but the fun was for the children.  We had a sack race, "Pin the nose on the doggie," and I strung homemade yeast donuts (fried in kettle-rendered lard) from strings from the clothesline and we ate them with no hands.  We had cake, ice cream, REAL decorations and it was a BLAST!!!  I think it will be an annual event.  See that nice sugary cake??  At least it was made with real butter, pure cane sugar, pastured eggs and egg whites, unbleached flour, raw milk, etc.  Nearly devoid of nutrients, but also devoid of poisons.

One more.  Here is one of me, Jim and 5 of our 6 children taken at our family reunion in June.