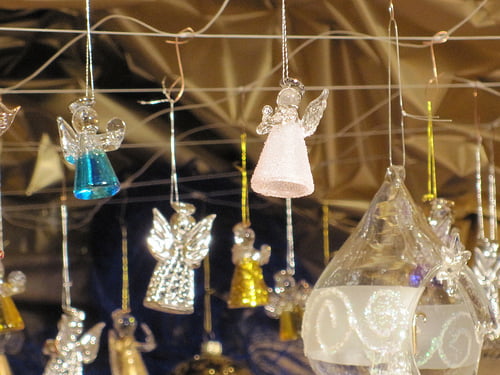 What happens inside of you when you hear the first Christmas song of the season?
Before I get all scroogy on you, yes, there are some really really good things about this time of year, things like…
Certain favorite Christmas songs get me out of my scrooge-like mood and thinking about the Baby who came here to earth for us.
The smell of the Christmas tree, now that is awesome.  For years Kent wouldn't let me talk him into an artificial tree, but we finally made the switch last year, just so we can have it up longer without a huge mess.  And now I can still have the wonderful smell through the house, and not from toxic pine-scented candles — instead we can use this essential oil blend!

Getting together with family and of course the excitement of the kids, that makes it all worth it.
Side note:  I just asked our son what is his favorite part of the holiday season and I thought he'd say presents or something, but he said, "the snow".  🙂
But alas, with anything good there is the not-so-good, here's what stinks about the holidays:
I'm NOT good at figuring out what to get people.  There are those, we all know them, who have the gift-giving gift.  They find the perfect thing without even trying!  They keep an eye out all year and just happen to find exactly what the person will love.  Those people tick me off as I bumble through the stores, with no idea of what the heck I'm doing.  Just tell me what you want and I'll go buy it!  If anyone has tips for how to do better at this, I'd love to hear them.
I just read an article from my friend, Amy, that helped redirect my thinking so I could have a better perspective.  She said, "When we go to the store, the library, the office or some other place — getting groceries, picking up books or doing our job is secondary.  Primary is living out the Gospel — smiling, holding a door open, waiting patiently in line and offering to help, or a word of encouragement to another are beautiful ways to spread joy and keep Christ in Christmas."
Figuring out what to make for Thanksgiving or Christmas dinners, or get togethers with friends and family, used to be a pain in my backside.  "What can we make that is reeeeeeally good, but without all the crappy ingredients?"  And then if you had people with food sensitivities at your shindig it was extra tricky.  But I have to say that nowadays this is SO much easier!  There are tons of recipes now that are actually good for those with food allergies, and I can pretty much adapt most any recipe to a real food version with no problem!  Get my FREE Real Food Ingredient Guide for help with that.  🙂
I'm sure I'm not the only one who really misses loved ones who have passed on at this time of year.  I'm especially still really missing my Mom, this will be our 3rd Christmas without her here, and she was a BIG part of making the holidays so special.  But knowing I'll see her again makes a world of difference.  (Thank you Jesus!)
What about you, what do you love about this time of year and what stinks for you?
p.s.  Check out the great comments below!
p.s.s.  Did you catch the Black Friday/Cyber Monday deals? 
Click here to scroll through and see if there's anything you need that is still on sale!
Or click here for my favorite books for gift ideas.