Looking for the perfect raw milk pour spout?  
Because who wouldn't want more ways to consume delicious, nutritious raw milk, right?  Learn why raw is the only way to go here: Raw Milk Benefits and Information: Q & A with Mark McAfee.
I've got the best readers anywhere.  No really I do.  They are real foodies with a big heart for helping others on this journey.  Anna, a reader friend from nearby Muskegon, sent me this email recently.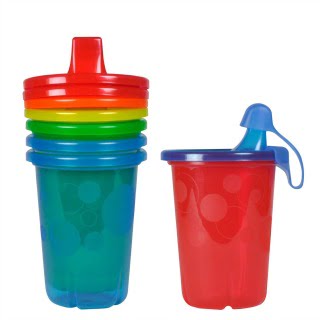 "I just wanted to show you a hack I made for our raw milk.  I had actually been transferring my milk into plastic gallon water jugs, but that gets old week after week.  I have seen others on pinterest using orange juice cartons to make pour spouts for the wide mouth mason jars.  I really wanted to buy the Recap lids, but they are too expensive for me, so I looked around the house and realized that these sippy cup lids are around the same size as the wide mouth jars.  They are inexpensive and even come with a little spout cover.

I took the lids and just shaved off a little of the lip with a very sharp razor blade.  Just enough so that I can still tighten the ring around it. You don't want to shave too much because it helps it stay leak proof and helps the ring hold it in place. I then took the razor blade and cut off enough of the spout to be able to pour milk through it. The one in the picture is the first one I made so it looks a little funky,  With a little practice they did turn out a neater. 🙂  Tada:  a raw milk pour spout!

I am hoping this will help someone else. Have a great day!"
Thanks Anna!  If you have any great real foodie tips to share, please email me!  [email protected]