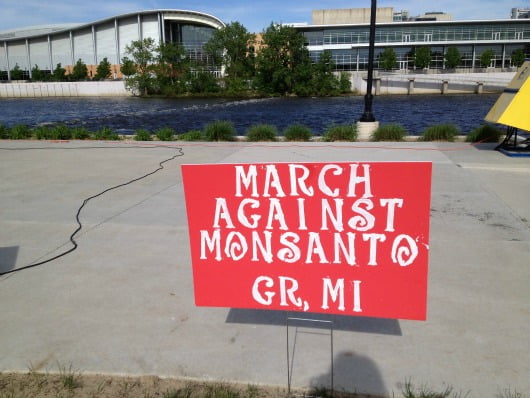 Saturday people were marching all over the world against Monsanto and their evil ways. But why?  What's really the big deal?   (Before you read the post below, you may first want to read a basic GMO definition here.)
GMO Refresher…
Many don't have a clue who Monsanto is, so I'll give you my own 'nutshell' version that I use to help others understand & explain why so many are trying to bring awareness to this issue…
Monsanto is a huge company who have actually changed the genetic makeup of certain seeds, so that they can be sprayed with large amounts of pesticides but not die.  Only the weeds die.  (These are called "Round-up ready" crops.)  And then instead WE die sooner, once our bodies have gotten sick trying to fight off the extra toxins we've ingested from all those pesticides and in the frankenfood that came from the seed that was so drastically changed.

Don't you think GMO food should just be labeled (like it is in other countries!) so we all at least KNOW?

As if all that wasn't bad enough, Monsanto has BIG people in BIG places pulling some really slimy strings.  Recently the "Monsanto Protection Act" went through!  This was a hidden item in a bigger bill that Obama signed which protects Monsanto from lawsuits if there is a problem linked to their seeds.  I wish it was a joke but it's far from it."
Learn more from this GMO Trilogy and Seeds of Deception set by Jeffrey Smith.
After watching about three dozen videos looking for just the right one, I finally found this one that you have to watch, it's short!
I loved this quote from the video:
"If there's a silver lining in all of this, it's this.  The insidious actions of Monsanto and the destruction of our food chain only serves to wake people up to political puppets and to the bottomless pit of corruption that steps far beyond Monsanto and compels them to do even more research. The Awakening is Here and Monsanto is Just the Beginning."
This is so true!  We had to go to the March later in the day and were at a family birthday party earlier.  When everyone asked why I had to leave early I told them where we were going, and since it did get some news coverage, they had already heard something about it and so my short spiel made a bit more of an impact on my family than it otherwise would have!  This led to a conversation about what eggs are best (my brother used to farm and he's a great gardener, so he knows more about all of that than I do), and later about what's wrong with breakfast cereal!
Here's another good one – have you seen this celebrity video?
"Here in America you don't get the right to know if you're eating genetically modified organisms!"
Now I'll share some pictures below from our local Grand Rapids, Michigan march: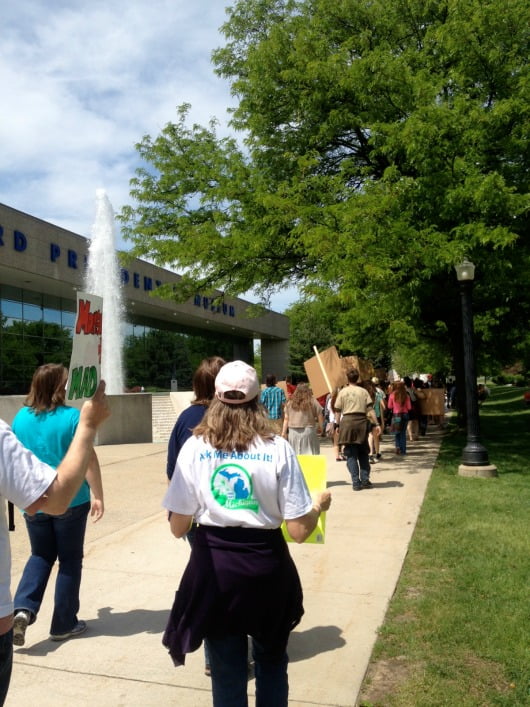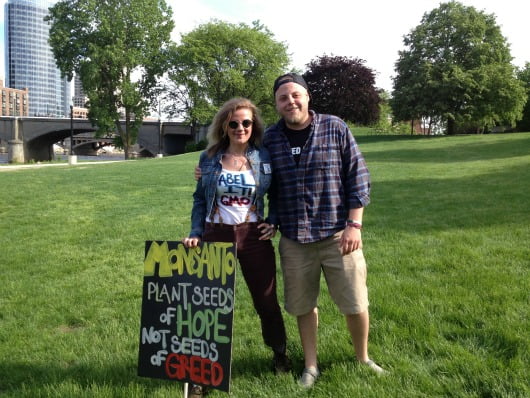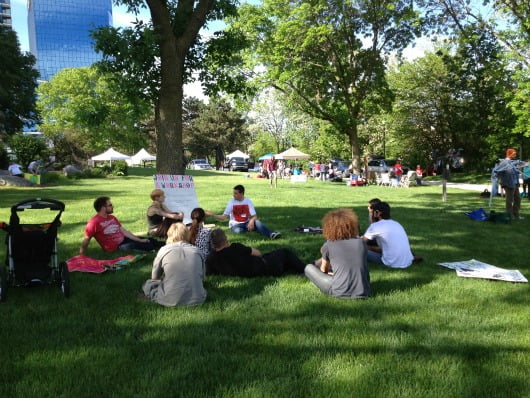 What was it like where you marched?!  Thank you for taking a stand!!