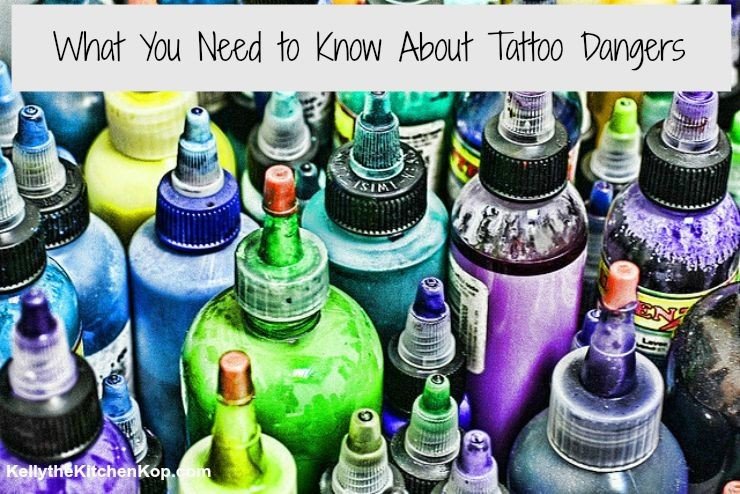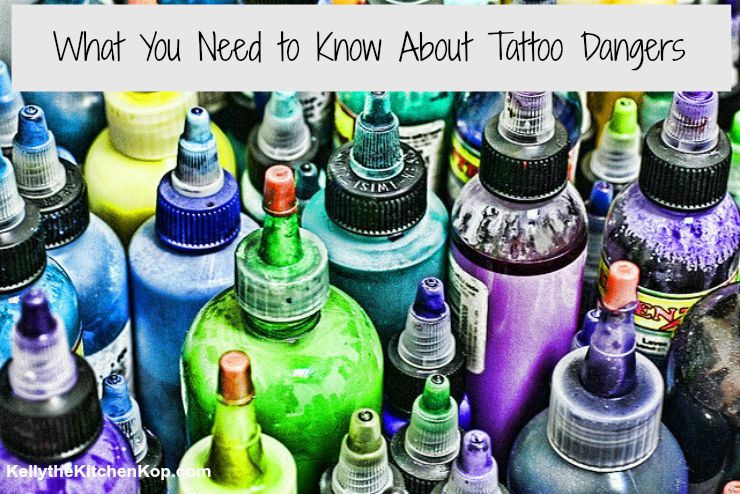 Don't think there are any real tattoo dangers?  
Wait'll you hear about these two young women and all they've been through…
By Joanie Blaxter, founder of Follow Your Gut
Recently, I was chatting with a gal named Sierra who told me a long and frustratingly sad story of "mysterious" autoimmune health challenges emerging in her late 20's — extreme allergies to food and environment, chronic fatigue and swollen glands, hormonal disruption, etc. In and out of the hospital multiple times over recent years, she was open to any ideas about reversing autoimmune dysfunction, so I shared my approach to immune system support based on the latest gut microbiome science.
Noticing multiple tattoos on her arms and neck, and purposefully treading gently since I knew I was going to be mentioning a topic very few people seem to be aware of, I said she might want to hold off getting any more tats, at least until she got her health issues under control.
Then she REALLY surprised me!
"Oh, you don't have to tell me about tattoo dangers! I had to have seven lymph glands surgically removed because they were so swollen. ALL of them," she emphasized, "were black with ink from my tattoos."
About a month before that exchange, I commented to another gal, 21-year old Andrea, on how red and irritated her new arm tattoo looked. She said no, the tat was not new, that in fact she had gotten it three years earlier, it was just permanently like that to some degree or another. Yes, it was quite painful and would get worse when her allergic reactions were peaking, like during hay fever season.
Then she wholeheartedly swore that not only would she never get another tat, she also wished she'd never gotten any at all, but… (in her words, shrugging) "I was a dumb teenager!"
I  told her she may have been young, but she certainly wasn't "dumb!"  First of all, it's so very trendy, especially for the 20-somethings. At this point, about half (47%) of Americans age 18 to 29 have at least one tattoo. And according to a 2010 poll from the Pew Research Center, about half of those young adults have two or more.
Furthermore, the sheer availability of tattoo establishments in our society lulls all of us into the illusion that getting inked must be completely safe.  (Note from Kelly:  it's sort of like how we're lulled into thinking vaccines must be safe just because so many doctors continue to force them on everyone… Ugh.  Sadly, this Mom of triplets knows better now.  We can't blindly follow anyone with our health!)
The newest science, however, is clear!  Tattoo risks are far, far more than just making sure your artist uses a clean needle.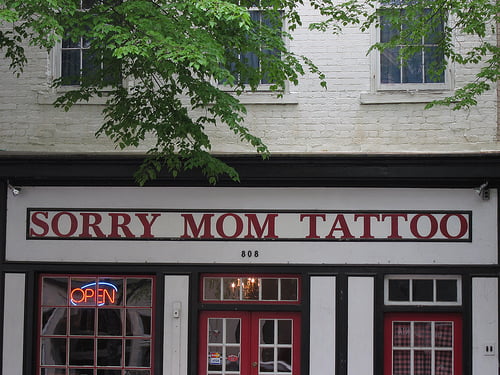 Not surprisingly, however, the more money there is to be made, the slower the dangers are to be revealed. And with business booming, the tattoo industry has transformed itself from sketchy "scratcher shops" into what could only be described as highly appealing, positively upscale "studios" complete with bright lights, designer handbags, jewelry… and cute, catchy business names that appeal to young adults.
New Research on Tattoo Dangers
Admit it… you've thought about it. I have, many times over the years. After all, it's not possible to watch a movie without seeing some actor/actress sporting their personal symbol or phrase in some surprisingly secret, or not-so-secret, location. When all the big names have them – Angelina Jolie, Drew Barrymore, Johnny Depp, Scarlett Johansson – getting a tat has become synonymous for the coolness of self-expression.
Everyone seems to have a tattoo these days and you still hear very little about any problems with them, so they must be safe… right?
To try and answer that question, Dr. Marie Leger, a dermatologist at the New York University Langone Medical Center in New York City, and her colleagues published this report in 2013:
…randomly chose about 300 tattooed people in New York's Central Park and asked them whether they'd had any problems with their tattoos.

About 10 percent of the people said they'd had some complications. For some, these complications were short-lived, such as bacterial infection right after the tattoo was inked, or temporary swelling and itching.

But of those who had complaints, 6 in 10 suffered from chronic problems. And although many had suffered from unpleasant itching or swelling for years, few had bothered to get their problems checked by a doctor, the researchers found. (Emphasis mine, Source: In Addition to Regret, Tattoos Can Pose Serious Health Risks)
Okay, THAT'S a problem!
If tattoo dangers and medical complications are mostly unreported, then we have no way of accurately tracking the safety of the procedure.
Furthermore, very few people, neither tattoo artists nor members of the public, actually know what is in the ink itself because tattoo inks are not regulated by anyone. Nope. Not by the FDA, not legally by anybody.
In the United States, the Food and Drug Administration has the authority to screen the pigments used in inks before they go on the market, but the agency says it usually does not do so.  (Source:  Questions Raised About Tattoo Inks, Cancer)
At most, they have been "approved for such use as printer ink and automobile paint," (Eewwww!  Well, you want your tat color to last as long as your Chevy, don't you?)
Instead, tattoos are monitored like the cosmetics industry. The FDA will investigate if there's a complaint. And, apparently, very few people are reporting their problems, at least according to Leger's 300-person poll.
And, while infections from getting inked with a dirty needle are considered to be "rare," the quality of tattoo business inspections varies from area to area.
I used to inspect tattoo parlors for my state. This was a weak program, we did little to really protect health of individuals getting tattoos. I came away convinced tattooing is really a surgery and we shouldn't let non-medical providers do them. (Source: Hidden Tattoo Dangers – be leary of getting inked.)
But, looks like from Leger's research only 1 out of 10 people with tats have problems, so what's the big deal?
Those odds may not seem so bad until you consider that the biggest health complication may not show up for years, maybe decades.
Forget site infection!  Of all the tattoo dangers, it's CANCER I'm most worried about.
Even if you're sure that your artist uses relatively non-toxic ink, turns out, the ingredients are a sideline complication.
What's probably much more dangerous is that the act of surgically piercing the skin with a foreign substance can overstimulate the immune system permanently.
We rarely stop and think about the science of tattoos. In fact, some people don't even stop and think before getting tattooed.

We kind of know the reason they last forever … because the ink goes so deep into your skin that it can never wash off … or something?

It's not that simple… tattoos are actually a complicated inflammatory process… kind of like an infection—and the reason it's permanent is because your body keeps on fighting it forever.  (Emphasis mine, Source: The Secret to a Tattoo's Permanence: The Immune System)
Remember 21-year old Andrea with the constantly inflamed tattoo? Will she have that painful condition the rest of her life? My biggest fear, though, is she'll eventually develop an even worse autoimmune disease.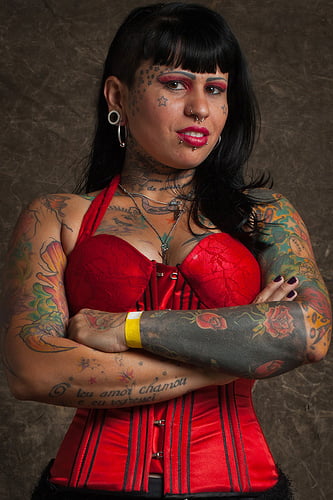 No one knows the long term consequences of injecting any kind of dye under the skin because NO LONG TERM TESTING HAS EVER BEEN DONE.
Until now – new technology, the Atomic Force Microscope, being used at the University of Bradford in England, has identified previously unseen, atomic-sized nano-particles from tattoo ink leaving the site of injection. This means that…
Ink nano-particles are potentially traveling to other parts of the body to lodge in tissues and organs.
Research is increasingly showing, however, that there might be health risks involved, especially if your tattoo design contains large areas of black ink… the color most often linked to potential adverse health effects, although all tattoo inks have toxic potential, including:

Potentially carcinogenic

May cause inflammation and DNA damage

May contain carcinogenic Polycyclic Aromatic Hydrocarbons (PAHs) like benzo(a)pyrene (a Class 1 carcinogen according to the International Agency for Research on Cancer)…

To date there have been no systemic studies to look at tattoo dangers or the safety of injecting such inks into the body.  (Source: Tattoo dangers — Nanoparticles in Tattoos May Cause Cancer)
The lymph glands and brain are considered to be especially at risk.
Recently, the FDA launched new studies to investigate the long-term safety of the inks, including what happens when they break down in the body or interact with light. Research already has shown that tattoo inks can migrate into people's lymph nodes.  (Source: Inkling of Concern: Chemicals in Tatoo Inks Face Scrutiny)
Sierra's seven surgically removed swollen lymph glands that were black with tattoo ink is a startling real life example of that scientific research.
Still tempted by the romance of skin art? Still think it's worth the risk? Both Sierra and Andrea would certainly encourage you to research the tattoo dangers and find safer ways to "tell your story" other than on your skin.
(This is Kelly jumping in again… Like Joanie, I'm thankful that I never got any tattoos. Probably because I grew up with my Dad having tattoos up and down both his arms from his Army days, and while they were interesting to look at, I never thought they were cool or wanted any myself. My hubs, Kent, did get one on his arm when he was in the Marines during the first Gulf War, I think he was in Okinawa then, or maybe the Philippines, but that was back before we questioned the safety of everything like we do now. Yikes, tattoos over there are probably even more sketchy…?)
(Joanie's personal note… The only reason I wrote this article on tattoo dangers is because my daughter got a tattoo. So I began researching, more out of curiosity than anything else. After all, I've almost gotten a tattoo on several occasions. The first version of this article came out in the summer of 2015. Back then, in no way did I suspect I would uncover the volumes of negative science out there that does not support the safety of tattoos. Bizarrely, two years later, you still see next-to-no negative press about tattoos, despite the research demonstrating the dangers. It was meeting Sierra and hearing her tragic story that really motivated me to update and republish this article. All I can say, don't take my word for it, DO YOUR OWN RESEARCH! Especially before you let anyone alter your body surgically.) 
What about you?
Have you been inked? Have you thought about tattoo dangers?  Had any health problems or regrets? (If you do, you aren't alone – nearly one third regret getting inked.) Ever had a tattoo surgically removed? Any beloved family members with skin art who also have autoimmune complications? Tell us about your experiences.
TED Ed Video: Tattoo Dangers and What Makes Tattoos Permanent
Tattoo Removal
More you might like:
This is a post by my sweet friend, Joanie Blaxter, a regular writer around here.  Joanie is the founder of Follow Your Gut and a health coach who has been in sales and education in the natural foods and products industry since the early 70's, with six years spent recently as a vitamin specialist in a natural foods store.  She is also the Weston Price chapter leader for the Ventura, California area.
For dietary consultations, Joanie can be contacted here.  Or click here to read Joanie's past articles.
Disclaimer reminder: Neither Joanie nor I are health professionals!  Use what you read here for your own research and then maybe consult with a natural-minded doctor or health professional you trust to find what is best and right for YOU.  Read my entire disclaimer here.
Photo Credits: featured photo, tattoo storefront, Chevy, tattoo woman