Good morning, readers.  I've been on my computer all day and am planning to take the day off tomorrow, so we'll get right to the interesting links I have for you!
Did you see my post from Saturday, "Are the Pink Ribbons a Big Scam?"
I heard this on the radio the other day when listening to Dave Ramsey and I'm curious about what you think:  20 Things the Rich Do Every Day.  There's something sad about it, you know?  The comments there are interesting, too.
Michigan readers, can you help get GMOs labeled in our state?  It only takes a sec to sign this petition!
Low thyroid issues?  You may want to read this:  Common chemical linked to increase risk for hypothyroidism in women.
A friend was sharing the other day about her 2 year old daughter with tooth decay and I was happy to tell her about this post, How to save $2600 in dental bills!  The question will be whether or not she can get her to take the super-healing foods: fermented cod liver oil and butter oil…  Any suggestions for getting one so small to take it?!
West Michigan readers!  Please like our local WAPF chapter's new Facebook page!  (And you already like my Facebook page by now, right??)
Speaking of my Facebook page, you'll love this video from over there!  Kelly Slater, 11-time world champion surfer, speaks about GMOs, living organically, and Monsanto's abuse of the Hawaiian Islands.  The surfing is pretty cool too:
Anyone camping this summer?
If so, you'll have to get Katie's book:  The Family Camping Handbook for only $4.95!  "Here's your basic guidebook to a successful trip to the woods and back, nourishing your family with real food all the way. The Family Camping Handbook will provide recipes and campfire techniques to conquer the temptation to buy a few packages of hot dogs and white bread buns and call it 'food'.  If you are an experienced camper but new to real food living, or you just wish you had more ideas for whole foods camping fare, this book is for you
Did you hear about this one yet from Jill?  Potatoes under attack – The next genetically modified food.  Nothing is sacred folks.  Although, I already buy organic potatoes, as I'd found out through the Dirty Dozen that they're a highly sprayed crop.
Unrelated to food…
I just read the BEST book by my friend, Hallee, and THEN she tells me I have to WAIT for part 2!!!  Hopefully only 'til next month.  It's an action-packed fictional book that had my heart racing and an ending I didn't guess, I always love that in a book.  It's called, A Melody for James.

What have you been reading this summer?  I always love new ideas for the book pile.  🙂
Doesn't this picture crack you up?  It's one I shared on my FB page last week: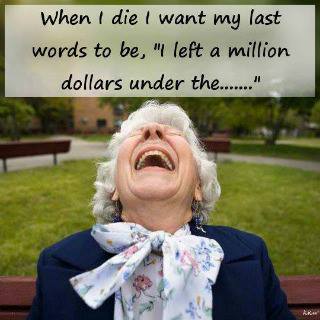 Have a great week!