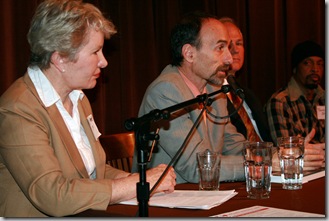 Read some excerpts from a recent Chicago Tribune article on the Soy Prison Lawsuit, including quotes from Sally Fallon:
(Exciting Update!  This story has now been picked up by UPI, AP, and Fox News!)
Once the darling of the health-food community, soy — especially non-fermented and genetically modified soy — has fallen out of favor in some health circles. Last year the American Heart Association urged the FDA to stop recommending soy as a way to reduce heart disease risk, saying "direct cardiovascular benefits of soy protein or isoflavones are minimal at best."
Scientific studies have volleyed back and forth on whether high soy consumption reduces or increases cancer risk, inhibits mineral absorption and affects sperm concentrations.  But most agree that soy, especially unfermented varieties, can cause problems with the thyroid function and digestion.
The department says it started serving soy-enhanced foods in March 2004 as a cost-cutting measure.
Fallon said the foundation also is concerned about the growing use of soy in institutions serving children and the elderly.  "Illinois has a pilot program to bring this kind of diet to the schools, to growing children," she said.  Indeed, Chicago Public Schools menus incorporate soy-based texturized vegetable protein into their meat products and regularly serve doughnuts made with soy flour.
With this issue finally going mainstream, hopefully it will become more widely known that soy is not the health-food it was once made out to be!
Read the full article: