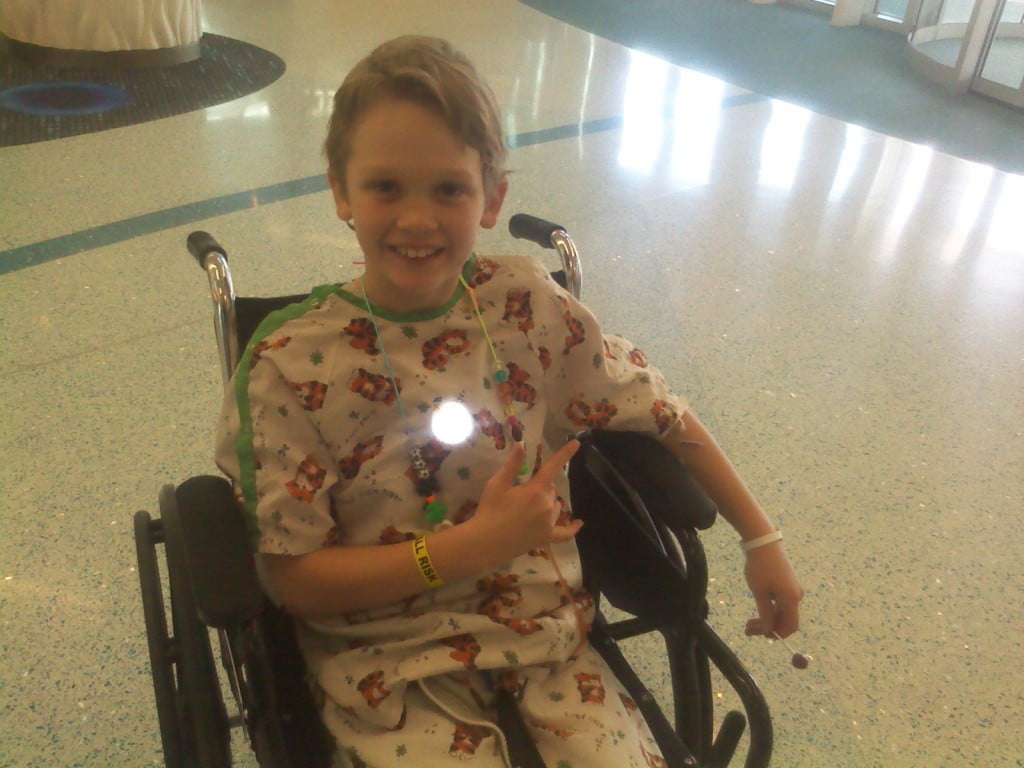 This is Part 2, part 1 is here, or if you're reading this later, click here and scroll down to start at the beginning for all the posts on Jacob Stieler's case, including current updates or click here for all my parental rights posts in one place.
Remember, this is a continuation of the whole story from Jacob's Aunt Rachel, as she share's her point of view…
Erin, Liz and I had many conversations about the possible effects the chemo could have on Jacob.  Erin spent many nights talking to Ken on the phone, discussing options.
Doing chemo was going against everything they believed, but at such a scary time, they felt pressured by the doctors.
The 12 weeks of chemotherapy Jacob suffered through up until July were considered "induction therapy".  They would then do a PET scan to see how much the tumor had shrunk and then Jacob's oncologist would schedule the chemo and radiation from there.
We had read about many cases where the parents went against the doctor's "professional opinion" and their child was taken away. 
Ken and Erin decided to wait until the 12 weeks of chemo were over to decide where to go from there—if they would continue treatment and if so, what kind and where.  They decided to pray that Jacob's body would be protected against the poison the doctors insisted that he needed until July.  We continued to research different clinics that practiced alternative medicine.
Jacob's reaction to the drugs became worse over time. 
He was rapidly losing weight, his hair was falling out, his eyes looked dark and hollow and he was extremely nauseous…it was heartbreaking.  He could barely keep his food down.  He had a longer recovery time after each round of chemo.  It eventually seemed like he would finally get to the point where he wasn't throwing up and becoming more like himself again, and then it was time to go back and do another round.  During this time, Erin was giving him vitamins and supplements when he felt well enough to take them.  Erin has mentioned several times that it was prayer and the natural vitamins and protein shakes that got Jacob through the chemo without major damage.
A powerful prayer…

She prayed to God, saying, "God, either heal him or take him because I know he can't do this anymore and I know he won't make it another 6 months.  I'd much rather have him with you in heaven than to be suffering here on earth."  I'm getting teary-eyed again as I write it.  She just recently told Liz and I that.  When Liz and I discussed it later, we realized how hard it would be to do that.  I know God loves my son more than I can possibly know or understand, but as a parent, to surrender and say "take my child if it's your will"…wow.
At one point, Erin began voicing her concerns to Dr. Kurt and asked her if she would do the same to her son. 
Dr. Kurt answered, "Yes—that's how much I believe in it."  But I think Erin and Ken became more and more sure of what their decision would be if the upcoming PET scan was clear.
Erin told me that she felt more tension between her and Dr. Kurt throughout the weeks before his PET scan.  Erin said, "Dr. Kurt told me that if I didn't give her an answer about radiation by Friday, that would be rude, because she has things to do."
Erin often confided in a social worker at the hospital.  She seemed sweet and concerned about the stress Dr. Kurt was putting her under.  Dr. Kurt continued to urge Erin to make a decision on radiation.  She asked Erin to just name the hospital and she would write Erin a referral.  Each time, Erin would say, "I don't know.  I'm not making any decisions yet—not until the PET scan."  Erin told me it was obvious that Dr. Kurt was getting annoyed.  She sent doctors and nurses to speak with Erin, asking her for her insurance information so they could call around and make sure the hospitals that offered photon radiation accepted her insurance.
Erin is convinced that their conversations were being recorded.
Erin said, "The social worker and doctors kept fiddling with their pagers, even when there had been no vibration noise that a beep or call had come through.  The two and three pages of notes in the files about our conversations were another clue, because there's no way they could remember all that from memory."
Erin knew exactly what they were up to, that they were just pressuring her to make a decision.  She said as much to the social worker one day.  The social worker asked Erin if she would mind if she sent Dr. Axtell, another oncologist, to come talk with her.  Erin agreed.  When Dr. Axtell came to the room, Erin, once again, voiced her concerns.
She said, "If the PET scan comes up clear, then why would we continue treatment?"
Further treatment for Jacob (following the "standard of care" protocol that they were insisting upon) would mean 12 more rounds of chemotherapy (24 weeks) and several weeks of radiation.  Jacob's surgeon was able to get all but a very small part of the mass, and then the cancer was gone after 3 months (and 6 rounds of chemo), which rarely, if ever, happens.  The "standard of care" protocol should not apply!!  But they continued to not look at his individual case.
MORE chemo AND radiation?  He had surgery, he's done 12 weeks of chemo…what's the point of making him suffer more, increasing the chances of severe side effects?"
Dr. Axtell replied, "Chemo takes care of the cancer cells, and radiation kills the tumor cells."
"So…there's a difference?", Erin asked.
"Well…they're parallel."
"So, they're the same."
"Pretty much."
…And then the subject was changed.  (???)
Erin also met with a radiologist.  They discussed the options and he told Erin about the difference between proton and photon therapy.  Erin asked him questions about long-term effects and he was very honest.
He told her she was right about her concerns. 
He told Erin about a girl that came to HDCH at the age of 12 with a tumor and had radiation.  Recently, she had returned 12 years later and had to have her hand amputated, due to a tumor caused by the radiation.  Erin said, "Exactly—what about the effects of radiation after 10 or 20 years?"  "You're right.", he replied, "the patient is only followed-up on for five years."
Later, when Erin read over the medical records and doctor/nurse's notes that Liz and I retrieved for her from HDCH, that same radiologist had written, "Mom's done her research."
By this point, Ken and Erin weren't sure what to do. 
They knew that when Jacob had his PET scan, the results would help give them an answer.  Over several weeks, she researched different alternative treatment centers, and found one in particular that stood out.  It was out of state and focused on detoxing, rebuilding the immune system, and putting on healthy weight with raw, natural foods.  Erin mentioned it to Jacob and he immediately started crying, "YES!!!  Yes!!!  I'll go anywhere or do anything!  I just don't want to feel like this anymore!" (That's not a dramatization, either.  I'll remember that moment for the rest of my life.)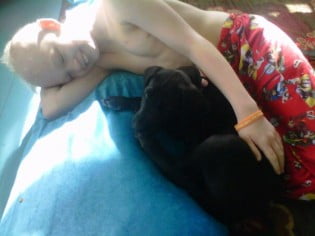 He sobbed on the couch for a while and it really hit me—it wasn't even the physical part that was difficult for him.  This poor boy had gone through so much emotionally, often telling his mom that he, "Just wanted to go to sleep and never wake up," or other similar heartbreaking statements.  He had become depressed—we were all sure that if Jacob had to suffer through one more day of treatment, he would give up.  That day, Erin called the alternative treatment center and talked with the owner/doctor.  After their conversation, she was sure this is where they needed to go.
On July 6th, Jacob had his PET scan.  The next day the results were in…it came back all clear! 
We had people praying for this boy since the day he was flown down to the hospital.  Benefit dinners were held for him, fundraisers, a website was put up to support the family, and people were writing him from all over the country.  It was the victory we had prayed and hoped for, and as far as the doctors were concerned, it was "impossible".  But it happened.  The cancer was gone!
Erin said, "When Dr. Kurt entered the room with the results, she didn't tell us anything right away.  Why wouldn't she be bursting with this great news, that we beat this in only three months?!! 

She was always very good with Jacob.  First she came in and did some physical checks on him for a few minutes and finally he asked, "Did you get results on my test back yet?"  "Oh yes," she said.  When she didn't elaborate, he still had to ask, "Were they good?"  Then she said, "Yeah, they were good".  She sort of had this fake smile.  "Were they clear?"  And finally she told them that yes, they were clear.  It's almost like she knew what our decision would be if his tests were clear, so she didn't want to tell us. 

Thankfully, other than our experience with Dr. Kurt when all this was going on, our experience was wonderful at the DeVos Children's Hospital.  My husband and I are SO grateful to Jacob's surgeon, the nurses were great, and overall his care was very good until all of this started happening, other than the fact that their minds were closed about anything beyond the 'standard protocol' of care."  That was very frustrating for us."
The day that we found out that Jacob's PET Scan was clear, the social worker asked Erin if she could talk to Dr. Kurt about how she made Erin feel harassed about making a decision about radiation.  I remember Dr. Kurt called to apologize later that day.  I sat next to Erin and listened in on the conversation as Dr. Kurt proceeded to tell her that she just wanted this for Jacob SO bad and that she cares about him SO much and that he needs this radiation and 12 more rounds of chemo.  Erin reminded Dr. Kurt that SHE was the mother and NO ONE cares about Jacob more than her.
A couple days later, Erin and the boys packed their bags and headed home for some much needed family time with Ken.  That is when Ken and Erin had time to talk over their plans of what to do next.  On July 14th, the HDCH social worker called to get Erin's final answer on whether or not they would be doing radiation.  Erin told her no and she said that she would then be forced to file a petition with the court.
Dr. Sarah Brown at DeVos Children's Hospital and Dr. Lisa Markman at C.S. Mott Children's Hospital both made child abuse allegations of 'medical neglect', but to this day, the family has never met either one of them.
On July 15th, the family woke up to the Child Protective Services knocking on their door. 
I don't think they were prepared for what they found.  Erin was an educated woman who had done TONS of research.  She piled stacks and stacks of information in front of the two social workers sent from CPS.  They were in awe and seemed confused on what they were supposed to do.
These parents weren't negligent or abusive…they weren't ignorant or avoiding further treatment because it "made Jacob upset".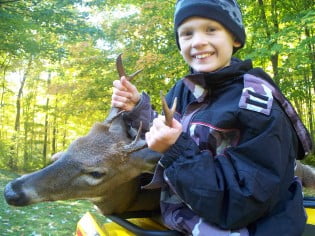 They knew their facts.  Erin mentioned that they would be leaving in 10 days for the alternative treatment center and one of the social workers…we'll call him "Josh"…didn't seem to think it would be a problem.  Erin and Jacob left on the 25th of July as planned, and within a week, Jacob's hair started growing back, his color was reappearing…he looked like his old self again!  (He is now 10 years old.)
It was around this time that Erin and Ken sent Jacob's slides to U of M for a second opinion. 
The pathologist told Erin on the phone that he was pretty sure it was Ewing's and that it had similar characteristics.  When they returned to my house on August 20th, they came back to my road lined with family and friends wearing their Hope for Jacob t-shirts and holding signs.  It was a very emotional moment that still causes me to get choked up when I think about it.  Jacob and Erin were completely shocked, especially when they found Ken hiding around the corner.  We talked and laughed the whole night…we even had lights strung up around my barn and had a "dance party".  The kids entertained us with their moves the entire evening.
We they returned home, August 29th, "Josh" told them that the case would be closed by Friday.   Friday came, and no word.  On Wednesday, September 7th, Erin came home to a note in the door from Josh.  It said to call him right away.
He told her that the Child Protection Services was ready to drop the case, but the Department of Human Services out of Lansing had decided to filed a petition.

The following weeks were completely chaotic.  We began writing letters to Stabenow, Levin and Snyder, begging them to get involved and have this case dropped.  We urged our friends and family to do the same.  The people that received a reply from Levin and Stabenow were told that they do not get involved in court cases.  No one that we know of ever heard from Rick Snyder.
The prosecuting attorney denied the case and refused to have any involvement.  The DHS had to then hire a private attorney, Dianne Heitman.  There was a hearing on September 9th, but then it was postponed until the 19th due to the fact that the court had never appointed Jacob a lawyer (the child himself ALWAYS gets their own lawyer in cases like these).
No representation for the child = a big "no no". 
When they returned on the 19th, the judge had revealed that Dr. Lisa Markman had called him to discuss the case and "urged" him to make the ruling in the DHS' favor.  When Erin read the report later that week, it was said that Dr. Markman identified herself as Jacob's "treating physician".  Erin was furious.  Dr. Markman had never even met with Jacob and Erin.  (Did this have to do with the 2nd opinion from U of M?  Or did Dr. Kurt have a connection with Dr. Markman?  How else could she have learned about the case?)  With that, the judge had to recuse himself.
On September 15th, Jacob had another PET scan.  This too came back clear.  Praise God! 
They scheduled it earlier than the 3 month schedule hoping it would help their case, but it did not.  They were told it was more about parents rights than Jacob's health.
Around this same time, Liz contacted Michael Farris, a well-respected lawyer who has been an advocate for homeschoolers AND parental rights for years. That same day, Erin received a call from Farris.  He was sitting in a parking garage in Washington D.C. and had just read Liz's e-mail.  He was shocked that this was happening and offered his services.  YES!!!!!!!  God continued to place the right people in Erin and Ken's lives as they needed them.  And Michael Farris would play a huge part in this trial!  (www.parentalrights.org)
I can't even begin to write about all of the nonsense that has happened since October, let alone since March.  Every day, there seems to be a change, whether good or bad.  We've all learned to be patient, trust God (because He is definitely up to something BIG) and not dwell on anything…because it could change in 5 minutes.
A second judge was forced to recuse herself, also, because the head of the DHS in Marquette discussed the trial with her.
The hearing would now be a jury trial…but it was postponed…AGAIN.  It would be rescheduled for the week of December 5th.  NOPE…the lawyer for DHS 'wasn't prepared' — so it was rescheduled AGAIN for the week of January 10th.  (If they are so concerned about Jacob's well-being and supposedly every minute that Jacob's not doing treatment he's that much closer to death, why are the hospital and DHS dragging this out for so long?!)
Erin has handled this horrifying year better than I ever imagined or ever could have myself.  
She has put her trust in God from the beginning and told me recently that she recalls praying one day (not long before Jacob was flown down) that God would just draw her closer to Him. She told me she joked afterwards, "But God, nothing too big, okay?".  Man, did God take her seriously.  But He has never left her side.  She was like a machine throughout their months at the hospital.  She constantly took notes and kept record of everything.  She looked tired and often seemed like her mind was somewhere else. She is one strong woman, though!  And throughout all of this, Ken has become closer to God, as well.  Actually…all of us have.  Liz, Erin, Neil and I grew up in a Christian home.  We've all had a relationship with God since we can remember, although, like most people, the relationship has had it's ups and downs.  But like I mentioned in my bajillion-page novel (ha!) we've been amazed how God has worked all of this out.
Many have asked why Erin and Ken allowed Jacob to do chemo in the first place.
Well..they didn't really have a choice.  He was flown down for one thing, and before they knew it, he was diagnosed with cancer.  We've thought a lot about the "what-ifs".  Jacob needed physical therapy.  He could barely stand up.  If they had denied treatment, PT would not have been an option.  And also, God sometimes gives us perspective on things by allowing us to experience them.  It says in the Bible that we should comfort those who suffer just like God comforted us when we suffered.  Erin and Ken now know what chemo and radiation is about.  We all do.  We have learned so much throughout the months that I know life can never go back to the way it was.  And I don't want it to.  Erin feels like it is her calling to help other parents facing the same issues.  I would love to do the same, even if it's by making phone calls and writing letters.
Letters written to the director of the DHS in Lansing would be appreciated! 🙂  (See below!)  Thank you, everyone, for your support!
Keep Tweeting and Facebooking and telling others about this case!
***Don't forget to keep watching my Kitchen Kop Facebook wall and the Hope for Jacob wall to stay updated on the latest plan to help the Stielers.  THANK YOU!
DONATE IF YOU CAN?
If you could go to the Hope for Jacob site and help the Stielers with legal costs it would be HUGE.  Even $5.  Thank you so much for your care and compassion for this family.  🙂
Scroll down for names and addresses. 
***Please don't forget to comment below to tell us who you contacted so the Stielers can see all the support out there for them!
Related posts and links that you'll want to check out:
Contact info – THANK YOU THANK YOU THANK YOU!!!!!!!
DHS Director, Maura D. Corrigan, P.O. Box 30037, Lansing, MI 48909, (517) 373-2035 – writing a snail mail letter is best, but better-than-nothing would be to let her office know what you think on this contact form.  If anyone can track down her direct email, please let me know!
Board of Trustees, Helen DeVos Children's Hospital:
Donnalee Holton (Board Chair), 4438 Mystic Ridge Ct NE,Grand Rapids, MI 49525-9464
Patricia Betz (Vice Chair), 1780 Old Woods Ct. NE, Ada, MI 49301-9695
Vicki Weaver (President), c/o Helen DeVos Children's Hospital, 100 Michigan NE, Grand Rapids, MI 49503
Dick DeVos (Honorary), c/o Helen DeVos Children's Hospital, 100 Michigan NE, Grand Rapids, MI 49503
Dr. Lisa R. Markman, Associate Director of Child Protection, University of Michigan, Ann Arbor, MI
Dr. Beth Anne Kurt, Helen DeVos Children's Hospital, Hematology/Oncology MC249, 100 Michigan NE Floor 10, Grand Rapids, MI 49503
Dr. Sarah Jane Brown, DeVos Children's Hospital, Center for Child Protection MC178, 545 Michigan NE Ste 203, Grand Rapids, MI 49503
Can you think of any more addresses or email addresses I should include?  Send them to me and I'll add them!