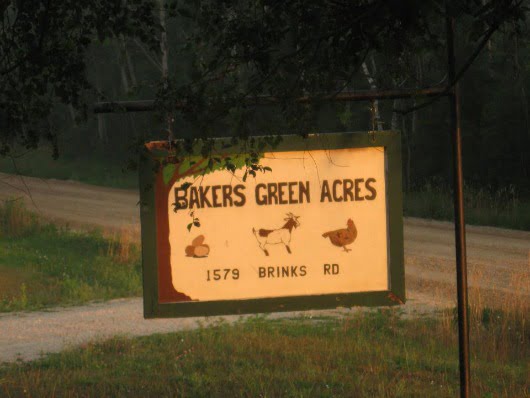 The state I live in sure makes my blood boil at times.  Michigan has pulled some fast ones recently, and while it may hopefully turn out okay for the Bakers, there are still major ramifications for the rest of us…
Here's the scoop:
In the video below, Mark Baker gives an update on his farm and their case.  (My more recent update will follow.)  As a quick recap, the DNR has been trying to force him to get rid of his "feral" pigs for over two years now, even though they're kept inside a fence.  So Mark has sued the State of Michigan, and rightly so, as they're trying to shut down his business for no good reason.  A bunch of us went to his hearing up North back in June.  Lo and behold, the judge actually had some common sense and the Bakers felt like they'd get a fair shake when the case went to trial.  SO what did the state do?  They pushed through a new law, Senate bill 652, that says that any case against the state would now have to be heard in Lansing, with a judge that gets a paycheck from the state that they are sueing, so now they don't feel like they'll get a fair shake.  (Can you believe that bull, how unconstitutional does that sound to you?)
To make matters worse, it turns out that those who voted the bill through didn't even read it.  As a matter of fact, Mark got an angry call recently from Michigan Representative Tim Kelly who said Mark just didn't understand SB652, so Mark asked if they could meet for lunch.  He said he was an arrogant man, who after a lengthy conversation admitted he hadn't actually read the bill either!
"This is going to be our third Christmas at odds with our state and it's not good.  This puts me at square-one again."
Hear the whole pathetic story in this video (where Mark calls certain people in our fine state, 'Scumbags'), and further below I'll share a newer update with GOOD NEWS for the Bakers, with more information on what we can DO about all of this!
A GOOD News Update!
There has been an enormous amount of pressure put on lawmakers since SB652 was slipped through, so in a phone call with Mark he told me that there has been a house bill created, HB 5156, which says that any case in circuit court on or before November 12th will stay in circuit court.
This is great news for the Bakers, because now the judge from their home town, the one with commonsense, will preside over their case after all!   (At the same place their hearing was in June; March 11-14th as of now, but the State keeps asking for extensions.)  Mark says about this judge, "I know where his house is, he knows people I know.  Our system is a good one, it's set up this way because we're supposed to be a self-governing body."
The NOT so good news…
The crappy part of this, though, is that while the Bakers now have a good chance of winning their case against the state, the rest of us are screwed if ever we need to sue the state for whatever reason.  (You never know what life will throw at you.)  As stated above, SB652 says that ANY case against the state has to go to trial in Lansing.  So again, what it boils down to is that the judge presiding over your case will be getting a salary from the very people (the state of Michigan) that you are sueing!!!
What we can DO:
"They put Senate bill 652 into law in 12 days, I think they can repeal it in 12 days, what do you think?"
We need to continue to raise a ruckus about SB652.  Ask that they repeal this unconstitutional bill!
Call your Senators!
Call the Attorney General!