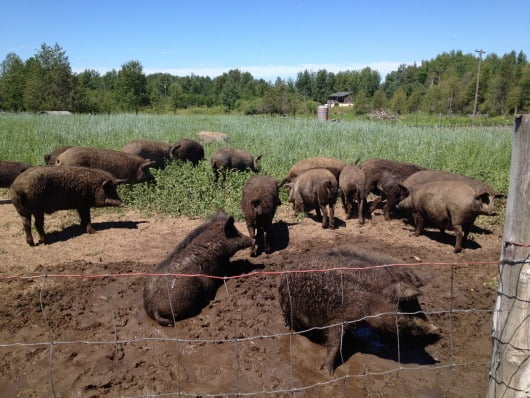 See these dangerous looking "feral" pigs?  In their PENS?  Keep that picture in mind as I tell you about the Mark Baker court hearing today…  (Don't miss more pictures at the end of the post.)
What an exciting day!  As I wrote about earlier this week (Stand With Us and Help Save the Baker Farm), a bunch of us, more than I ever DREAMED, went up to the Missaukee County Courthouse in Lake City, Michigan for the Baker Farm hearing today.  There were well over 215 people there, and that wasn't even counting all those waiting outside who couldn't get in!  (See the Baker's blog post on today's hearing here.)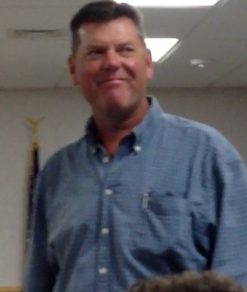 Thank you all who came, for standing with the Baker family in fighting these ridiculous rulings and fines.  This isn't the best quality picture, but Mark's face melted me as he humbly thanked everyone for coming out for them today.
So here's what went down in the courtroom, or the main parts anyway.  It wasn't easy to hear so it was tricky catching everything…
The attorney for the DNR started (with a nervous, shaky voice, I might add) by stating, "Our primary goal is to rid the state of Russian boars."  Then she went into other side issues that weren't even the point of why we were there, not in my mind anyway.
The Baker attorney did a great job.  She was very clear and presented the facts well:
"Mr. Baker respects the law, is a veteran of the U.S. Air Force, and has spent the better part of his life defending the laws of our constitution.  The DNR seeking $700,000 against this farm is outside the realm of comprehension.  I looked at other agricultural fines and the closest I could find was a concentrated animal feeding operation and that farm has been getting violations for things like dumping bloody water into creeks, and this has been going on for over a decade.  That case is JUST NOW touching the $700,000 mark in fines.  For the DNR to assert in any way that this is somehow comparable is outside the realm of reason.  It's a harassment of my clients."
"Meanwhile my clients are trying to run a farm and raise a family, to have this fine hanging over their head is ridiculous, it shouldn't even be on the table."
"The Bakers have been farming 15 years and there has never been a violation of any law EVER, their practices are sustainable and humane, they raise poultry, cows, and do raise swine that they have sold to restaurants as far as Chicago and Indiana.  These swine are a mix of Mangalitsa and a bit of Russian

 mixed in.  This is because the Mangalitsa breed is too fragile for the Michigan climate, and a little bit of Russian makes them more winter-hardy, they are pasture fed, and these are the key elements to the Baker's successful swine operation."

"The main problem is that the DNR is ignoring the language in their own order that says, 'This order is not intended to affect domestic hog productions' – that is the exact wording.  The 

National Invasive Species Counsel says that invasive species are NOT those under human control or domestications.  That s

ame paper says that different animals of the same species can be feral AND domestic.  The s

ame species, but they're not regulated in same way.  The 

DNR is taking the position that all these animals are somehow the same, but it is their living conditions that determine whether they're feral or not.

"Every pig in Michigan is a decendent of the Russian wild boar/Eurasion wild boar."
"A veterinarian submitted in a deposition that domestic hogs and wild hogs and feral hogs are all one and the same and if the DNR intends to enforce this Invasive Species Order, all hogs, wild and domestic, must go, they're all the same species."
"They may argue that if the pigs escape, they'll become feral, but it is well known that any pig can become feral, any pig on any farm if let loose, they'll forage, roll in the mud and become feral to survive, there is nothing unique about the Baker's hogs.  If they got loose, they'd become feral, so would every pig in the state of Michigan."
"After the ISO came out the DNR issued a ruling to differentiate which pigs are involved by characteristics.  These are useless.  They say that the ISO pertains to pigs with curly or straight tails.  Erect or floppy ears.  All pigs have one of these!  This attempt failed at helping farmers understand which pigs come under the ISO."
"The DNR is asking Mr. Baker to disclose every instance of when one of his hogs escaped, were released or otherwise out, the answer is NONE, never.  So to link Mr. Baker's pigs to their need to control feral pigs, there is no logical need, they're under their control and have never been outside their control in 15 years."

"The Bakers are the only family farm in Michigan with any issue with the DNR.  They are being targeted somehow and treated differently from others, maybe because they fought the order from the beginning.  But in our democracy those are traits to be commended."

"This has cost the Bakers immensely, they've lost customers, they had to cull a herd of pigs because they were unable to sell them; Butchers refused and restaurants got scared off.   This is a real problem when trying to run a business."
The DNR attorney responded to this with more statements that didn't make a lot of sense.  So I called Pete from the Farm to Consumer Legal Defense Fund, who I sat with today, to make sure I got it right.  Apparently there was wording added into the ISO regarding "Sus domestica" – which Pete says is just a fancy way of saying a 'domestic pig'.  Apparently this wording was added "for clarity" at the request of the Michigan Farm Bureau.  (When the DNR attorney said this the whole crowd groaned.)   It didn't bring any clarity, though, because their experts and the Baker's don't agree on what that means.
The judge closed by saying, "Obviously this has attracted a great deal of attention by the public.  I will take these matters under advisement and render a written opinion, but this is very complicated, with many legal theories to look into, which is all too cumbersome to do here from the bench.  There are other pending cases, and how this is ruled will at least be of some interest to these other proceedings.  I'll try to do so in a timely manner, but this will be an ambitious task."
Pete believes this will go to trial.  If so, the date is already set for August 27th, but the question is whether they'll stick to that or not once the judge submits his written opinion.
All along the judge made observations and comments that came off like he actually had common sense, it was very refreshing, so I have great hope that he may just throw the whole thing out!  Maybe I've got my head in the clouds, but a girl can dream of justice, right?
Either way, there are already a lot of legal bills, so please donate to the Farm to Consumer Legal Defense Fund as they'll help the Bakers and other farmers to fight these fights!  DONATE HERE.
I'll close by sharing a few more pictures from today…
Here's another one of the scary 'feral' animals at the Baker farm: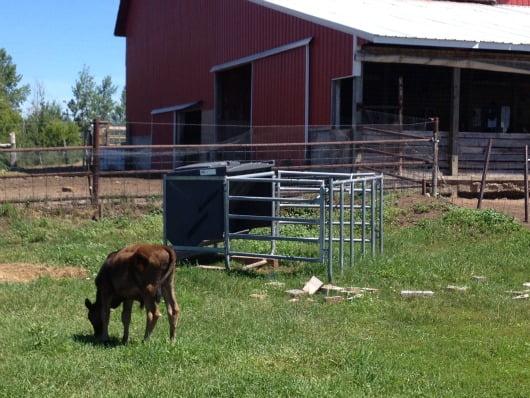 Here's the cute sign you see as you turn the corner to their farm: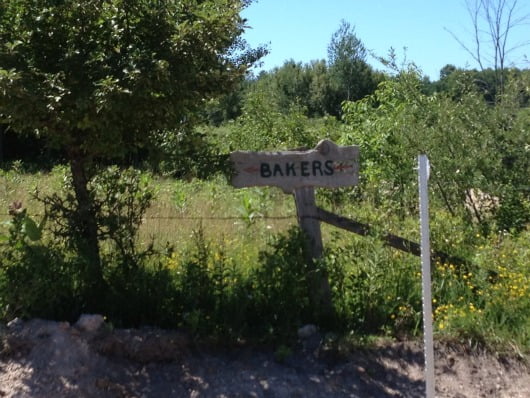 I got to hang with some real foodie rockstars today, right here in Michigan.  How awesome is it the way these people come when their support is needed?  From Kentucky and Washington D.C. and all over!  As I mentioned, there was Pete from the Farm to Consumer Legal Defense Fund and author/activist Kathy Pirtle, also John Moody, who you'll remember from my post, Be Ready for the Men with Guns – How to Prepare for a Raid.
Speaking of real foodie rockstars, if you were following today on social media at all, you probably noticed the hashtag we were using.  Eddie, the social media guru, came up with it:  #HogWashHearing – cute, huh?  Eddie helps Liz Reitzig, co-founder of the Farm Food Freedom Coalition, stomp out abuses against small farms everywhere.   Today when the judge began, and whoever it was called out, "All rise!", Liz stayed seated.  I asked why and she said, "I don't stand on principle."  Don't you want to hear more from her?  I do, that's why I asked if she'd do a guest post for me to tell us more.  🙂
Here's blogger and chapter leader, Sally Oh, myself and Liz (the sun was in our eyes, today was a gorgeous Michigan day!):