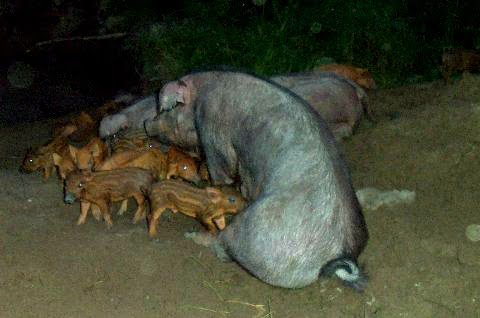 The other day I was helping our son with social studies homework and came across this line in his chapter about China:
"In a Communist system, the government owns most businesses and land and controls all areas of life. China's new Communist government began by taking over control of the economy. The government seized all private farms and organized them into large, state-run farms."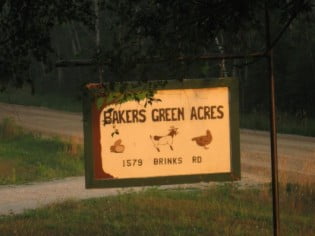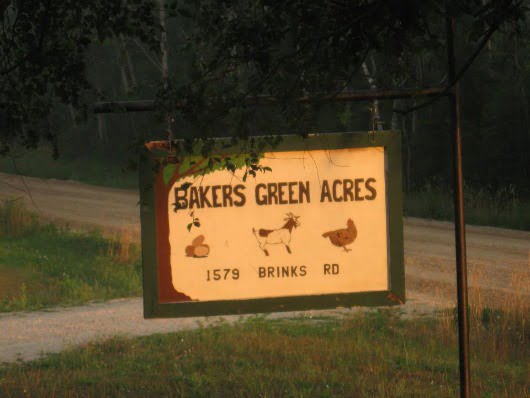 Sadly, it reminded me of what's happening right here in my home state.  Too bad it's not an isolated incident of the government overstepping.  The war against traditional farms, where our food is grown and raised the way it used to be, the way that provides nutrients for our bodies and doesn't rob the earth for future generations, continues to be under attack.
You may have heard about Mark Baker, the farmer from Northern Michigan, who is now considered a felon because the breed of pigs he has inside his fences are considered "feral" by a new DNR invasive species order that went into effect on April 1st.
Read an excerpt from Kimberly Hartke's post, Michigan CAFOs Conspire with Government to Ban Outdoor Pig Farming:
"At first glance, it appears they are concerned about loose pigs running wild across public and private lands and causing property damage or threatening people. It even seems their own document exempts pigs raised on farms from this new ruling. As it turns out, the only pigs raised on farms that could be exempted are the pigs in confined animal feeding operations (CAFOs). It's no coincidence the Michigan Pork Producers Association supports the swine ISO."
From the Farm to Consumer Legal Defense Fund:
"The other agenda at work is that of the Michigan Pork Producers Association (MPPA) who has publicly supported the ISO. In a February 27 editorial published in the Manistee Advocate newspaper, State Senator Darwin L. Booher mentioned, "The small farmers I have talked to wonder why the DNR is singling out their pigs and is joining forces with the Michigan Pork Producers Association on this issue. They believe the association wants all pigs to be raised in confinement facilities, and the best way to achieve that is to make it illegal to raise certain swine, especially those offering alternatives to the white pork raised in confinement." At this time, it is certain only that swine raised in confinement facilities would be exempt from the ISO. For the confinement operations, the ISO could effectively reduce or eliminate the competition.

Implementation of the ISO will deny farmers their property rights and the right to make a living. It will reduce or eliminate customer access to heritage breed pork, a product that has become increasingly popular in restaurants across the state. All that could be left for consumers would be factory pork, produced by confined animal feeding operations (CAFOs)."
More from the FTCLDF:
"Attorney Joseph O'Leary is suing the DNR on behalf of four of the aggrieved business owners. He explains, "Wildlife is owned by the state; it is the role of the DNR to regulate and control state property. Livestock on farms is privately owned and properly belongs in the jurisdiction of the Department of Agriculture. When a governmental agency blurs these lines, people had better wake up and take notice because at that point we are all in a lot of trouble."
Only government controlled businesses are allowed?  Communism anyone?
There's more.
I received an email last week from another small businessman who is affected by this new ruling.  The beginning of the conversation below were emails I was copied on, and then I tracked him down for more details.  Read what Dave Tuxbury is going through in our beautiful state of Michigan…
Subject: Deer Tracks Administrative Inspection Warrant and Affidavit

Mr. Tuxbury, at your request we have scanned a copy of the court order which is attached and we will have Departmental employees at your facility shortly to exercise the Court Order.  You're denying us consent to verify that your not in possession of any prohibited species has resulted in this court order and we would again ask for your cooperation in allowing us access to fulfill this court order and confirm that you are in compliance.

F/Lt. Wade Hamilton
Wildlife Resource Protection Section<
Special Investigations & Commercial Fish
970 Emerson Rd.
Traverse City, MI 49696
(231)922-5280 ext:6804
[email protected]

———-

Subject:  Search Warrant
DNR called and said they had a search warrant and will be at my gate in 1 1/2 hours and will cut the gate if nobody lets them in. They must think I still have hogs.

Dave Tuxbury

———-

Subject:  Search Warrant

I was served a search warrant yesterday at 7: 45am. After 8 guys, 3 four wheelers, and 4 hours, DNR decided I was correct.  I have killed all my hogs.  They gave me papers that say I do not have any hogs on my property.  All they saw were dead hogs laying around from my mass slaughtering.  It took 12 guys 4 times in there to kill all of them, sows with young, pregnant sows, dozens of piglets, and old mature boars. It has been a sad few weeks.

Does anyone know what it feels like to open fire on 20 baby piglets in one group which weigh between 5 lbs and 15 lbs. They are so adorable and cute.

They commented to everyone that they never saw a fence built so tough and no way would a hog get out of this area.   I trenched  2′ then installed chain link fencing,  then  a 10′ high tightlock fence on top of that.   (200 acre area.)  They never saw a fence like that.

Dave Tuxbury
Deer Tracks Ranch

———-
Here's where I contacted Dave to ask him some questions, which he answered via email…
Hi Dave,

It was good to talk to you today.  Here are my questions…

******Can you tell us what kind of business you own at Deer Tracks Ranch?

This is a farm with animals/livestock that I own.  It's also known as a hunting preserve but basically the only difference between me and a traditional farm operation is that the customers harvest the animals themselves.  All animals are raised as naturally as possible and are free to roam on more than 200 acres, and smaller pens of 2 acres.

******Is there a wild pig/feral swine problem in your area?

Among many other reasons, this is why the DNR looks so silly doing this.  In my county there was ONE feral pig sighted in the last 11 years, probably a farm pig that got away from someone, it was NOT from my farm.

******How did you finally make the decision to comply with this new Michigan law?

My choices were to depopulate.  All my old sows that were my breeders I had to sell them just for meat. I killed over 100 after October 8th and just before the big killing. The rest of them, I was waiting till the last week to see if pressure from senators and public could change the governor's opinion.  OR change the ISO to something that makes sense.  AFTER ALL this is the USA, I never imagined that they would make people mass murder their livestock for no good reason.  I was facing fines of $20,000 for each pig alive on property, they could also charge me for a felony for possessing "invasive species".

So, as you can see I had no choice.

The last two days before April 1st I hired sharpshooters to mass kill all the mothers and piglets.  All of which had babies, soon to have babies, or mature boars.  Some of these mothers were still milk feeding and they had to kill the mother and then chase and kill all the piglets.  I hope people can understand how difficult this was, and for absolutely no good reason.

******Why do you think the DNR is enforcing this law that was meant to protect property owners from wild hogs, against someone like you who kept your pigs completely contained?

The Michigan DNR doesn't like hunting preserves because it competes with them.  The animals we raise and harvest are far superior than the animals that the DNR can offer people.  Plus, I think the DNR employees watch too much television and programs like "Hog Wild."  The next thing I expect to happen is for the Michigan DNR staff to spend our tax dollars trying to find Bigfoot in Michigan.  This, combined with the pork industry that doesn't want the competition.  This is just my opinion, you'd have to ask them as to why they are doing something so stupid and so destructive to small farms.

******What will you do now?

Raising the pigs ie:  breeding, farrowing and raising them right here on the farm and selling them directly to customers was a major part of our business. Even our other hunts for things like deer depended on this because it was a draw to bring people into the ranch. Once people saw how nice it was here and the class of operation we have, it brings them back to harvest other animals.  Plus understand, a lot of people came here specifically to harvest a pig for their freezer, naturally raised.  There are a lot of families that are going to be very disappointed they cannot do this anymore.

Now, without this and the income from my pigs, it will be impossible to keep the ranch.  I'm going to need to figure out a way to pay for a lawsuit against the State of Michigan.  I have no choice if I want to keep my farm.

Believe it or not, I still believe in my state and country because I believe in the protections we have in the Michigan and U.S. Constitutions from out of control government.  Even though DNR Director Rodney Stokes and the Governor of Michigan, Rick Snyder, may not, I still do.

Our forefathers made it very clear that government CANNOT take private property without just compensation, nor can they do it without due process.   In this case, there is neither compensation nor process.  DNR Director Rodney Stokes decided this all by himself to take my private property.  And, Governor Snyder refused to tell Mr. Stokes to not do this.  Anyway, my swine were legal one day and not legal the next and that in my book is a taking of private property by the State of Michigan without compensation.

TUX
Because I want to fairly present all sides of the issue, take a look at this article posted at the DNR website:
False Rumors About Feral Swine Enforcement – Setting the Record Straight.
I asked Dave for his response to the information there, particularly this line:
"Property owners who have killed prohibited swine did so by their own choice and as an alternative to selling their animals prior to the April 1 enforcement deadline."
Dave replied:
Kelly,

Choice??  The State of Michigan via the DNR telling me to dispose of my swine/private property OR face felony charges and or fines of $20,000 a day………is NOT a choice.

And, selling them to who?  Remember, these are, according to the DNR, "Illegal, Invasive Specie Swine," there are not too many people lined up to buy them in exchange for becoming a felon.

TUX
Are you enraged now, too?
If you want to help, there are many ways listed here and WE NEED YOU.  I'll make it as easy on you as possible, because I know you're all busy.  THANK YOU.
Show your support in the comments below and let us know what you think, and which of the below you did!
Contact Michigan governor Rick Snyder and Director Dan Wyant.  (Talking points are included at that link to help you know what to say, and there's even a sample letter.)  More about Director Dan Wyant from Dave Tuxbury's website:  Director Dan is the King Pin for the Michigan Triad, which is a compilation of three Directors for the Michigan Quality of Life Group.  I personally met with Director Dan last summer and he is the "Big Dog".  He calls the shots for:1) the Department of Natural Resources, (DNR), 2) the Department of Environmental Quality (DEQ), and 3) the Department of Agriculture and Rural Development (MDARD).  Bottom line: these Directors answer to Dan Wyant and he controls the message to Governor Rick Snyder.
Let's slam their offices with complaints!  Or you could pick up the phone and call – Governor Rick Snyder (517) 335-7858 and Director Dan Wyant at

(517) 373-7917

.  If that line is busy please call (517) 241-7390.
Plus look what I found!  Michigan DNR on Twitter and Michigan DNR on Facebook.  You know what to do.  Let 'em have it!  Also, in addition to adding new comments, please go add your comments to my FB comment, add your own tweets, and please retweeat my tweet!  Thank you!
Also, you could email (or otherwise contact) the guy from the DNR email above, but I tried to contact him for a statement when I was working on this post and heard nothing back.  It might be worth a try, just to let him know we're here if nothing else:  F/Lt. Wade Hamilton, Wildlife Resource Protection Section, Special Investigations & Commercial Fish, 970 Emerson Rd., Traverse City, MI 49696, (231)922-5280 ext:6804,

[email protected]

.
Visit Dave Tusbury's Dear Tracks Ranch website and donate to his legal fund if you can help in that way.  These things cost dollars, unfortunately…
And/or visit Mark Baker's Green Acres Farm website and donate to his legal fund.  Maybe even $10-20 to each if at all possible?
Sign this Change.org petition: Stop the Imminent Slaughter of Heritage Pigs in Michigan
More on this issue:
Top photo is from Dave Tuxbury with these comments:  "These two are mother Durock farm pigs.  Notice the color of the piglets, they have the stripes of invasive species pigs. All these piglets had to be killed."