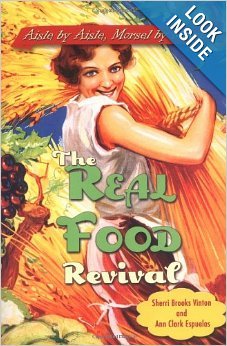 Written by Sherri Brooks Vinton and Ann Clark Espuelas

"Aisle by Aisle, Morsel by Morsel"
That's how The Real Food Revival breaks down this book to give you the best food choices and what you should eat regularly. It also gives great direction on what foods you shouldn't eat. If you're a beginner in the world of whole foods, get a copy of this book in your hands. It'll help you in navigating your way through the grocery store. Since the book is divided by the major food groups, you can take small steps to eating healthier and pick individual topics where you want to make changes.
I found The Real Food Revival to be incredibly informative. It's easy reading and accurate. The format gives a thorough overview on how to shop for produce, meats, fish, grains, oils & sweeteners, dairy, convenience foods and beverages (these are the different chapters of the book). It doesn't get too technical, but provides just enough facts and sources to give the information credibility. It gives you the big picture on eating healthy without getting too nit-picky.
Everyone loves testimonials!
Each chapter also includes a real testimonial of stand-out farmers and food producers who are a part of the revival. These profiles are entertaining, inspiring and the foods they promote are simply 'mouth-watering'. Oh my, there are a few sources I'm sure you'll contact to get a hold of their products. They sound delectable!
Will you try the recipes for us?
If you like new recipes, they are scattered throughout the book. Personally, though, I'm hesitant to try recipes that either aren't reviewed by other people or are recommended by friends – just too many botched dishes washed down the garbage disposal. If you're more adventurous, I encourage you to give them a try and let us know your opinion in the comments here at this post!
The author divides each 'aisle' or chapter into two parts:
An industrial agriculture snapshot… what's happening to our industrial food supply and why you need to avoid it.
The revival in action… what you can do to raise the standards of food quality – whether it's eating pastured meats, buying organic & fair trade products or eating local, seasonal produce. It's simply great advice on what to do and how to go about doing it.
Finding healthy food
For many, once you know what to eat, it can be overwhelming to figure out where to get it. Fortunately, there's an awesome reference section to guide you. And don't forget about plain old-fashioned word-of-mouth. Asking around for reputable food sources is one of the best ways to find them.
A Best Seller
This book is a gem. Unfortunately, it doesn't get the accolades it deserves. It's one of those books that remains untouched and doesn't show up on many people's must-read book lists. This is rather unfortunate. It's a book everyone should read. I think it's worthy of being a bestseller. It expands what you may already know about healthy food choices. Or if this is all new to you, it leads you by the hand to teach you.
It covers a wide variety of aspects in the food industry, some which don't get much attention. The authors opened my eyes to such things like the unethical treatment of farmers in third world countries, how commercial fishing is harming the ocean and lake sources, and the poor regulation of bottled drinking water. These areas just aren't addressed as much as some of the other topics we're more likely to hear about, i.e. quality-raised meats, sustainable agriculture, etc.
Bottom Line
My vote is to get this book into your personal library collection. I suspect you'll lend it to many a friend and refer back to it yourself time and again.
THANKS, JENN!
Your book reviews are always very entertaining and full of great info! I especially appreciate them since I can't seem to find a free moment to crack a book these days – all my reading is done online!
Jenn became a health food advocate and naturalist ten years ago after a long struggle with infertility. She's an avid reader and has a bachelor's degree in journalism and broadcasting. She and her husband own several businesses and are organic farmers. Jenn is also an enthusiastic cook who uses only whole, organic foods, raw milk, and pastured meats. Read more about Jenn in her guest interview.

If you're feeling overwhelmed with eating healthier, check out these Rookie Tips first