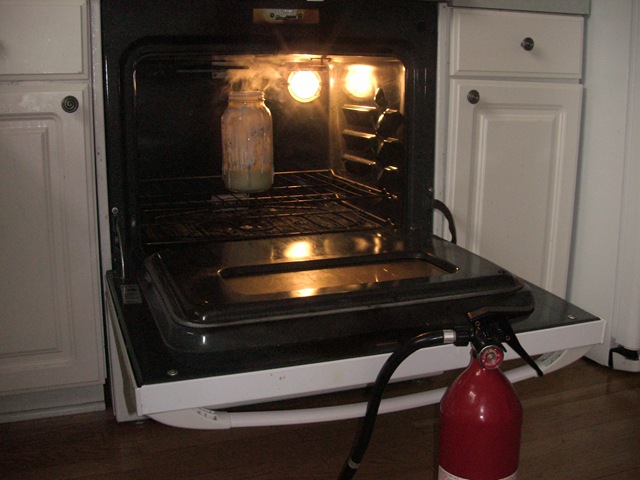 Today I'll tell you all about my recent Kitchen Mishap. Be warned, if you didn't already know what a dingbat I am, these pictures will make it real clear for you…
It all started so innocent.  I got my new sourdough starter and was finally ready to try again after my recent sourdough bread struggles.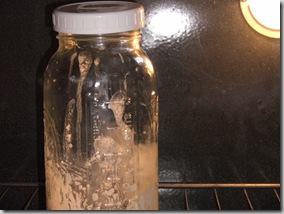 I heard this particular starter makes a lighter, higher-rising loaf, just what we need around here for sandwiches and toast.  Following the instructions that came with the dried starter, I mixed it with flour and water and sat it in my oven with just the light on (to keep it a little warmer) and a loose lid.  I even snapped a picture, so that later, once I finally had success with my sourdough, I could blog all about it, of course.
So far so good
The next day when I was getting ready to make a quick snack, I turned on my broiler, uh huh, you know where I'm going with this…
Next thing I know, our seven year-old daughter says, "Mom, it's really glowing in there…"  See the smoke coming off what used to be my plastic lid?  Yeah, this was after the flames died down.  (The kids were a little surprised that the next thing I wanted them to get me after I grabbed the fire extinguisher was my camera.)  So then my poor sourdough starter looked like this, an "after" picture I guess you could say: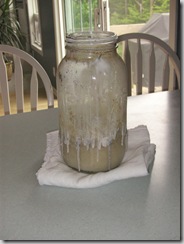 I'm sure I don't have to tell you what the lesson of the day is, but I'll give myself a little reminder.  When you're keeping something warm in the oven, always be sure to remove it before turning the oven ON.  DUH.
Hopefully ONE of these days I'll be able to share my success story with sourdough bread!  My kefir is fermenting now for kefir soda, and I hope to let you know how that comes out soon, too!  Update:  Check out this post from Lucinda, not me, on how to make yummy sourdough bread!  And here's how to make kefir soda!
Have you had any kitchen mishaps?  Tell me I'm not the only dingbat in the kitchen.
Another update: You'll be glad to know I have a new system in place to assist my memory-challenged brain: