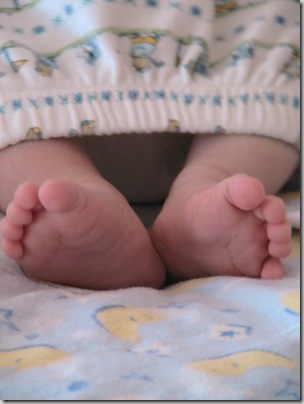 If you missed part 1, that's where I talked about vaccination safety issues and the 7 factors that led to the following immunization decisions. This is part 2.
Our 5-part plan for vaccinations (with our youngest child):
We waited until he was one year old before allowing him to receive any vaccines – no way would we allow him to get a shot when he was one day old and still in the hospital – this is routine, though!  My brand new baby, getting stuck with what a lot of people say is unnecessary at best (see comments from our doctor in part 1 about the Hep B shot), and possibly even harmful?  (Many suggest waiting until they are two before beginning their shots to make sure their brains are well-developed first.)
We had him get some shots, but not all. Here is the reasoning for some that we refuse.

See the posts that cover why we don't do the flu vaccine:

Hepatitis B – Our kids are not in a high risk group.  See the Hep B story in part 1.
Varicella/Chicken Pox – We want him to get this normally harmless disease the natural way so his body can build up natural immunities the way we used to when we all got it as kids.  However, we've exposed him twice and he still hasn't gotten it.  If he reaches a certain age (?) without having contracted it, we may have to give him the shot after all, since I've read that the risk of complications increase if you get it when you're older.  This one really irritates me, because first it was a one-time deal – they got the shot at one year old and then they were done.  Next they found out that it doesn't "last" and they need a booster later.  They don't really know what they're doing and are figuring it all out on our kids!
Hib – this type of Influenza is risky mostly when they are under one year old, and since we didn't immunize him until after that age, it was a no-brainer to skip this one.
Shots were given ONLY when his immune system was strong and he was not the least bit sniffly.
We only got one shot at a time. However, one thing we didn't do, but probably should have:  Only vaccinate with single disease shots, not combined.  (For example, no "MMR" shot, but instead get the measles, mumps and rubella shots all separate, if your doc even has those available, and they often don't.)  While we didn't get every single shot separately, at least we didn't combine the combined shots!  Normal protocol from the CDC has babies getting the MMR, DTP & IPV, and sometimes even MORE, all AT ONCE!  That's 7 diseases!!!  We got the MMR by itself, and the DTP, etc.
We made SURE he didn't get any shots that still had mercury in them. (I had the nurses check the packages on the shots each time to make sure there were no mercury preservatives.)  I love the nurses at our office because they did this with a smile.  If they act put out, change offices.  Don't be surprised if you're the first to ask, which is sad, but until a few years ago I never asked, either.
Why Not Skip ALL Vaccines?
After all the reading I did, it was a very compelling and tempting option to not immunize him at all.  Many informed parents do make that choice.  But there were issues with that too, and probably not what you'd think. I didn't worry so much about him getting measles or mumps (or other diseases), because some are so very rare.  Others, like I said earlier, were diseases I remember getting myself or family members getting as part of childhood (measles, mumps, chicken pox) and this could build up his immune system. But I wondered about the ramifications of the possibility (rare as it is) of getting something in a world that hasn't seen it in years. Would doctors recognize it? Would they be "up" on treating it?
Some vaccines have been around so long that I felt safer letting him have those.  Some shots, like Tetanus, are even recommended (the way I read the article anyway) by all-natural doctors like Tom Cowen, who wrote about it in the recent issue of Wise Traditions.
If you want to get some but not all, or SLOW down the schedule, check out this list from Dr. Sears who wrote the Vaccine Friendly Plan.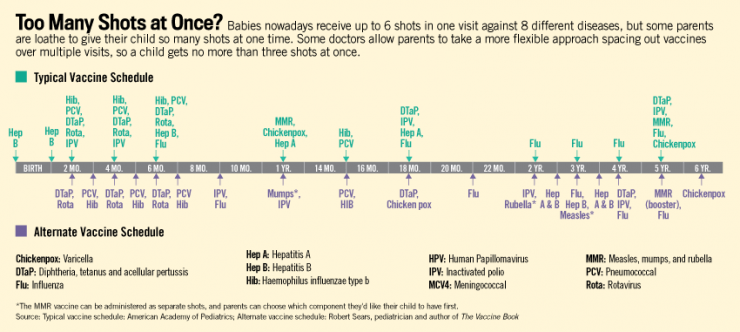 How Do School Exemptions Work?
Everyone asks, "But don't you need those shots for your kids to go to school?" The answer is yes, but depending on your state, you can usually sign a waiver to get around it.  (See sites below.)
Our youngest started preschool recently, and when I turned in his required vaccination form I just attached the waiver form to it (listing the shots he doesn't get) and never heard anything about it, so apparently I did it right.  One thing I'm not sure about yet is if I'll have to fill out an exemption/waiver form every year, anytime he goes to a new school, or only once?  Now that I think of it, it probably varies by state…does anyone in Michigan know how it works here?  Here's the site where I downloaded the vaccine exemption form from – you can find all sorts of good information there.  Go to the "similar sites" link if you're not from Michigan.  Go to "Vaccine Waiver" to print out the forms.  There were a couple to choose from – the wording was terrible on the one written by the state, so I printed and used the M.O.M. form.
Don't expect everyone to "get" it
If you do decide to not have your child immunized, I have heard stories of parents really feeling ostracized over it. Your doctor, friends, family, school staff, anyone in your life who just doesn't get it, may be all over you. When researching this I did speak to our doctor, who is definitely mainstream.  But when I was pregnant and asked what he would think if we didn't immunize he said, "I'll try to talk you into immunizing, but it's your choice and I'll support you either way." As awesome as I think this is, still, that's how it should be. If not, I'd suggest you consider switching docs. After talking to other friends and hearing horror stories, I've learned that my doctor's response is not common. Some offices require immunizations or you can't be seen there.  (Which may not matter much if you're into the traditional foods lifestyle, you won't need to be seen very often.)  By now everyone at our health care office knows me and that I'm one of "those" Moms, so when I take our youngest in for the certain shots we've decided he'll get, the doctor or nurses just ask, "Which shot do you want him to get today?" They know I've researched everything, and that I know what I'm doing as far as the schedule I've got him on to get caught up to those who immunized on the "regular" schedule.
Keep talking about it and SHARE this post!

The more we discuss this the better because we're raising the awareness of parents, doctors and researchers, so comment here and share your thoughts about your own decisions.  Talk about it with your friends and family.  If you see a pregnant Mom and have an opportunity, you could ask her, "Have you thought about the immunization issue?"
MORE LINKS