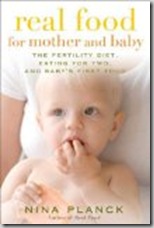 My jaw hit the floor when I read the thumbs down book review on Nina Planck's Real Food for Mother & Baby in the recent Wise Traditions journal (Fall 2009).  Nina Planck is one of "ours", and she's on the front lines fighting for REAL FOOD!  She writes clearly and makes a traditional diet attainable for anyone.  I just didn't get it.  My opinion is that it should have been given a thumbs UP, with clarifications about the issues mentioned in the review.
One issue I would have liked clarification on was regarding Nina's suggestion to take fish oil – in her book she wasn't specific on what kind to take. "She does not say which brand or how much – a critical omission."  Yet in Nina's defense, the shopping list on her website makes this very clear, with Green Pastures cod liver oil (or companies that sell it) all over the list.
This feels a bit like I have one friend who wasn't nice to another friend, and I just want them to apologize and make it OK again.  If you read the review, I'd love to hear what you think.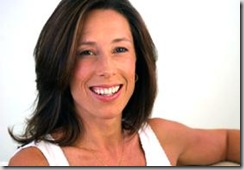 Nina has given me permission to post her reply here:
Dear Editor,
The review of Real Food for Mother and Baby is littered with errors and distortions about my diet, my pregnancy, and my little boy.
The reviewer's claim that I didn't follow a pre-conception diet of traditional foods is false. As a would-be mother of 35, I prepared myself for my first pregnancy with care. That diet included raw milk from a trusted source, as the book makes clear, as well as other traditional foods Price called for. Your reviewer calls me complacent about the few chemicals we used on our farm in my early childhood. The claim is ignorant and false. I followed a clean diet long before attempting to conceive, in order to replace toxins which might have wound up in my fat.
The reviewer insinuates that I suffered damage from my vegan and vegetarian years. This too is mistaken. My reproductive health has always been excellent; I got pregnant on the first try. The reviewer's cynical remark about my lacking moral support for good prenatal nutrition is offensive as well as unfounded. Julian's father Rob Kaufelt (a nationally-known champion of raw milk cheese), my mother (who fed us on traditional foods and gave me my first copy of Nourishing Traditions), and (yes) my friends at the local WAPF chapter were champions of my good nutrition.
The suggestion that my Cesarean section was caused by poor nutrition is baseless. My pelvis—where Julian got stuck, head sideways—is ample. For that, I can thank my mother's excellent prenatal diet, generous breastfeeding, and good baby-feeding practices. There is no evidence from midwifery or nutrition that diet could have changed his birth. As for post-partum weepiness, I ate a superb traditional diet during Julian's first weeks. As any mother knows, tears have many causes. They soon subsided. I stand by my statement that some cases of post-partum depression cannot be cured by food alone. I am lucky my baby blues were not so severe.
The reviewer's suggestion that I was not sufficiently concerned by Julian's low iron and thinning-out around age one is outrageous. I arranged a phone consultation with Weston Price expert Dr. Tom Cowan. I interviewed iron experts. True, I ignored our then-pediatrician, who ordered me to wean Julian and give him inorganic iron. Instead, I fed Julian his regular diet of real food, which included a near-daily dose of grass-fed ground beef. He also had cod liver oil and Dr. Ron's grass-fed Organic Organ Delight daily. We were, as always, generous with butter and cream. Happily, real food worked. Julian's weight gain and iron levels bounced right back.
The reviewer's presumptions about my travel with Julian are odious and unfounded. For nearly one year, Julian did not have a babysitter; we were home together. I seldom traveled. When I did, Julian was in my arms and in my bed. When I spoke at book events, Julian was right there—safe in my mother's arms.
Your reviewer finds my book insufficiently purist. How myopic! I describe the ideal diet with care and I describe how I eat with candor. More than 50,000 people have bought my books. Scores have written to thank me for saving them (as I was saved) from the low-fat and vegetarian wilderness. They appreciate hearing how I square an excellent diet with real life. My readers include many Weston A. Price Foundation members and chapter leaders. 'Your books are accessible and fun to read, and I have recommended both to countless people,' writes one chapter leader who found the review baffling.
Meanwhile, since Real Food for Mother and Baby came out, our family has been blessed again. Today, I'm nursing newborn twins. Jacob and Rose were born vaginally at full term. (Attention obstetricians: A 38 year-old mother can have VBAC twins.) I owe their good health and mine to the work of Weston Price.
Let me be clear about where I stand. I stand with Weston Price, in spirit (humanism) and substance (traditional foods). I stand with every mother who wants to reform her diet and feed children properly, no matter how far from perfection she is.
Yours truly,
Nina Planck
New York City
October 22, 2009
More from Nina Planck: