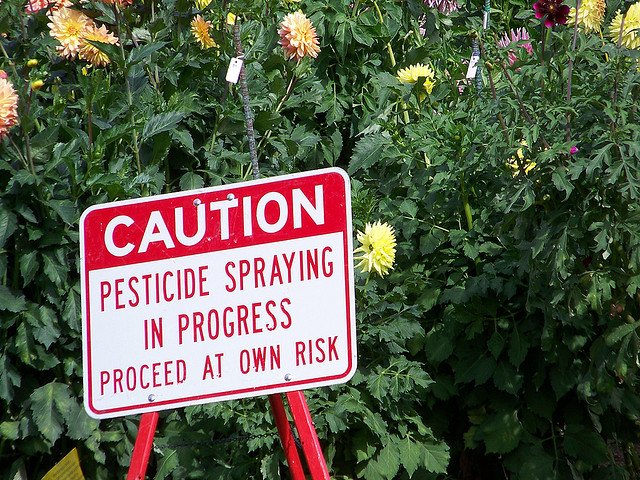 My brother is the ultimate gardener.  He makes everything seem so easy and prides himself on growing a good share of his own food without all the chemicals that are on almost everything at the store.  He loves the thought of not having to depend on others for food and I'd like to see him raise animals again someday.  He doesn't trust the "organic" label, so lately he's planted some fruit trees to go along with the multitude of veggies in his garden.  When we spoke the other day he said he doesn't know how organic apple growers do it, because his new apple trees already have something going on with them.  His compromise is to just spray once a week, not "spray the crap out of them several times a week" like most apple farmers do.  (Only he didn't say "crap".  🙂 )
So I decided to throw his dilemma up on Twitter/Facebook and see what his options might be:
"HELP! My brother's apple trees have pests and he doesn't know what to do, is there a natural way that WORKS? Thx!"
Here are some of the responses I received, and I'm adding them here just as I got them.  I haven't clicked on the links or Googled to find out what some of these are or if others have had good luck.  I have to run out the door again in a sec, but wanted to throw just this out there to hear what you think.  Maybe you can shed some light on these and add more of your suggestions, too…?
From @PodChef "Blast off w/ water. Coat w/ kaolin clay?"
From @Honeycoop:  "Look up kaolin clay as a spray for apple trees."
From @Lindsay4Trikona:  "Has he tried Neem?  https://www.eartheasy.com/grow_nat_pest_cntrl.htm"
From @LowMileageFood:  "Scroll down to 'Insects on fruit trees':  https://ow.ly/1Q4Js" (I see now that this is the same site as Lindsay suggested above, it must be a good one…?)
From Alex (https://amoderatelife.blogspot.com/):  "Kelly, I have read that blending cayenne pepper powder and seventh generation or mild soap and water is a powerful bug deterrent. I have done the soap and water on my roses and it does get rid of the aphids. He might want to do a test spray to see how one branch does."
From Lisa:  "You might want to call Al-Mar Orchards and see if the owner will help you out as they are all organic. I did an article on them one time for our chapter's newsletter. Innovative stuff."
From Sarah:  "Have him try planting nasturtiums at the roots of the tree – most pests don't like the scent of them and they repel them away. Plus, you can use the flowers in a salad!"
From Ashley:  "Definitely have them inquire at a nursery. My mom brings in leaves, bugs, etc all the time and gets help. Theres gotta be someone working at one with some natural tips!"
From Heather:  "There are natural sprays–look at https://www.gardensalive.com/"
From Tina:  "https://www.groworganicapples.com/"
More reading on pesticide dangers: