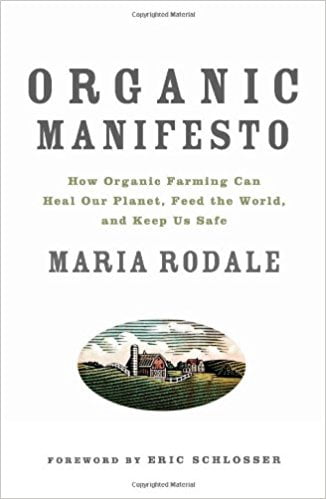 I am proud to have Wendy guest posting here today with this amazingly well-written book review on "Organic Manifesto".  (We've even met in real life since she lives in the Grand Rapids area, too.)  Here's Wendy…
Manifesto: "A written statement declaring publicly the intentions, motives, or views of its issuer." (Merriam-Webster)
Organic Manifesto: How Organic Farming Can Heal Our Planet, Feed the World, and Keep Us Safe
by Maria Rodale is a deceptively skinny little book. Yet it is packed full of statistics, studies, and information. I wondered if it could convert me. I DO try to eat organic, but for things like pasta and tomato sauce, things that are processed, I really don't worry too much. And since I come from a community of conventional farmers, I began reading from the point of view that organics are really only for those of us who can afford it, and that it is impractical for most farmers to switch to organic. In this review I hope to share some of the feelings and conclusions that I had during and after reading it, along with my background, so you know where I'm coming from.
It was a warm summer day out in the black muck of the onion fields. We wore jeans to protect ourselves from residue fertilizer on the onion tops, and a hat to protect ourselves from the heat of the midday sun. The frogs croaked in the irrigation ditches nearby, forming a chorus with the crickets and cicadas. We waved at our father, dressed in a white spacesuit and wearing a mask as he drove the funny looking sprayer down the road, headed off to another field. We could hear the drone of Clair's yellow spray plane off in the distance, and the sweet smell of the chemicals hung in the air. My cousins and three younger sisters and I sung TV theme songs to pass the time, and enjoyed being out in nature. Such was the life every summer of our youth.
Part 1 of Organic Manifesto paints a bleak picture indeed.
I began reading with skepticism, as I am the daughter of someone who was a conventional farmer for many years (or chemical farmer, as the authors prefers to call it). Right away you are hit with statistics and rates of things like cancer, asthma, infertility, and rates of chemical use and reports of secret government-suppressed studies. At first I was trying to analyze the validity of the data–after all, I took enough statistics classes in college to know that there are lies, damned lies, and statistics. Were they making the link between correlation and causation? Was the logic connecting the dots fuzzy? But after awhile the numbers seemed to wash over me, and added to the knowledge I already had about BPA and dead zones in Mexico and the new study that just came out about ADHD and exposure to pesticides. The numbers wore me down, and I came to the conclusion that our air, water, and soil are already so contaminated that buying organic is almost pointless–if we're all doomed, is reducing our exposure just a little bit even going to matter? And since I grew up in a farming community, I was very uneasy at the prospect of making the hardworking men and women I knew and loved into some sort of villains. I was concerned for them, after reading about all this pesticide use and its ill effects, but what was the alternative? These people have a difficult enough time making a living. Luckily Part 2 addressed that.
Our 5th Grade Biology Class Assignment: To grow the biggest marigold. The competition would be fierce. My classmates were the sons and daughters of potato and onion farmers, dairy farmers, greenhouse owners. I asked my Dad for help. He had me look in my mom's gardening books to see what tips they had for growing marigolds. Turns out they're pretty hardy, so he suggested just using water. Water? My friends were coming up with all sorts of concoctions. To throw them off track I borrowed a pin from my dad that he got from one of the chemical companies – I think it was advertising something they use on potatoes to keep them from sprouting in storage. I displayed it prominently on my backpack. My friends all thought it was the secret ingredient. Only one other person's marigold grew as fast and as large as mine. Then suddenly hers died. When we revealed our secret ingredients, turns out she had used Miracle Grow. And I shocked them all when I said I used only water.
Part 2 of Organic Manifesto does a fair job of describing the treadmill that today's farmer is on.
The pressure is constant to buy or rent more land, to get bigger, to produce more so you can make a living. I appreciated the acknowledgment that farmers are not the villains here, but at first I was skeptical about her claims. She said that farmers don't have the luxury of cover crops or spreading manure on fields (implying instead that it gets dumped into the river). Yet I remember distinctly my Dad growing rye and other cover crops and rotating fields. And shit spreaders and honey wagons were common sights in my farming community – one you don't want to get stuck behind on a warm summer day in your car! I also had a feeling that she was greatly exaggerating the grip of Monsonto and other giants.
So I went to my Dad and asked him about it. When I first started asking him questions, he said that it sounded like the author "took an ounce of truth and made it into a pound of shit." I asked if he felt chemicals were detrimental to our health, and if it was possible the government and chemical companies were hiding information. He seemed to think that there has been a lot of progress over the years getting rid of the most dangerous, and that chemicals break down, so it's nothing to worry about. He also didn't like the demonization of Monsanto. It's just a company trying to make a buck. Are they shady? Yes, but what large corporation isn't, he reasoned. He also was not aware of them trying to find little farmers to pick on, so he didn't buy into the idea that they have minions trying to find people to sue. And, Monsanto does a lot of good. They are funding the agricultural studies, which he doesn't think are tainted because what university wants to risk publishing bad information? (In the interest of full disclosure, I should say that Monsanto also funds a number of growing projects in the U.S. which in turn fund agriculture projects overseas, ironically many of which teach organic farming methods to poor farmers in developing countries. The organization for which I work benefits from this.)
He also confirmed my recollection that all the farmers in our area DO spread their manure on their fields. But when we came to the subject of crop rotation, he admitted ruefully that it is next to impossible to do that anymore. You just can't afford to do it, he said. You just have to keep farming it until "it catches up with you." I found it interesting that he didn't want to blame anyone, yet he definitely felt the effects of the farming treadmill. I remember the years of agony before he and his partner decided to get off the treadmill and sell the farm.
His overall conclusion was that you could in theory have an organic farm, but it would take a lot of work and you would have to be dedicated to having a simple lifestyle. A more practical approach might be, if you are a conventional farmer, to use chemicals judiciously. And if you are a consumer, go ahead and buy organic but be willing to pay more for it.
Just last summer, I purchased some organic seeds online. I asked my Dad if he could grow them for me in his garden, as I don't have very good soil at my house. He agreed. I started some tomato plants from the seeds and planted a number of them, hoping to have some for canning. Then the blight hit. "I sprayed some fungicide to try to get rid of the blight," he told me on one of my visits. I wasn't sure how I felt about that, acutely aware of the irony of purchasing organic seeds only to spray them with fungicide. The farm where I have my CSA is organic, and all their tomatoes were killed by the blight. I was able to get a few from my plants that had been sprayed with fungicide. Still not sure how I feel about that.
Part 3 of Organic Manifesto describes the state of organic farming today.
While it does describe a simpler lifestyle for farmers, it's not as spartan as my Dad thought. She also describes several facts and misconceptions about organic farming, such as that it IS possible to feed the world with organic methods and that farming organically is not just doing things the way we did in the olden days.
Rodale offers up "Five Solutions that Might Save Us." They are:
1. Government: Ban agricultural chemicals and GMOs.
2. Farmers: Supply the organic demand.
3. Business: Create innovative solutions.
4. Economists: Measure strength, not growth.
5. Everyone: Demand organic.
My opinion? I have my doubts as to whether the government will stand against the lobbyists and large corporations. I have my doubts as to how many farmers will take the risk to switch to organic farming, because it is such a drastic change and they have so much overhead and investment in equipment and land. Not sure about business and economists. But consumers demanding organic? That I think we can do. In fact, I just read that companies are starting to feed the demand that already exists. Even Wal Mart is carrying organics. So then I thought, maybe her solutions ARE possible, but maybe we'll have to start from the bottom–with consumers–and work our way up.
If we support our local farmers, our local economies will grow, and farmers will be more likely to want to make the switch, thereby eroding the power of lobbyists, leading to the possibility of legislative reform.
Maybe my Dad is right after all. Take care of yourself and your family, and pray for the rest to follow.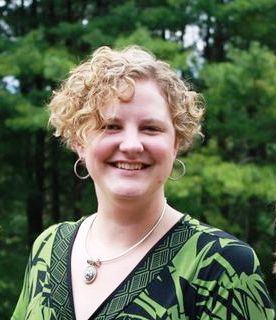 Wendy Hammond grew up in a farming community and now works for an international relief and development organization in public relations. She has a passion for supporting the Slow Food movement and local farmers. You can read recipes and inspiration for eating locally and in season on her blog, https://thelocalcook.com.