Today you'll hear more from my awesome assistant, Kimmi.  She has shared spring gardening tips to help us find more ways to save time and money — she is the QUEEN of just that!
First, a reminder on how saving time and money can allow us to incorporate more Real Food into our lives…
For Real Foodies at whatever stage you may be in on this journey, I'm sure you'd agree that there are two challenges that rise above the rest: finding time in the schedule to make cooking nutrient-dense meals a priority, and finding money in the budget to buy quality foods to feed your family.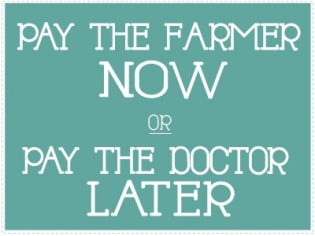 You've probably heard what Joel Salatin says, "Pay now or pay later." (Photo from Jo-Lynne.)
Of course there are many tricks for saving money on Real Food or saving time when preparing it.
Have you seen…
Tips on Saving Time – Including the 'our version of fast food' meal list, meal planning tips, batch cooking tips, etc.
Tips on Saving Money – Ideas for different ways to use grassfed ground beef, the popular article "How to Eat Real Food Without Losing an Arm & a Leg", frugal meal ideas for ONE, and a bunch more.
The first 'Beyond the Kitchen: Save time and money with Kimmi' post, where I tell about a few of the many ways she has helped me so much!
But what about beyond the kitchen?
What if saving time and money in other areas of your life freed up more time and money to spend on making Real Food a priority?
Today Kimmi, my friend who helps me here at the blog, is going to share some of her tips and tricks with you for Springtime!
Take it away, Kimmi!
Potting Plants. How to save money…..and your back.
Recently I was potting plants with mom (my personal gardening expert) and spent less money on potting soil and it was also easier to move the pots around because they don't weigh 100+ pounds!
Here's how we did it:
I bought a couple of cool new plant pots this spring to plant my annual flowers in. I got a great deal at Costco. They are huge and were only $18 each.  My mom came over to help me get them ready so when I find the flowers I want, all I'll have to do is plant them. Because they are very large they would be super heavy if filled all the way with dirt. I would also have had to buy a lot more potting soil to fill these. She had me drill a hole in the bottom of each pot (plastic pots) for drainage. She then scrounged through my recycle bin and filled the pot about 2/3 of the way with plastics (one good use for them!) .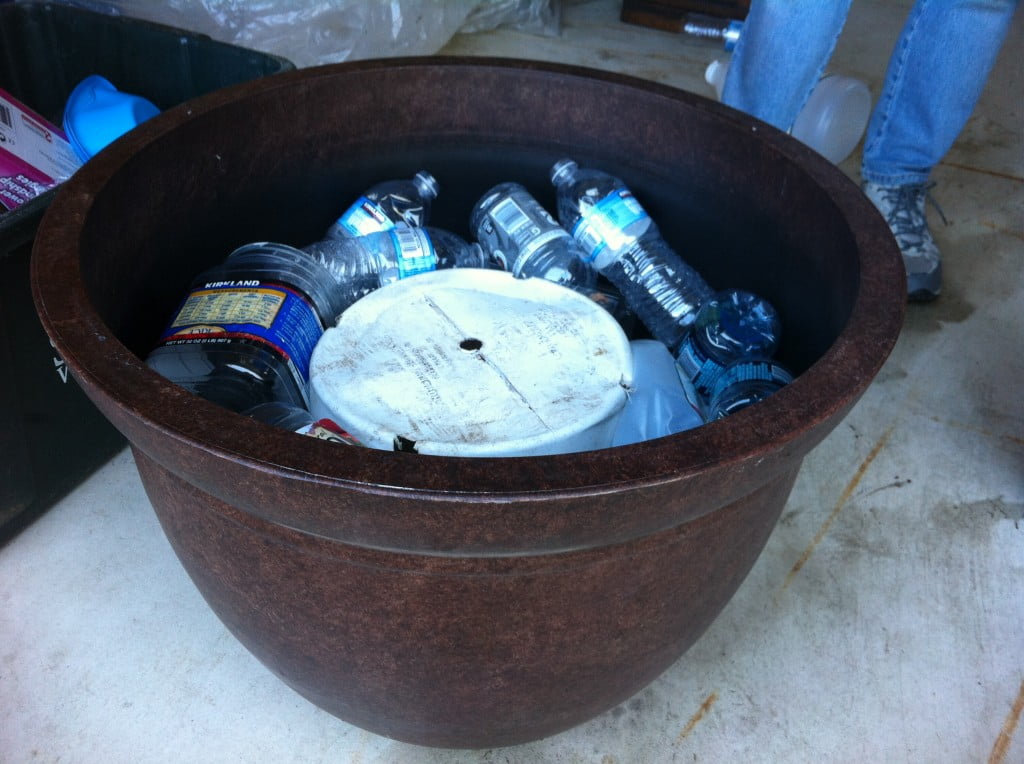 The big round thing shown in the middle of pot in photo is actually a plastic plant pot from a nursery that is turned upside down. Then she cut a piece of plastic to layer over the bottles and we poked several small holes through that for drainage.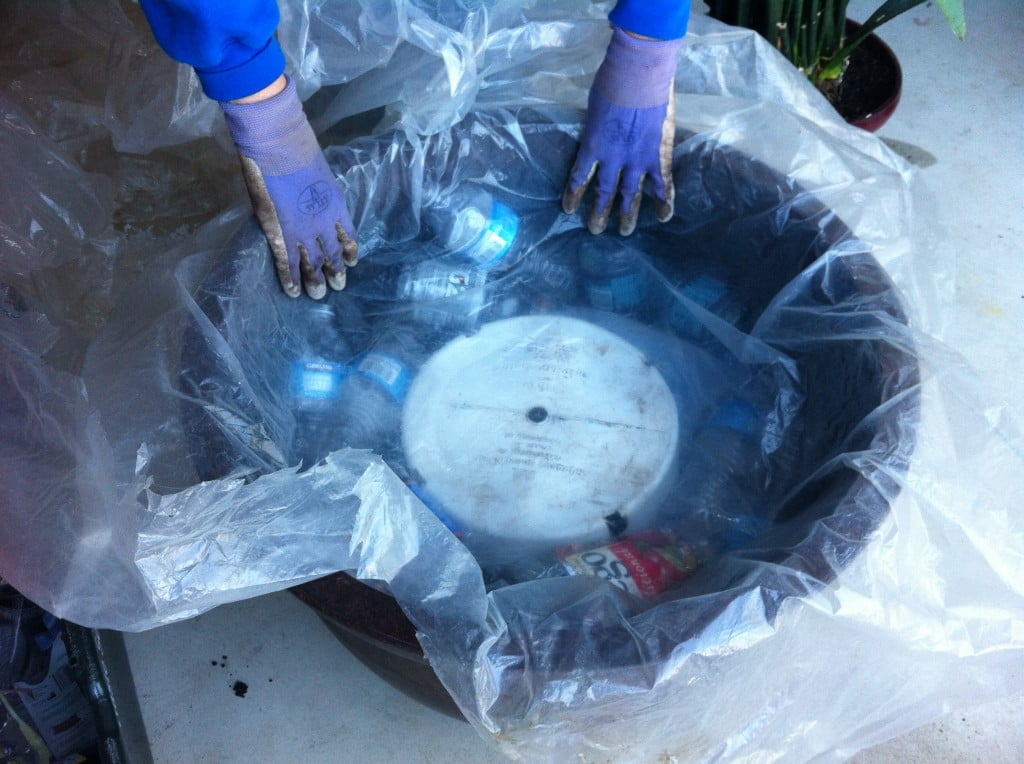 We then added the potting soil and tucked any plastic under dirt area around the edges.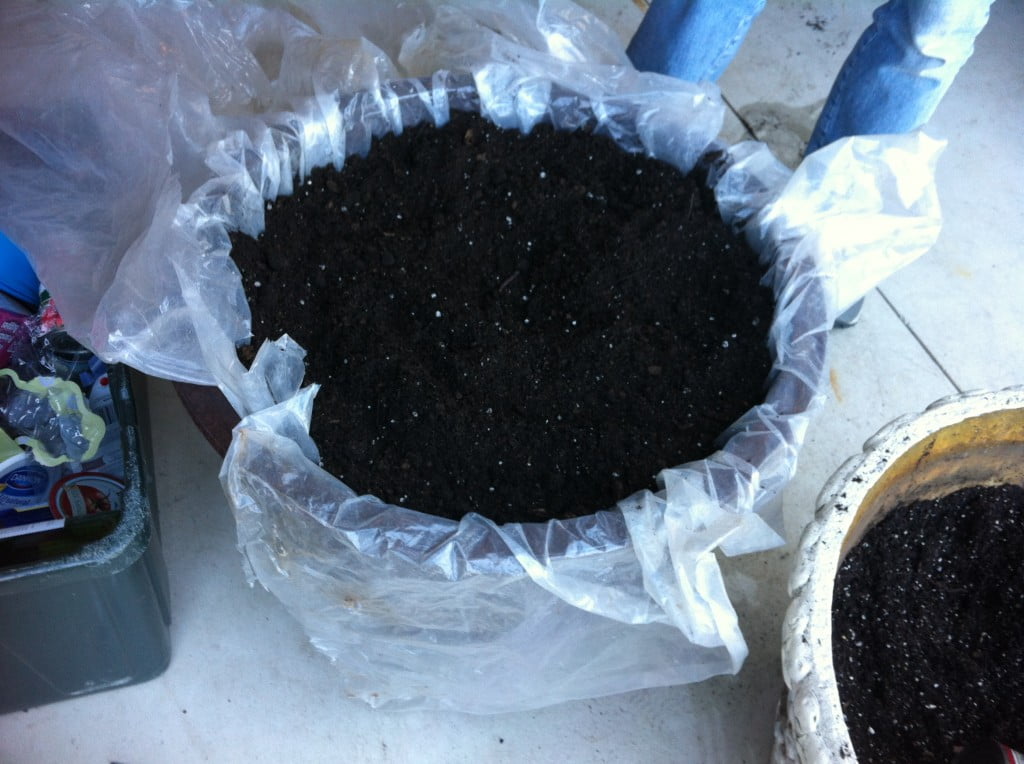 Voila! I haven't actually planted any flowers in them yet so I don't have a pretty photo for before and after. 🙂 Just the cute one with my junior garden assistant.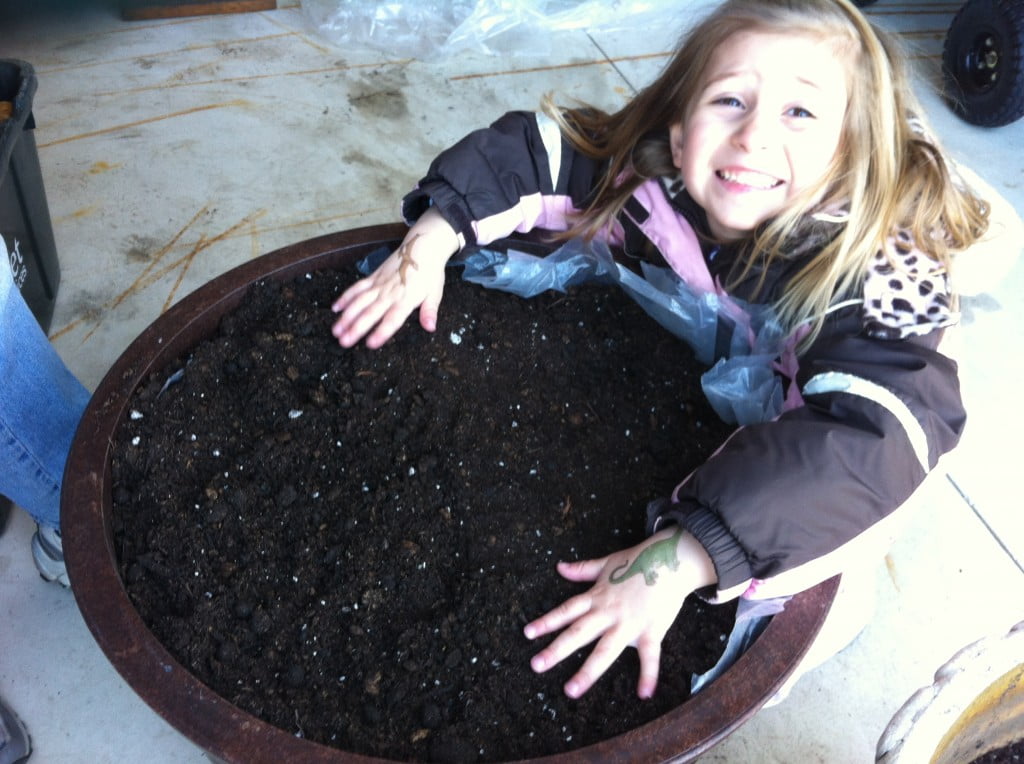 We'd love to hear about your tips for spring, or for ways to save time and money, anything goes!  🙂