For Real Foodies at whatever stage you may be in on this journey, I'm sure you'd agree that there are two challenges that rise above the rest:  finding the time in the schedule to make cooking nutrient-dense meals a priority and finding money in the budget to buy quality foods to feed your family.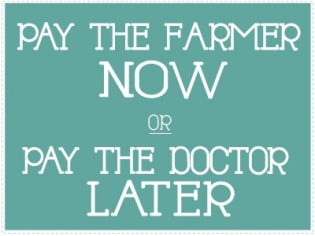 You've probably heard what Joel Salatin says, "Pay now or pay later." (Photo from Jo-Lynne.)
Of course there are many tricks for saving money on Real Food or saving time when preparing it.  Have you seen…
Tips on Saving Time – Including the 'our version of fast food' meal list, meal planning tips, batch cooking tips, etc.
Tips on Saving Money – Ideas for different ways to use grassfed ground beef, the popular article "How to Eat Real Food Without Losing an Arm & a Leg", frugal meal ideas for ONE, and a bunch more.
But what about beyond the kitchen?
What if saving time and money in other areas of your life freed up more time and money to spend on making Real Food a priority?
Today Kimmi, my friend who helps me here at the blog, is going to share some of her tips and tricks with you, and she's FULL of them!
First, let me tell you what this girl has done in my life.  She is AMAZING!
It all started when I knew I needed help keeping up with things here at the blog, so since Kimmi and I go way back (I took care of her kids when I did day care), and I trust her completely, I was giddy when she said she could help me a few hours each week.
Little did I know…
She's not just my blog assistant, she's become my everything assistant!  Things that seem like a big deal to me and downright impossible are nothing to her.  She's the 'handymam' of their house since her hubs works out of town often, so she does repairs, remodels, everything!  (And HEY, maybe sometime she'll let me take you on a virtual tour of their gorgeous house!)
Once I was lamenting about how we had to buy a new dresser because this broken one was a piece of junk.  Pretty soon she called and said, "You know, I was thinking about that dresser, I'll bet if we blah blah blah (that's where I tuned out since I'm so NOT good at that stuff…)"  And the next thing you know she's got the whole thing fixed herself and has saved me at least $700, because quality dressers are at least that much!
Another day she convinced us to tear out our ugly appliance garage and now we have loads more counter space.  That led to rearranging our pantry, which led to cleaning out my overflow closet, and now look how organized it is!  Do you know how much time she saved me from digging through bags looking for stuff in this closet all the time?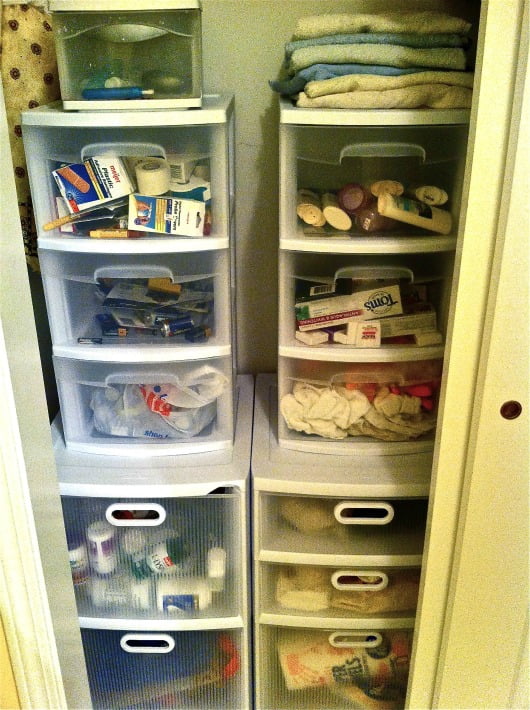 I could tell you more about all the ways Kimmi helps me, but let's get to her tips and tricks for saving time and money BEYOND the kitchen, so you'll have more time and money to spend IN the kitchen!
Take it away, Kimmi!
Hello, I'm Kel's friend, Kim.  Kelly did daycare for me when I was working out of the home and she has become a great friend of mine over the years.  I just LOVE her and love knowing she's got my back if I ever need her.  I just recently started to do a little work for her behind the scenes on her blog to help her out.  It has been great because we've been able to spend some good quality time together which is hard to do because of our busy lives/schedules.
A little about me…
I am married with two children.  I worked in the marketing/advertising profession for 15 years before I became a stay at home mom about three years ago.  I absolutely love being at home now.  I tell people that it is the hardest job I've ever had because there is always work to be done – and a project to start.  I think I'm harder on myself than any boss could ever be.  Not earning a wage in the beginning was strange for me and I began to very actively try and save our household money by finding good deals for us.  I figure any dollar saved was like a dollar I earned.  See below for how I saved us $30,000 by taking the time to look into refinancing our home, which we had bought just months earlier. Anyway, Kelly thinks that I might have some things to share that all of you might be interested in.  I look forward to this opportunity and also can't wait to see what you can teach me, too!
1.  WANT TO SAVE BIG? HUGE???
Home refi:  Take the time to do this — it can save you loads and loads of cash!  I will save at least $30,000 with my new loan term refi and I hadn't even been in the new home a year yet when I did the refi.  Rule of thumb from what I understand is if you can get at least a percentage point less than you currently have on your mortgage rate and are not planning to move/sell anytime soon in order to make up the cost to do the refi, then you should do it.  Also what I learned from this latest refi is to shop around and check rates and make sure you are getting the best rate possible.  I shopped around this last time and got much better rate because of it.  I guess I just assumed that a rate was a rate and the best I could get from one is what I would get from another – SHAME on me!!
2.  Simple Home Repairs — Try it yourself First!
I've gotten a lot more brave when it comes to home repairs.  My husband works a lot and I'm a stay at home mom.  I figure whatever I can do to fix things around home saves us both money and also time that my husband would spend on his days off doing home repairs.  If I can do them during the week then we can all have more fun time during the evenings/weekends together as a family.  My latest repair was awesome!   I had two toilets in the house that were very hard to flush. The handle needed to be pushed down really hard; my 3 year old couldn't even flush it by herself and visitors thought our toilet was broken.  I had tried to adjust the screws attaching handle to the tank but that didn't really work.  I Googled my problem and found some home fix-it forum on a Bob Villa site and within 10 minutes I had both hard flushing toilets fixed.  The only "tool" I needed was some vaseline!!  I had to lube the seal at bottom of the tank and now we can flush both of those toilets with my little finger.  It was a problem with too much suction at the bottom of the tank.  I was really excited to tell my husband – but he didn't seem as excited as I thought he should be!  I just saved some serious cash by NOT calling the plumber.  So don't forget your friend, Mr. Google!
Ace is doing a national promo giveaway:  get a free quart of paint per household each Saturday in March as I understand it. People can go and get some free paint to repurpose a piece or just to "re-like" it like my latest painting adventure.  (See the picture on the right, isn't it cute?!  This used to be dark maroon.)
If you like this post idea, we may run it every so often, so let us know what you think!
Or let us know if YOU have any good time or money saving tips and tricks to share!  🙂
By the way, see that picture at the top of the post?  I took it myself, oh yes I did!  For all my longtime readers, it's hard to believe isn't it?!