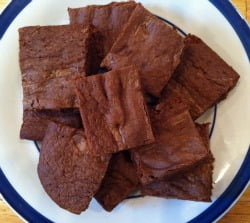 Good morning readers!  I hope you all enjoyed a happy Easter.  I'm writing this beforehand, obviously, and just finished making a couple big pans of these brownies to take to my Mom's:  Finally, Homemade Chocolate Fudge Brownies as Good as Boxed Brownies!  Yes, it's sad that my benchmark for 'delicious' was boxed brownies, I know…  But those were always so moist, and until this recipe I couldn't pull that off with my real food ingredients.  But these…THESE are amazing!  Super moist and fudgy on the inside and just a touch crispy/melt-in-your-mouthy on the edges.  🙂
My Mom is also making everyone's favorite, her baked macaroni and cheese, along with a bunch of other good stuff that she and my step-Dad, Carl, will whip up for us.  (Have I ever told you how awesome Carl is?  My Dad passed away in 1998 and we're so thankful Mom found someone as sweet as Carl.)
Did you make anything extra yummy for Easter dinner?
Our son turned 14 on Saturday and he wanted "Candy Pizza" for his treat, which meant I had to embarrass myself with some disgusting ingredients in my shopping cart the other day.  So if you saw me with marshmallows, rice cereal, and M & M's, please don't hold it against me.  (I did, however, have the kids pick the orange and red ones out and throw them into the trash, since red food coloring is the worst of the worst.)
Spring Break Woes…
Anyone else all whiny because you're the only one on your street home on spring break?  Seems that everyone we know has gone South.  So that makes us the "pet-people" for the week.  We'll be okay as long as these certain neighbor cats don't upchuck hairballs all over their whole house again that just happened to look and smell like it came from the other end.  At least Kent was the parent who had to assist our son with that lovely clean up, hah!  I'm not sure if it was that same year or another that one of their birds died on our watch, too…
Here's what I have for you this week: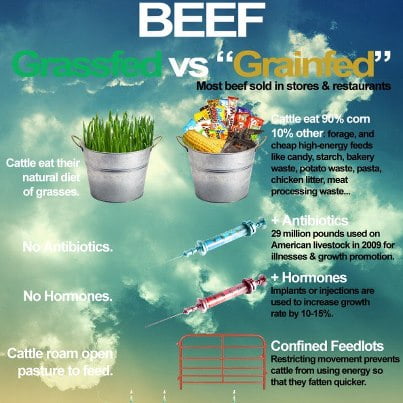 Another one over the weekend that you may have missed:  A Note to Myself Ten Years Ago… 
Isn't this disgusting?  Eggless eggs – ick!
I just spent a couple hours uploading some new pics to my Pinterest boards – go check them out and follow me or like me or whatever it's called on Pinterest.
A few Facebook recaps:

Help for dry skin (when she'd never had that issue before and is eating plenty of healthy fats).
Natural remedies for bacterial vaginosis (a vaginal infection).
A reader asked a question about what to do with 400# of grassfed beef that tastes way OFF – for this one there were a couple of different Facebook posts, so just go to the grassfed beef post and read the comments if you'd like to know more about this, too.  (The Facebook comments automatically show up over at the comments at that post.)
Last one:  a reader is battling depression and doesn't want to go on meds.  This post has all the replies from Facebook at the bottom:  20 Tips on Fighting Anxiety, Depression, and Fatigue Naturally | Kelly the Kitchen Kop.  Mentioned often in the comments as a must-read is this book by Julia Ross:  The Mood Cure.
I also shared what was in our Easter baskets:  Unjunked peanut m & m's, organic jelly beans, Cliff Bars, organic chocolate coins and organic gummy snacks. I might've tried just a few – wow, organic foods/treats have come a long way in the past few years, I remember when it seemed like most of it just didn't taste that good, but now: YUM. Don't you think?  What goodies did the Easter Bunny bring to your house?