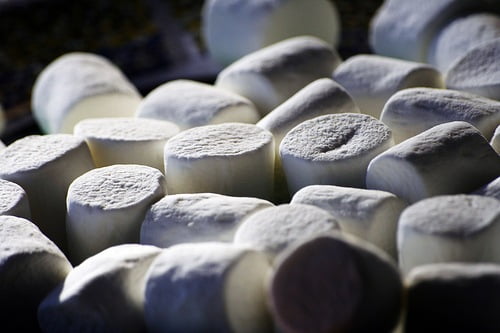 Do you ever read an article that makes you wish you could ring a giant buzzer somewhere after certain phrases?
Read an email I received recently:
Dear Kelly,

Following is a short article from our local paper recently.  I live in Rochester, Minnesota, home of the Mayo Clinic, and we have more docs per capita than anywhere on earth!  I would like to respond to this article, but I need help.  I have recently started a local chapter of the WAPF – our first meeting is in two weeks.  I have purchased the textbook, cookbooks, and have all the data from WAPF, but I don't have the confidence or feel like I have the authority to put together the right response.  I hope that this confidence will develop with time.

You are an amazing inspiration for us.  We very much appreciate your hard work and we learn something everyday from your blog.

Kay and Kristen
Rochester, MN
Here's the article from the Rochester Post Bulletin: Reader says marshmallow beats container of yogurt.
Read the article and then come back here so we can rant together…go on, I'll wait…
What did you think?  I agreed with some of what this author wrote, but a few phrases made me want to ring a giant buzzer somewhere, here are three…
Here's the first buzzer:  "I responded with an e-mail about how the marshmallow contains nothing but "empty" calories, and that you're not going to be very healthy if your diet is dominated by sugar, flour and meat products."  He was on a roll until he had to lump meat in there instead of looking at the differences between meat from animals raised in feedlots and meat from animals raised in their natural environments and fed their natural diets. (Read my post on this:  Are Meat-Eaters Ruining the Earth?)
The next buzzer:  "Every reputable study in the last 50 years, I wrote in my response, has determined that a diet heavy on fruits, vegetables and whole grains is more healthful than one heavy on sugar, fat and complex carbohydrates."  Hmmmm, sugar isn't good for us, he has that right, but a diet heavy on whole grains?  Yes whole grains are better than refined grains, but many people can't eat grains at all and stay healthy.  And why not emphasize getting enough healthy animal fats instead of slamming all fat?!
Third buzzer:  "There are tens of thousands of overweight folks out there who are looking for a magic bullet. Bottom line, though — there is only one proven formula for weight loss: Calories burned must exceed the number of calories consumed."  That theory is SO "out".  Apparently he hasn't heard of Gary Taubes book: Good Calories, Bad Calories: Fats, Carbs, and the Controversial Science of Diet and Health. Read my post on this one, too:  Is Weight Loss as Simple as Calories in vs. Calories out?
I'd LOVE to hear what caught your eye and what you think about the article!