Does your family use electric or manual toothbrushes? 
Not long ago we got electric toothbrushes (battery operated actually) for all six of us, for two reasons:
Like most kids, ours aren't the best brushers, so I figured this would be a good way to boost their efforts.
I'm always hoping to whiten my teeth and just can't bring myself to use those nasty bleach kits, so I hoped that the stronger action of an electric brush would help.
Then I read that electric toothbrushes, and manual brushes with the wrong type of bristles, could be causing more harm than good if you're not brushing right, and that it could be damaging to your gums, which opens yourself up to gum disease!
So I asked Will and Susan from Ora Wellness to help me figure it out, which is better?  Manual vs Electric Toothbrushes? 
Can the type of toothbrush you use actually help to prevent gum disease or cause gum disease?
The Secret to Better Brushing
They said that the secret is, no matter what type of brush you're using, to think about what you're doing, be more gentle on your teeth, and don't overly brush your gums.  See the video below for more on the right technique.  Once you're in the habit of doing it correctly, it'll be second nature.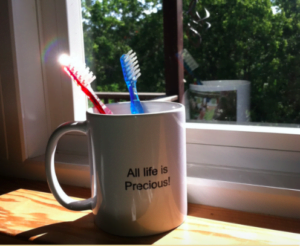 More from Will and Susan: 
"In the name of disclosure, we have had an Oral B brush for many years and have used it through the years.  While everyone in our family prefers manually brushing with the Bass brushing technique and the Bass toothbrush (see the video below), I still every once in a while do use the Oral B to support cleaning the tooth surfaces for plaque removal.  (Think of the hygienist using the grit material with a rotary head tool to polish your teeth.)  As I have continued to improve my diet, mainly continuing to remove sugar, the amount of plaque that I need to remove has diminished dramatically."
"So when it comes to manual vs electric toothbrushes, find a brush and brushing technique that you are most comfortable with and that you can skillfully execute in a conscious way to best support oral hygiene.  How you brush is fundamentally of greater importance than what type of brush you use."
I'm hooked though, after reading more about their bass toothbrushes, I'm getting those!
(Use the code KOP for a discount.)
We'll still use our electric/battery toothbrush sometimes to get the surfaces nice and polished just like at the dentist, as they suggest above, but for everyday we're going back to a manual Bass toothbrush so we can use the technique suggested in the video.  Besides, I don't love the vibration of the electric brush in my mouth, even though it does feel like it's getting the surface of the teeth smooth.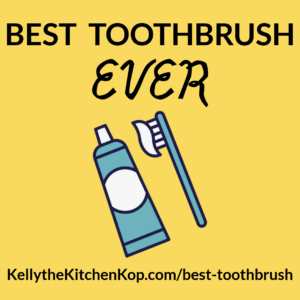 More on the differences between the Bass brush and a regular brush/Manual vs Electric Toothbrushes:
First, the bristles are more spaced out and there are fewer bristles in the brush head. What Dr. Bass found was most toothbrushes had too many bristles to effectively wiggle between the teeth and down into the gum line.  So, he created a brush with much fewer bristles to be able to get down where the bad bugs thrive to disrupt and remove the bacteria. The same is true today as most conventional toothbrushes have too many bristles to effectively use the Bass brushing technique. The second way the Bass toothbrush differs from other toothbrushes is the bristle tips on the Bass brush are rounded, polished and very smooth. See the photos below to compare the rounded bristle tips of the Bass toothbrush and the jagged, rough cut bristle tips of many other toothbrush bristles."
Read more about these toothbrushes here.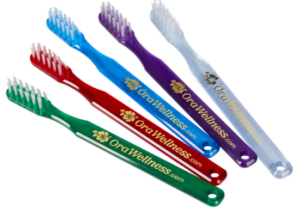 Anyone else have occasional hormonal halitosis?
Lately at certain times in my cycle I notice differences in my breath, and sometimes not in a good way!  When I started using these HealThy Mouth drops, this is MUCH improved.  There's just something about that stuff that I ended up loving WAY more than I expected to and I think it's the natural ingredients and essential oils that feel noticeably different in your mouth.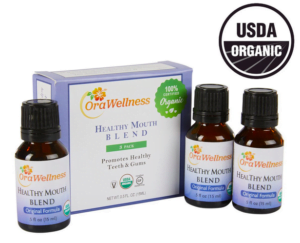 Details on the HealThy Mouth Blend:
(Use the code KOP for a discount.)
Made with Organic ingredients.
Kills the bacteria that cause gum disease while it freshens your breath.
Supports the healing of damaged gum tissue.
Increases saliva production which helps stop gum disease
No nasty fillers, artificial colors, flavors, or other toxins.
It's in a base of Organic almond oil (but they have a nut-free version, too)
Organic and wild-crafted essentials oils of:
~ cinnamon
~ peppermint
~ spearmint
~ clove
~ myrrh
~ manuka
So here's what's going into my cart today:
Here's the video on the best brushing technique!
I wasn't paid to write this post, but it sure was easy to do since I love their stuff.  However, there are affiliate links included, so thanks for your support!
More you might like: